2016 Olympics: 7 Jewish American Olympians to watch in Rio
Gabe Friedman
Published July 31, 2016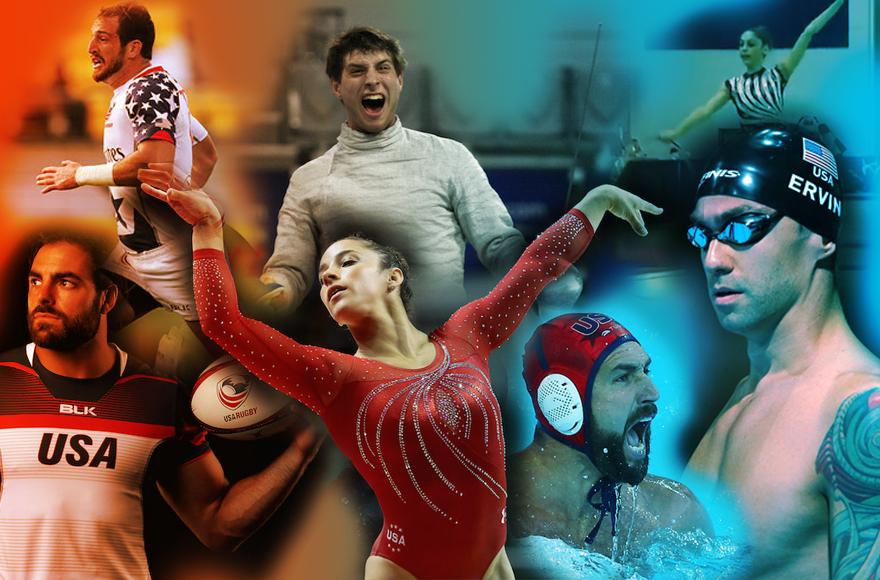 There are athletes, and then there are Olympic athletes. And then there are Jewish Olympic athletes.
When the 2016 Summer Olympics open on Friday, Aug. 5, we'll of course be cheering the American athletes — all 555 of them — and we'll be rooting for Israel, too, which is sending its largest ever cohort to Rio this year.
But we're saving a special shout-out for some of the Jewish American Olympians who have given the Tribe extra reasons to be proud this year. (Interestingly, Jews make up about two percent of the U.S population — and by our calculations, they're represented by nearly the same proportion in Team USA.)
Here are seven Jewish American athletes we're expecting to make waves in Brazil.
Aly Raisman (Gymnastics)
At the 2012 London Olympics, Raisman quite possibly became the most popular Jewish athlete in the world when she won a floor gymnastics gold medal while performing to "Hava Nagila." She didn't stop there: Raisman brazenly discussed the 40th anniversary of the massacre of Israeli athletes at the 1972 Munich games — which the Olympic committee declined to recognize — to reporters after her performance.
Alas, four years is an eternity in the gymnastics world. At 22, Raisman is nicknamed "grandma" by her teammates (not just because of her "advanced" age — she apparently she also likes to nap). Nonetheless, the laser-focused star was recently named team captain — so we're rooting for her to make her mark again in Rio.
Nate Ebner (Rugby)
Until a couple of weeks ago, Ebner was "only" known as one of the few Jewish players in the NFL — the 27-year-old safety helped the New England Patriots win the Super Bowl in 2014.
But Ebner will now become the only active NFL player to make a U.S. Olympic team.
After being granted a leave of absence by the Patriots in May to train, Ebner — whose father was the Sunday school principal of Temple Sholom in Springfield, Ohio — made the U.S. rugby squad earlier this month.
That leap didn't appear out of nowhere: Ebner was an All-America rugby player at Ohio State and he played for the U.S. National team at age 17, the youngest player to do so.
Rugby hasn't been played in the Olympics since 1924, and it will make a vivid return this year — the only style of the game to be played in Rio will be sevens, a fast-paced version of the sport featuring only seven players per side and short seven-minute halves.
Anthony Ervin (Swimming)
Born to an Ashkenazi Jewish mother and a father with both African-American and Native American heritage, swimmer Anthony Ervin has an interesting identity. He also has an unusual career arc for an Olympian.
After winning a gold medal in the 50-meter freestyle at the 2000 Olympics at age 19, Ervin felt burned out. He quit swimming in 2003, and — as he details in a memoir, published in April ("Chasing Water: Elegy of an Olympian") — spent his twenties experimenting with drugs, playing guitar and teaching the sport in Brooklyn. At one point he nearly committed suicide by overdosing on the medication he takes for his Tourette's syndrome. In an even more symbolic split from swimming, he auctioned off his gold medal for $17,000 and donated the money to the Tsunami Relief Fund.
Remarkably, he made a comeback at the 2012 Olympics, placing fifth in the 50-meter freestyle. But he hasn't stopped there: He called his latest Olympic trials his best-ever, and he qualified for the both 50-meter freestyle and the 4×100 freestyle relay in Rio.
Merrill Moses (Water Polo)
Not many athletes stay in peak shape long enough to participate in an Olympic games at age 39. But Merrill Moses, a water polo veteran of the 2008 and 2012 Olympics — and now a member of the Southern California Jewish Sports Hall of Fame — will do just that when he celebrates his birthday in the middle of the Rio games.
His secret might be his 6 foot 8 inch wingspan — or maybe it's his confidence.
"I've been the best goalkeeper in the United States for 15 years," Moses told Tribe Magazine last year. "I've seen the shots, been in this pressure."
Moses will likely be in the starting lineup for his third straight Olympics. Here's hoping the U.S. water polo team will win a gold medal this time; they took home a silver in 2008.
Eli Dershwitz (Fencing)
Don't confuse Harvard undergrad Eli Dershwitz with the famous Harvard professor, Alan Dershowitz. While the latter is a respected lawyer and author, the former happens to be one of the best fencers in the world.
Dershwitz, 20, who hails from Sherborn, Massachusetts (just a few miles from Aly Raisman's hometown of Needham), is one of only two U.S. men's saber fencers heading to Rio. His performance at the fencing World Cup in February helped the U.S. saber team rise to a number one world ranking. Look for Dershwitz — who is one of the youngest saber fencers in the world's top 25 — to seriously compete for a medal.
Monica Rokhman (Rhythmic gymnastics)
This year, for the second time ever, the U.S. rhythmic gymnastics team — which consists of five female athletes who perform routines with props like hoops and ribbons — has qualified for the Olympics. (The sport has only been played at the Olympics for 30 years, but the last time the U.S. team competed, in 1996, they were an automatic entry as they represented the host nation.)
A rising star in this rising sport is gymnast Monica Rokhman, 19, who grew up near San Diego, the child of Russian-Jewish immigrants. Rokhman and her twin sister, Jenny, also a gymnast, have been living in Chicago's North Shore suburbs in order to train at their sport. Their hard work has paid off: Monica has earned a spot on the team while Jenny will serve as an alternate.
Zack Test (Rugby)
Remarkably, Nate Ebner isn't the only Jewish member of the U.S. rugby team heading to Rio — he will join 26-year-old Zack Test, a standout on the men's sevens roster.
Unlike Ebner, who took time off from the sport for his football career, Test has played eight consecutive years of international competition. The Northern California native and day school graduate is also one of the best players on the team — he tallied the third most points and second most tackles on the squad during its 2014-15 World Rugby Sevens World Series run.