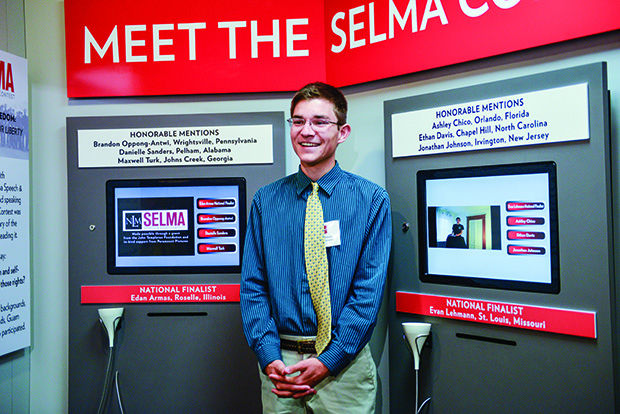 Perhaps what's most impressive about Evan Lehmann is his down-to-earth, easy demeanor. This is a young man who has accomplished quite a bit in his 18 years, not only academically but also as a budding social activist.
Recently, Evan was awarded a $5,000 college scholarship (he plans to attend Brown University this fall) as a result of winning the Selma Speech & Essay Contest, sponsored by the National Museum of Liberty in Philadelphia in conjunction with the John Templeton Foundation and Paramount Pictures. The object was to engage high school students nationwide in thinking, writing and speaking about issues of individual freedom and self-determination. It was timed to help mark the 50th anniversary of the 1965 marches from Selma to Montgomery. 
The museum received more than 800 submissions. Evan was one of three finalists, who along with his parents, Candace Lehmann and Jonathan Lehmann, and his Parkway North High School English teacher, LuAnn Fallahi, flew to Philadelphia for the awards ceremony in April.
"My English teacher had been giving us extra credit opportunities and this essay contest was one of them," Evan explained. "When I didn't hear anything for a while, I figured I hadn't won the contest but at least I would get the extra credit.
"Then my dad called and said, 'I have some good news' and told me I was a finalist."
Still, Evan didn't find out he had won — he tied for first place — until the actual awards ceremony in Philadelphia. The judges were so impressed with his essay that the Templeton Foundation will fly Evan to the Bahamas in a few weeks so he can read and talk about his essay before its Board of Trustees.
Evan says seeing the movie "Selma," which was a requirement of the contest, along with the events in Ferguson following the death of Michael Brown last summer, inspired his essay (you can read it online at stljewishlight.com/essay).
"I did do some protesting, but most of my social action work to raise awareness has been geared to my school," said Evan, who graduated from Parkway North last month. "I am part of this dialogue group, and I brought Ferguson to that. We organized a die-in, where about 30 students laid on the floor for 4 ½ minutes to represent the 4 ½ hours Michael Brown's body was left on the street. 
"Our biggest action was at the end of the school year when we tried to plant 'Black Lives Matter' signs around our campus. Our administration said we couldn't do that, so a coalition of friends and I went to teachers asking if they would display the signs in their rooms. About 30 teachers did and that stirred up an intense amount of dialogue in our school.
"I think it was productive, though. There was a lot of conservative backlash, but it made the local news. Ultimately I saw some friends shift to a side of being vocal. Often, friends will agree with me, but they don't do anything to work toward their ideals. Once the dialogue got started in my school, I saw a lot of students speaking up, which was really cool."
Evan says being involved with Cultural Leadership during his sophomore and junior years of high school was a turning point for him. The organization, which brings together Jewish and African-American teens, strives to create "troublemakers of the best kind" fighting for social justice.
"It really engaged my critical thinking and examining how the world works," said Evan, who became a bar mitzvah at Central Reform Congregation. "Before that, I hadn't been introduced to oppression and inequality. I'm a white dude of privilege. Cultural Leadership forced me to step into a place of discomfort and look at the world from other points of view."
Evan isn't sure what he will major in at Brown, though he definitely has given it some thought. 
"I have a lot of interests," he said, chuckling. "I have a love of social sciences as they relate to how society is structured and the historical roots behind that, so I like the idea of history, political science, sociology and urban studies. But throughout high school I also liked natural sciences. Ultimately, I'm looking for a major to bridge my love of science with my desire to help change the world. I'm thinking public health may be that bridge.
"I'll be honest," he continued. "My thought process kind of changed once Michael Brown was killed and protests erupted around country. In light of this mass awakening, I feel it's important to continue this work."
One thing Evan is sure about: "I might want to be in school for a long time."  
Food for thought
Susan Gutnik needs our help. She's the owner and creator of Nature's Bounty Greeting Cards, which is applying for a small-business grant from Chase Mission Main Street Grants. Chase is offering 20 small businesses a grant of $100,000 each (I know, WOW!). 
Here's the catch: To be eligible, her business must get 250 unique votes on its Facebook page by June 19.
What's cool is that Nature's Bounty cards give back to the community. The front features gorgeous fruits, vegetables and flowers that are grown locally, with a picture of the actual farmer on the back. Ten percent of the proceeds from each card sold goes to the St. Louis Area Foodbank.
"This grant would mean the world to us," said Susan, adding that her cards are available in three local stores: Straub's in Clayton, United Provisions in the Delmar Loop, and Thies Farm & Greenhouses in St. Charles. 
"With this grant, we could increase our distribution and make online sales available," she said. Currently, her company does not have a website. 
Voting is simple. Go to missionmainstreetgrants.com, click on vote, then type Nature's Bounty into the search box, and place your vote. Grant winners will be notified in September.
If you're interested in knowing more about Susan's cards, check out her Facebook page at facebook.com/NaturesBountycards.
More food for thought
The other day, the managing editor and I joined a couple of friends for lunch at Crown Center's new [email protected] We ordered grilled Mediterranean Panini sandwiches, served with veggie chips. Mine came oozing with hummus and Swiss cheese. It was filling and delicious and just $4.50. For lighter appetites (than mine), a half sandwich goes for $2.25.
The café, which is kosher dairy, is open to the public from 8 a.m. to 2 p.m. Monday through Friday, and serves breakfast all day, as well as lunch. The prices are phenomenal, as in affordable — two eggs and toast, $2.80; a buck for a slice of thick challah French toast; $2 or $4 for a half or whole tuna, egg salad or veggie-cheese sandwich. The café also serves Kaldi coffee and $2.25 lattes.
You can eat inside or at outdoor tables. Oh, and by all means splurge on a bag of chocolate chip cookies — totally worth the calories. 
(Chef) hats off to café manager Jean Milner, who uses herbs and vegetables from Crown's garden in her recipes. [email protected] is located at 8350 Delcrest Drive in University City.