The GOAT — TB12 — retires
JORDAN EISEN, SENIOR, PARKWAY NORTH HIGH SCHOOL
Published February 20, 2022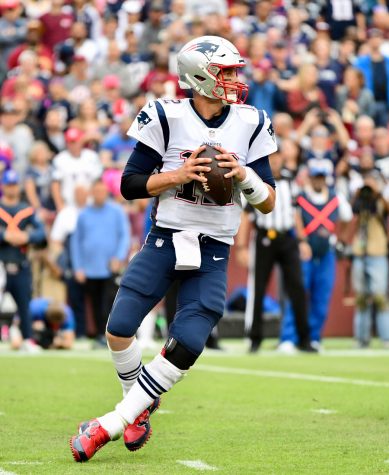 After 22 seasons, Tom Brady has retired with 7,263 passing completions, 84,520 yards and 624 touchdowns, all topping the record books. Whereas other quarterbacks are comparable in terms of accumulating statistics, Brady has also raised the Lombardi Trophy seven times, which not only tops every player but also every NFL team.
A couple of years — and a couple of Super Bowls — ago, there was some debate whether Brady was the greatest NFL player of all time. Now, after a few more MVP-caliber seasons, a couple more titles and successfully switching teams, the argument is now whether Brady is the best athlete of all time. It's difficult to objectively compare him with the likes of Michael Jordan, Wayne Gretsky or Michael Phelps, but he certainly belongs in that list.
Arguably more significant than his statistics was his broader impact on the game. He was drafted in 2000, so by the time I was born, he was already established as a top quarterback in the league. For years, whether with the New England Patriots or Tampa Bay Buccaneers, when Brady came up on a team's schedule, it was known that that game wouldn't be much fun for that team's fans. That's just been part of football, and now it's gone.
And unlike Peyton Manning and Drew Brees, Brady retired while he was still playing at an elite level. In 2021-2021, he led the league in passing yards and touchdowns, and I wouldn't be surprised if he won the MVP award for a sixth time this season.
Now the NFL's leader is gone, and the league will descend into anarchy, but in a good way. From his first Super Bowl in 2002 to his last in 2021, Brady represented his conference in half — 10 of 20 — of the championship games. 
With Brady gone, the likelihood of a non-Brady team making it to the Super Bowl literally doubles, allowing a much more diverse selection of teams to represent their conferences, which will make for a welcomed change of pace.
More than anything, it's strange to consider that the cornerstone of the NFL in my lifetime is simply no longer there. 
For as much pain and frustration you brought to so many teams and their fans, Tom Brady, you will be missed.
Listen to Jordan Eisen's podcast "Field of Vision Sports" in which he interviews professional guests from ESPN, CBS, etc. wherever you get your podcasts or join 8,000 people in following @fov_sports on Instagram.