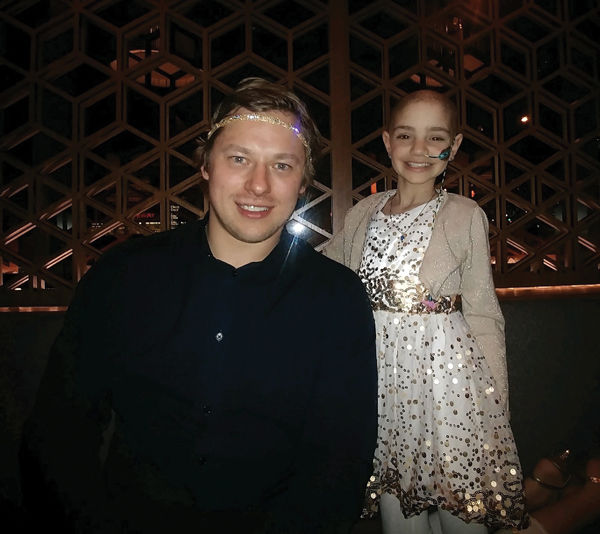 After nine years of battling a form of brain cancer known as neuroblastoma, Arianna Dougan sadly lost her life on November 11, 2017, at age 11. However, with the help of her family, her impact on St. Louis remains strong, and her light continues to spread.
Beginning in fall 2018, the Spread Ari's Light Foundation was created, aiming to support families dealing with pediatric cancer, especially in the St. Louis area. Executive Director and founder of the charity, Lori Zucker, who is Arianna's mother, said that the name of the organization has a special significance.
"We chose that because we wanted to name that after Ari. She was an amazing, bright light, and it seemed fitting for us to be able to continue to spread all of her joy and happiness by spreading her light."
Furthermore, Zucker, a member of Congregation Shaare Emeth, realized that her family had the unique opportunity to make an impact in the community by spreading awareness of childhood cancer. 
"Arianna has a Facebook page that has quite a few followers, and we have a website (www.spreadarislight.org) in which we (want) to raise awareness by sharing childhood cancer facts and (sharing) information with the pediatric cancer community," she explained.
Another important contributor to the organization is Aidan Dougan, Zucker's son and Arianna's brother. He is helping to work out some of the details of the organization.
"I've been helping plan events, [and] work on the graphic design stuff like posters, business cards, and logos," said Dougan, a freshman at Ladue Horton Watkins High School. "I've had a little bit of say and helped with the website."
He also remembers his sister's everlasting, positive outlook on the world and what it meant to him.
"She just was this amazing person with this 'Yay, let's do it' spirit, and it helped me get through things that I didn't think I think I might've been able to."
Another contributor to the organization is Jake Goldman, also a freshman at Ladue high. He's supported the Spread Ari's Light Foundation in many different ways, including buying shirts and pins, as well as attending some of the organization's fundraising events as a volunteer.
"I just felt like it was a good cause for more money to go to," he said. "I hope [the organization] brings more awareness to childhood cancers and how we need to do more about it."
He also remembers Ari fondly, and how happy and content everyone was when they were around her.
"It was always nice to be around Ari because wherever you went with Ari, everyone just had a smile on their face. They knew her, and it was this warm feeling inside to know that she had so much support behind her."
Like Jake, others can support the organization in many ways including participating in the foundation's upcoming events. These include a nationwide challah bake on Feb. 28, and the "Ari's Light Gala" on March 9, in honor of what would've been her 13th birthday. The gala will benefit and raise money for dance therapy programs in the St. Louis area. 
However, the main way that someone can help Ari's organization is to continue to spread her light. Spread her kindness, do something nice for somebody.
Zucker remembers that kindness to be a very special trait of Ari's when she says, "Arianna had a gift in that every person that she met, she made them feel like they were the only person in the room at that moment. She shared a part of herself, her joy, her light, her happiness, everywhere she went. She had the ability to impact people by being kind and nice to them, and her level of understanding of what that meant was well beyond her years."