Cookin' with Katester: Quick and easy avocado toast
KATIE SILVER, Senior, Ladue Horton Watkins High School
Published February 20, 2022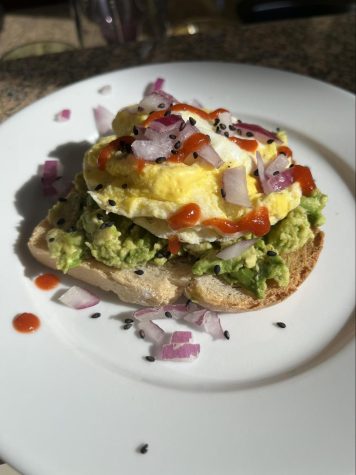 Have you ever gotten up on a weekend only for your 18-year-old twin brother to offer you 50 cents for a meal that "will taste good and make me full." No, just me? Regardless, this avocado toast will be your go-to in no time.
Originally when I started taking part in the whole "avocado toast" trend I just added some toast, avocado, lemon, salt and pepper. And well, to be honest, I never got the hype. I thought that it was kind of… meh. 
As time went on, however, I felt like I could improve upon it. After all, I love avocados and bread. A lot. Today, I definitely lean towards being one of the more fancy "avocado toasters," but with the roughly six minutes it takes me to prep, it's completely worth it.
---
Avocado toast
Total Time : 6 minutes
Ingredients: 
1 slice of bread of your choosing
½ avocado

 

½ tsp ground cumin seed
1/8 tsp red pepper

 

3/8 tsp garlic powder

 

½ lemon squeezed
2 dashes of salt

 

2 dashes of pepper

 

1/8 red onion

 

1 egg
Dash of milk

 

Black sesame seeds for garnish
Sriracha for garnish (optional)
Directions:
Start by making the avocado mixture. Combine the avocado, cumin, red pepper, garlic powder and lemon juice. Then, throw in a dash of salt and pepper. Mash until soft, or the consistency of guacamole.
Cut onion into desired size (diced or in strips recommended). 
Next, put the bread in the toaster.
While waiting for the toast, begin making the egg. (I usually make mine in the microwave, although if you prefer a pan, it works just as well.) In a microwave safe bowl, crack in your egg. Add a dash of milk, salt and pepper and combine. Cover with paper towel and place in microwave for two minutes (time may vary depending on how you like your egg). 
When toast is ready, place avocado mixture on top. Then, cover with the egg. 
Next, sprinkle on your black sesame seeds and put on enough sriracha for your liking. Add on your onions and there you go! Avocado toast!