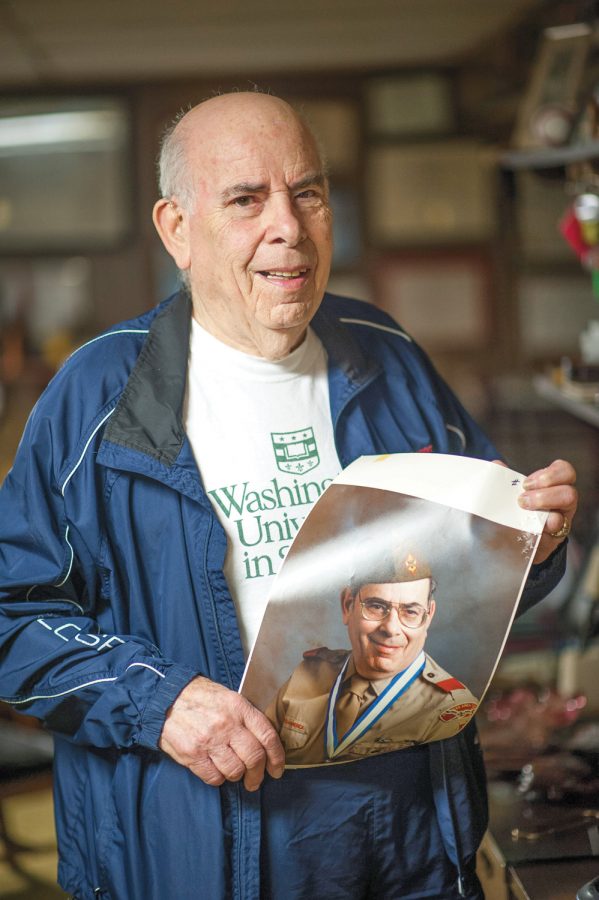 For some, membership in the Boy Scouts is a childhood adventure that gives them memories for a lifetime. 
But for those like Sandy "Bozo" Silverstein, the Boy Scouts are lifetime. 
After all, he's been involved with them for the better part of 80 years.
"My philosophy of volunteerism is to do those tahings which are meaningful to you," said Silverstein, 90, "You are fortunate if any of those things that are meaningful to you happen to be of welfare to the community and useful to others."
Silverstein encourages others to pursue those passions. The Olivette resident was first a member of the Boy Scouts and later became assistant scoutmaster and, after a period in the service during World War II, a scoutmaster in his own right, a position which, at the time, he didn't even meet the age limit for. He was still under 21.
"That was the requirement but it was waived because they were happy to have anyone take it over," he recalled with a chuckle.
It was a position he would hold for more than half a century heading Scout Troop 11 at Temple Israel, where he is also a congregant, a record of longevity that made him the longest-serving scoutmaster in the history of St. Louis County.
By the mid-1980s, he would also join the board of an Illinois Boy Scout council.
Even since his retirement in the 1990s, Silverstein has remained active as a merit badge counselor and scoutmaster emeritus, often checking in on the camp during weekend events.
He said scouting teaches good character to children when they need it most.
"In my experience as a scout leader, I have seen so many, many instances where young men, boys really, have entered the program at a time when they have problems," he said. "They are children becoming adults and they are unable to handle the transition."
"I see kids that are on the verge of changing and a program like scouting that I went through as a youth did so many things for me and I see so many of them experiencing the same," Silverstein added.
He said scouting promotes good citizenship and healthy qualities in young men.
"It's to teach them something and it is something of interest to them but it gets them involved in the practice of setting goals for themselves and working to them," he said.
The results, he said, are noticeable in later life. Silverstein has seen his young charges become prominent attorneys, municipal leaders, judges, even a rear admiral in the navy.
"There is a great deal of satisfaction in seeing their accomplishments," he said.
Alex Lapp, 22, of Olivette, said that he was glad to be a member of the troop during Silverstein's tenure as scoutmaster emeritus. Lapp still sees the retired engineer having a positive influence on boys through his dedication and friendly smile.
"He still comes out, even if it is only for a few days," he said. "He'll still visit the camp just to say hi to everyone."
Lapp noted that Silverstein's length of service means he can share with today's scouts what it was like in the old days.
"He is by far the longest-standing member of the troop," Lapp said. "Nobody else even comes close so what he brings to the table, nobody else can."
Scouting may be a big part of Silverstein's life but he doesn't limit himself to only one area of volunteerism. As a Mason, he eventually decided to join the Shriners and began donating time to Shriners Hospital. 
"I was really an admirer of what the hospital did," he said. "I had visited several times so when I retired the first thing I did was I became a Shriner right away and joined the hospital committee. I didn't want to be a clown or ride a motorcycle. I just work at the hospital."
Sometimes he greets visitors in the lobby. Other times, young patients are treated to day trips or barbecue meals.
"So they wouldn't get cabin fever, we'd take them to the zoo or Six Flags," said Silverstein. "We also conduct tours and take visiting civic groups through. It's a unique hospital and there is a lot to show."
He also makes sure to take an interest in his alma mater, Washington University, where he helps plan class reunions and is on the engineering school's admissions committee.
"It's very obvious to me that the most desirable student for Washington University…is one that has a variety of activities, one that is not introverted into one particular area," he said. 
It's advice he shares with others.
"Scouting isn't the only thing," Silverstein said. "I think it is very important and always encourage people to get involved in other things." 
Sandy Silverstein
AGE:  90
FAMILY:  Wife, Hazel; two sons, Mitchell and Stephen Silverstein; one grandchild
HOME:  Olivette
OCCUPATION:  Retired engineer
FUN FACT:  Even at age 90, Silverstein swims four or five days a week. He also got his nickname, "Bozo," as a child from his father, who wasn't too fond of the nickname "Sandy."