Sacha Baron Cohen fools Georgia GOP politician into making racist comments and dropping his pants to combat terrorists
Gabe Friedman
Published July 23, 2018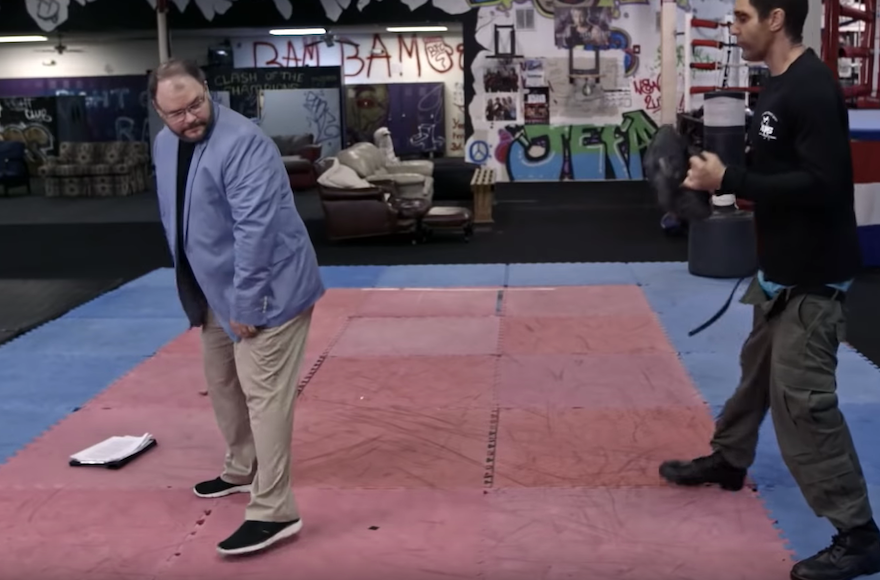 [embedded content]
(JTA) — Sacha Baron Cohen's new show is making crazy news headlines again today, and not for duping Sarah Palin, or Dick Cheney, or Bernie Sanders.
But the clip surfacing from Sunday night's episode of "Who Is America?" might be the most mind-blowing one yet.
In it, Cohen — disguised as the macho Israeli anti-terrorist caricature he used to trick multiple pro-gun activists and politicians look stupid — meets with Georgia state representative Jason Spencer, a Republican who supports banning burqas and keeping Confederate monuments.
Over the course of a five-minute clip from the Showtime show shared to YouTube, Cohen's character purports to teach Spencer how to identify and intimidate extremist Islamic terrorists. Cohen's methods include taking R-rated selfie stick photos and dropping one's pants, all the way down.
Along the way, Spencer happens to also yell the n-word several times and use an insensitive accent to portray an Asian tourist.
Spencer, not surprisingly, is now facing calls to resign, including from Georgia's governor and state house speaker.
What is surprising is how Cohen fooled him and the others featured so far on his show so badly.
Watch the full clip above.