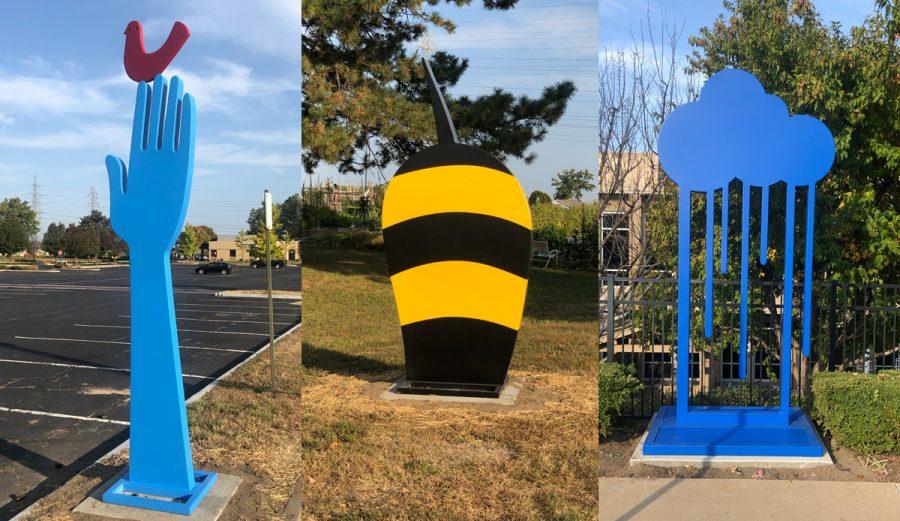 If you haven't been to the I.E. Millstone Campus near Creve Coeur lately, you're in for a pleasant surprise next time you visit. Five new towering sculptures, including three whimsical, brightly colored ones, continue to enliven the campus, thanks to philanthropist, developer and art enthusiast Michael Staenberg.
"I just felt they would help brighten and complete the campus now that we have the new mikvah, Covenant Place, the J and Federation," said Staenberg, adding that he and his team are starting to collect art for the new Holocaust museum, which is slated to break ground Nov. 15.
One of the new pieces called Bee Bum, placed near the Garden of Eden, resembles the backside of a giant bumble bee. Made out of steel, it was created by artist Jeffie Brewer, who grew up in a small, rural town in East Texas. He also created two other pieces on campus: an oversized electric blue cloud sculpture, near the J's Performing Arts Building, and a bright blue hand with a red bird on top of it, called Tetelistai, near Covenant Place II.
In addition, two brushed stainless steel sculptures, one 10-feet tall, the other 15-feet, created by the late Clarence Van Duzer of Cleveland, now flank the small stretch of road leading from the Performing Arts Building to the J's Staenberg Family Complex.
"You are going to see a lot of new sculptures added to the J after Oct. 28," said Sara Jo Fischer, an art curator based in Denver, who works closely with Staenberg. "They are all made out of found steel and created by Mark Wren, an artist from Denver."