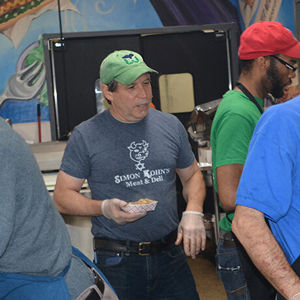 In a typical year, many of us would head downtown to Busch Stadium for a Cardinals game. But that's not going to happen in 2020. No crack of the bat, no roar of the crowd, no aroma of hot dogs and popcorn. 
Still, you can get one ballpark experience by heading over to Kohn's Kosher Deli near Creve Coeur. Just pull into the parking lot and you'll spot a familiar sight: the Kohn's Busch Stadium stand that's usually parked behind Section 147.
Fronted by patio seating and umbrellas to block the sun, the Kohn's ballpark stand at Kohn's functions as an outdoor ordering option for visitors, where they can get ballpark favorites like Kohn's killer pastrami, corned beef or knockwurst. 
Moving the stand from Busch Stadium this year made sense without fans at games, co-owner Lenny Kohn said.
"We weren't using it at the stadium this summer, anyway," he said. "People seem to like it. They recognize it from the ballpark."