Why we're kvelling over Jessica Scheer
Jordan Palmer, Chief Digital Content Officer
Published June 2, 2022
Even in what has been described as a "white-hot" job market for new college graduates, landing that first full-time job is never easy, especially if one is looking to put that diploma to use right away. That is why we are kvelling over Jessica Scheer.
Meet Jessica Scheer
Jessica Scheer, 22, grew up attending United Hebrew Congregation and graduated from Marquette High School in 2018. Two weeks ago, Scheer became a cum laude graduate of the University of Missouri with a bachelor's degree in architectural studies with an emphasis in commercial interior design.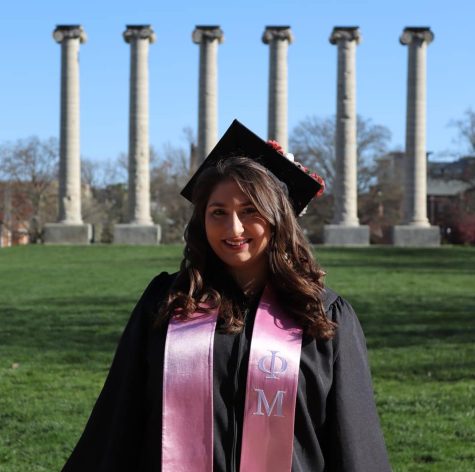 "My dad is an architect and my mom and grandmother have always loved all things interior design related," said Scheer. "Collectively, all three instilled the idea that the design of a space is just as important as how it looks – form follows function, as Louis Sullivan said."
Scheer grew up admiring the work of her father, Eddie Scheer, and the journey that took him from drawings to building construction. It was this experience that led Scheer to decide what she wanted to do with her life.
"I decided when I was in high school, I really wanted to incorporate my passions for art and design in a way that would impact my community and make things more beautiful for everyone," said Scheer.
And now, she gets that chance.
Jessica Scheer lands first job at Bond Architects
Her degree provided Scheer with a strong foundation of technical and aesthetic principles relating to the design and construction of interior spaces and renovated buildings, as well as the creation of new physical structures.
"Right now, due to a boom in the architecture, engineering and construction industry (AEC), there are currently many companies hiring individuals in every discipline and at every level. This has not always been the case, but fortunately for me, the timing was great from the job seeker's point of view," said Scheer.
Mizzou is considered a top school by many in the interior design field, including the professionals at Bond Architects.
"A few months ago, I was contacted by an interior designer, Andrea Giovando, senior designer at Bond Architecture, Inc.," said Scheer. "I was fortunate enough to meet and shadow her during my sophomore year of college."
Realizing Scheer was about to graduate, Giovando reached out to let her know Bond was looking for just the right person to join their team.
"When I saw her resume, I could tell instantly that Jessica had grown since our last meeting," said Giovando. "She earned some solid work experience, outside the classroom, and I could tell that the choices she made during the pandemic to further her experience were strong. I could tell she was determined to make this happen for herself."
Scheer got the interview. The first round was with the firm's Principal Sue Pruchnicki and Giovando.
"After a great meeting, I was then asked to participate in the second round of interviews with the Bond team's project managers. A few days after that meeting, I was presented with an amazing job offer and enthusiastically accepted it," said Scheer.
Jessica Scheer | Getting to work
Scheer says she is very excited to work. And while she will be with a strong team and support structure, she knows she is a rookie, with a lot to learn.
"Coming straight out of the college environment, I think my biggest challenge will be fully understanding the differences between the way things were taught at school vs. how they are in a professional practice. I also know I will have a bit of a learning curve as I discover the company's preferences and standards, and I know that it can be challenging to learn everything as quickly as I'd want to be able to do so."
Oh, and Jessica starts Monday.