Where St. Louis Jews go to find their favorite pastrami
Jordan Palmer, Chief Digital Content Officer
Published June 13, 2022
Recently we published a culinary investigation into the hotly debated question, "Where does pastrami really come from?" There's a rumor about the history of pastrami. That it's from Texas, not New York. The idea has been kicking around since 2015, first as wild speculation by a New York food critic, then as probable fact by Texas Monthly magazine.
If this controversy is news to you that might be because, in many places, pastrami is an afterthought, a rubbery bland pinkish processed meat. Its origins are at most a trivial curiosity. But St. Louis is not many places, and many of us agree with our New York and Texas friends that really good pastrami is fatty, sinewy and tender. The meat falls apart in your mouth. It's nearly sacred.
Upon publication, one astute Jewish Light reader asked where other St. Louisans found good pastrami. We liked the idea so much that we stole it, created a survey and got a meaty (sorry – couldn't help it!) response.
In alphabetical order:
Blues City Deli | 2438 McNair Ave, St. Louis, 63104
Known to many as a New Orleans-style deli serving St. Louis' finest po-boy's and muffuletta's, Blue City Deli also cranks out some mean New York-style pastrami sandwiches.
"We get the brisket cut and use a homemade rub, but it's our cooking process that is a bit different from other local pastramis," said Vince Valenza, owner of Blue City.
After adding the rub, Valenza's team smokes the meat for 4 to 5 hours using very light cherry wood. Next, it's slow cooked in what's called a CVAP smoker for 14 hours.
Blue City offers two pastrami sandwiches on its menu:
The Old School ($9.75/$12.75)
Cherry wood smoked pastrami & Swiss, Dusseldorf mustard & rye or harvest white (bread).
Prez Pastrami Reuben ($10.50/13.50)
House smoked pastrami & Swiss, sauerkraut, Thousand Island dressing, & rye or harvest white.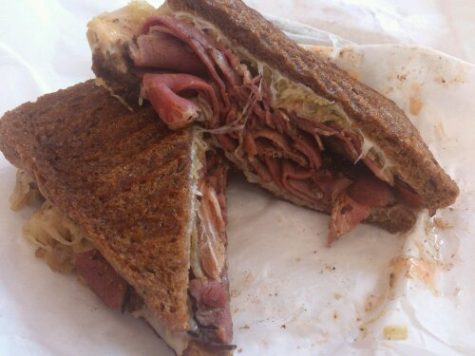 Carl's Deli | 6401 Clayton Rd, St. Louis, 63117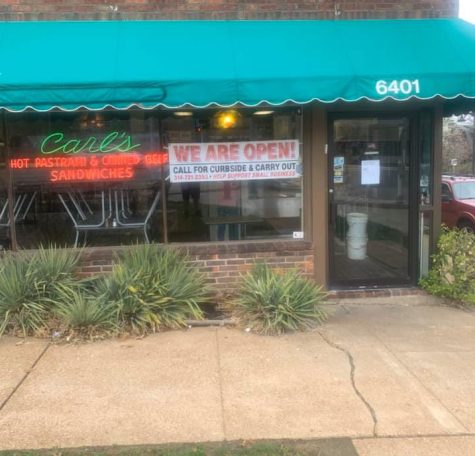 It says it right on the window: "Hot Pastrami!" Inside, the quarters are tight but friendly with a long counter separating customers from employees, who are busy taking orders and making sandwiches. A beverage case sits off to the side while a few tables and old photos of sports memorabilia decorate the old-paneled walls.
You can get your pastrami sandwich ($10.99) served hot or cold, with choice of cheeses and breads including bagels, hoagies, rolls or croissants. You don't order it overstuffed – the sandwich just comes that way. Depending on your appetite, leftovers are just as good the next day if you can't finish in one sitting.
Kohn's Deli | 10405 Old Olive Street, St. Louis, 63141
St. Louis' only freestanding full-service kosher grocery is where you'll pastrami Kohn's signature brand "Killer Pastrami." Kohn's makes their own pastrami on site, and the secret is in the seasoning.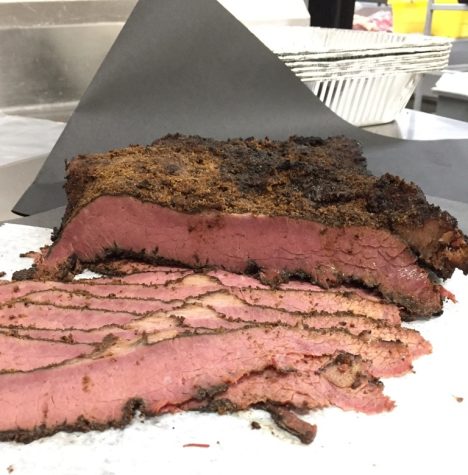 "We developed a good rub," said co-owner Lenny Kohn. "We smoke it, and then roast it, but the rub is the difference-maker."
The 18-year-old recipe which is a special blend of 10 seasonings remains a family secret.
Killer Pastrami sandwich ($8.99) or platter ($9.99)
We recommend hosting your killer pastrami on homemade rye, but you can also choose homemade wheat, ciabatta roll or a bagel. The platter comes with a choice of potato salad, pasta salad, creamy slaw, or chips.
Nomads | 1221 Tamm Ave, Saint Louis, 63139
Located in Dogtown, Nomad's pastrami is made in-house.
"It's a 15-day process before it hits a plate. Time and lots of love go into our pastrami, said owner Tommy Andrew. "We use a brisket cut, which is brined in our solution of salt, herbs, and spices for 2-weeks."
Next, Andrew's team adds mustard, coriander, and black pepper, and is smoked on cherry and hickory for 12 to 16 hours.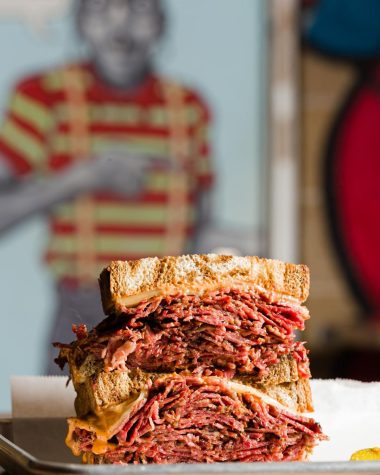 Pastrami sandwich ($13)
Nomad's serves their house pastrami on marble rye with Swiss cheese and a special sauce. You have plenty of options for additional toppings including bacon, kimchi, and even provel cheese.
Protzel's | 7608 Wydown, Clayton MO. 63105
The pastrami you'll find at Protzel's is probably a lot different than any you'll find around town. That is because of the cut.
"We use a Navel cut, as opposed to a brisket cut," said Max Protzel. "No one uses the navel because it's the fattest part of the cow, but the fat is where the flavor is."
The navel is particularly fatty and stands up well to the long cooking process.
Pastrami sandwich ($7.50/$9.50/12.25)
Prepared to order on your choice of fresh-baked Jewish rye bread, whole wheat, bagel, kaiser, or onion roll, with your choice of mustard (deli, yellow, Dijon, or honey), mayo, horseradish, or Russian dressing.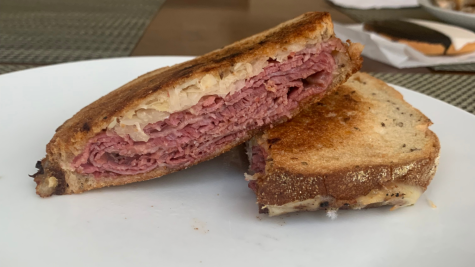 Pumpernickel's |11036 Olive Blvd, St. Louis, MO 63141