What's so Jewish about tamales? Mago knows.
Bill Motchan and Jordan Palmer, Special For The Jewish Light
Published March 22, 2022
Trust St. Louis foodies to find hidden gems. The latest is a source for authentic Mexican tamales, just in time for National Tamale Day on March 23.
Since last November, a steady stream of cars has been stopping by MagoTamales in Webster Groves. The business is owned and operated by Mago Grossenheider, a native of Mexico City. Besides being an excellent cook, Grossenheider is accomplished at embroidery. She has also mastered two languages. Spanish is her native tongue, and her English has only a hint of an accent. She also speaks French and Portuguese — and she wants to try Hebrew next.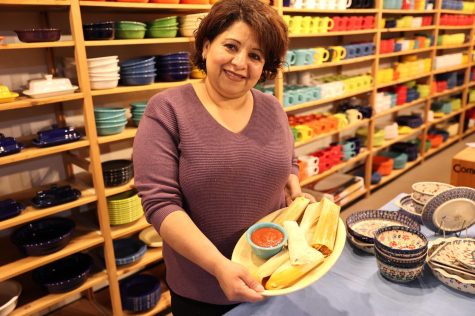 "I always wanted to learn Hebrew," Grossenheider said. "I know I have some Jewish family but I'm not sure who, except that it might have been my great-grandmother. My mother used to sing 'Shalom Aleichem' to me and I love to listen to Hebrew prayers chanted. I follow along with the Spanish translation."
Grossenheider has French, Spanish and Aztec ancestry. Part of her Hebrew school goal is a thirst for learning. She's a quick study and already graduated from St. Louis Community College in 2020, which she attended with her older daughter Natalie. One year ago, Natalie suffered a stroke caused by an abnormal connection between blood vessels in her brain. It left her with motor skill challenges and memory loss.
That's when Mago came up with a plan to help defray medical expenses: cook tamales. She only intended to do it for a short time, but word of mouth changed her plans. The Facebook group Webster Groves Community Connect spread the word quickly and now she sells as many as 300 tamales a week.
Now, Grossenheider has her own Facebook page, Webster Groves Tamales Connect. The menu is carry-out only and includes three tamales (vegetarian, chicken and pork). Red and green salsa are available, as is enchilada sauce. They come in packages of a half-dozen and require just a short steam.
What's Jewish about a Tamale?
Tamales are a traditional Mexican dish, made of seasoned meat wrapped in cornmeal dough and steamed corn husks. The wrapping can either be discarded prior to eating or used as a plate.  But, what is Jewish about a Tamale?
The answer to that question is traced back to when the Jews first arrived in Mexico in the 16th century from Spain and Portugal. According to the Center of Jewish History, their arrival took place in the midst of the Spanish Inquisition, and almost all were "conversos"—Jews who had been forcibly converted to Christianity but secretly practiced Judaism.
It turns out that many Jews settled in what are now the Mexican states of Nuevo Leon, Coahuila and Tamaulipas where their influence is still felt in a regional affinity for cabrito, or kid goat, and buñuelos, a fried dough fritter found in Spain, Latin America, Israel, and other regions with a historical connection to Spaniards or Sephardic Jews.
And while the influences are clear, nothing makes any dish more "Jewish" than being recognized by the one and only Manischewitz.
The Manischewitz Tamale recipe
In 1944, Manischewitz released a Matzo-oriented cookbook titled Tempting kosher dishes prepared from world famous Manischewitz matzo products. [ בא'טעם'טע אידישע מאכלים : צוגעגרייט פון וועלט-בארימטע מאנישעוויטץ מצה-פראדוקטען ].
Can tamales be kosher?
According to Mexican Jewish chefs, Susan and Alex of Mexicanjewish.com, Tamales are a delicious staple of the Mexican diet!
"But, the problem is that most tamale recipes call for lard, and of course, that is not an option for someone who keeps kosher," writes Susan.
Making tamales is a labor of love that requires more steps than ingredients.  Kosher tamales can be made vegetarian with just the Salsa Verde filling,  and by using a vegetarian soup stock and vegetable shortening instead of chicken fat.