Welcome to OneTable, the oldest new way to do Shabbat
Jordan Palmer, Chief Digital Content Officer
Published February 16, 2023
It's a late Friday afternoon in the Central West End and Amanda Harris is preparing for Shabbat.
"Shabbat helps me slow down and reconnect with my loved ones. I also love how the rituals of lighting candles and saying blessings tie me to my cultural roots," said Harris, 29, a public health professional now living in St. Louis after growing up in Atlanta.
Tonight's Shabbat is doubly blessed.
"My partner's birthday fell on Shabbat, so we are having a nice picnic in the park with a bunch of friends," said Harris.  "It is really nice to share Shabbat with our wider community. For some of our friends, this is their first Shabbat."
Why Shabbat is special
Shabbat is a day to put on the breaks, slow down life and reconnect with oneself and with loved ones. Shabbat can also create a sense of community with the Shabbat dinner central to the observance —   it's a time to celebrate a good week, gather and linger with family around the table, enjoy fresh challah and recharge.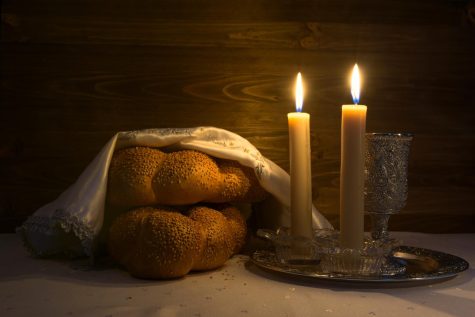 But within the last decade, some young Jewish adults noticed that many of their Jewish counterparts were feeling disengaged from Shabbat as well as their local Jewish communities. In 2014, some of these young Jewish adults began asking why?
After studying available demographic information, they identified two alarming trends. First, young millennials and Generation Zers were facing concerning levels of loneliness and dissociation, higher than any other generation before them.
"Our founders looked at the barriers preventing these young adults from finding their Jewish communities and engaging during Shabbat," said St. Louis native Abbie Barash. "We really believe the answer is a natural segue into building a Jewish community and connecting with others and creating belonging."
Barash, who grew up attending Congregation B'nai Amoona, now lives in Portland, Ore. where she is the associate director of field operations for a social movement called OneTable.
What is OneTable?
During the start of the pandemic, Harris was looking for ways to make Shabbat feel more special while she was stuck at home. But how to do it?  Planning a Shabbat dinner can mean different things to different people. It can be a lot of work, with some making preparations days in advance, or it can be as simple as planning a picnic in the park.
"I first heard about OneTable at a Moishe House retreat a long time ago. So, I gave it a try and found it to be my solution," said Harris.
OneTable is based on the values of joy, welcoming and elevation and is designed to make it easier for anyone to create their own experience around Shabbat dinner and potentially build a community.
"We provide a social dining platform for Jewish adults between 21 and 39ish," said Barash. "We help create meaningful Friday night Shabbat dining experiences."
OneTable has created an online community and a website full of do-it-yourself tools so hosts can welcome people to a Shabbat dinner in their home and/or create unique experiences for Shabbat dinners in their neighborhood.
"We do this because we believe good food and good conversation with great people is simply good for you," said Barash.
How OneTable works
The OneTable experience begins online where users can find a plethora of tools and resources designed to make finding or hosting a Shabbat dinner as easy as lighting a candle.
"We provide the technology, the resources with such things as Shabbat guides, how-to information and we even offer one-on-one Shabbat coaching. Each OneTable participant can have direct interaction with someone on our team, so they feel empowered," said Barash.
Think of it like an Airbnb for Shabbat dinners, whereby hosts create online profiles, post their dinners and invite guests. Guests can easily scroll through event descriptions to find their perfect dinner, then request a seat at that table. Additionally, OneTable can even provide the proper mood. In its 'Sounds of Shabbat' section, users can select from different playlists to set the tone. Audio and video recordings are also available to help novices perform specific Shabbat rituals and prayers.
For Harris, OneTable has made it easier for her to plan her dinners with more creativity and meaning.
"Each week I reflect on a theme, whether it's gratefulness or winter solstice. This helps give additional meaning to my Shabbats," said Harris. "OneTable has been so generous with resources. For each Shabbat you host, you can receive 'nourishment credits,' which I use to order takeout from a local restaurant. This helps make the Shabbat dinner feel more special than a typical meal."
OneTable's approach to Judaism
OneTable describes its approach to Judaism as "non-prescriptive" and encourages participants to envision what their gathering might be. Then the platform works alongside hosts to provide the support they need to create the result they want.
"In 2023, Shabbat can mean many things to many people. All levels of Jewish observance are welcome here," said Barash. "There are no restrictions or guidelines. Some hosts are more observant, some are not at all. We do want to target the unaffiliated of course, but we don't say no to anyone."
According to OneTable, in the last eight years over 166,000 people have participated in one of its Shabbat events.
"We envision a whole generation of millennials slowing down, joining together, unplugging from the week, creating intention in their lives, and building meaningful communities," said Barash.