'We can repair it' ethic serves our "Unsung Hero" Carolyn Satz and others well
Eric Berger, Associate Editor
Published November 5, 2021
When Carolyn Satz was recently preparing jewelry for sale at the Resale Shop, a fellow volunteer pulled out a bracelet with a stone missing.
Satz told the volunteer, "Don't put that in the junk bag. I can fix that."
She then glued the stone back into place, and "the bracelet looked like new," said Susan Katzman, a past president of National Council of Jewish Women-St. Louis, the nonprofit Jewish advocacy and social justice organization that runs the Resale Shop.
Satz seems to apply that optimistic approach — the idea that broken things can be repaired — to many parts of her life.
She regularly volunteers at the Resale Shop and has played a pivotal role in NCJW's Back to School! Store. She also has for more than 15 years run the Millstone Library at United Hebrew Congregation and helped plan fundraising events at the synagogue.
Satz has "a very creative eye and is always looking for creative answers to things," Katzman said.
Growing up in St. Louis, Satz's parents were very involved in their congregation, Nusach Hari B'nai Zion, and talked to her about the importance of helping the sick and needy. They would visit people at Jewish senior centers and hospitals. When a cousin died, they "really took care of, and were really good to, his young children," Satz recalled.
"That left a mark on me, how thoughtful they were to do that," she said.
Satz, a mother of three, spent two decades as a fifth grade, sixth grade and preschool teacher.
In the late '80s, she applied those teaching skills to Inside Israel, an NCJW program in which she and other volunteers spoke about Israeli culture and history in local sixth grade classrooms.
The same NCJW volunteer who asked Satz to speak about her trips to Israel also asked whether she would be interested in helping with the organization's annual Couturier fundraising event featuring designer items at the Resale Shop. Satz said yes.
Her work included sorting through jewelry, researching the items and determining appropriate pricing.
Satz also has held various leadership positions with NCJW, including serving as vice president of retail and vice president of community service.
"It was just exciting to do something for your community," said Satz, who volunteers at the shop one to two times each week. "I liked hearing people say, 'This is the only place I buy my clothes,' and the money you earn from it goes to helping out the community, and I think that's the important thing."
In 2001, Satz was among a handful of people to launch the Back to School! Store, an annual event that provides underserved children with the clothing, shoes and supplies they need to have a good start to the school year. The first year, they helped 200 children; they have since helped more than 20,000.
Satz says she feels like she makes a difference when she sees how students react to their new clothes, often asking to wear them home.
"It's the middle of August, and they are putting on a heavy winter coat," Satz said.
Satz also spent a decade volunteering at Crown Center for Senior Living, a nonprofit that provides affordable housing to seniors. Her service there included helping residents use computers, and organizing and serving meals for residents during Jewish holidays.
"I think being a teacher helps you see the need to give," she said.
At United Hebrew, Satz's cousin ran the library. When she stepped down, Satz "was the only one who would take it," she said.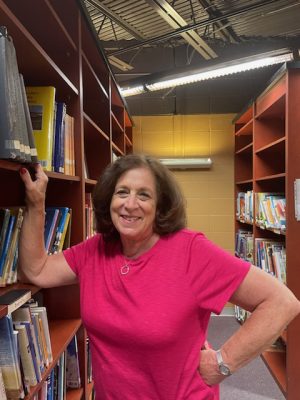 Satz, who also served on the United Hebrew board, likes the volunteer gig because she gets to select the books, which means "I get first crack at reading them."
"It's just fun to organize something," she said. "It keeps me involved with the temple."
Satz comes to the library each week to sort through book donations and ensure the collection stays organized, United Hebrew Rabbi Brigitte Rosenberg said.
Satz also keeps track of new books on Israel and works from Jewish authors for the library.
She understands "the importance of Jewish literacy," said Rosenberg, who also regularly sees Satz in classes at the congregation.
And, when planning events at United Hebrew, Satz always tries to make sure that volunteers who may not be in good health can safely get to the meetings, the rabbi said.
"She sees the importance of being involved in your congregation, that it's not just a place to show up for holidays or to worship but it's about community and family," Rosenberg said.
Rosenberg and Katzman of NCJW also emphasized that Satz has been involved in many of her volunteer efforts for decades.
"She doesn't take a commitment on if she doesn't think she can follow through totally and completely," Katzman said. "That's so valuable with people who work and also people who volunteer."
---
Carolyn Satz
Age: 71
Family: Husband (Larry) is retired from the shoe importing business; son (Michael) is a rabbi; son (Adam) is in beer sales; and daughter (Jamie) is a teacher; six grandchildren. 
Home: Town and Country
Fun Fact: Carolyn became a bat mitzvah about a decade ago, when she was a grandmother. "I was in a Hebrew class and all the other adults got bat mitzvahed and they forced me into it," she said and laughed.