Cantor Seth Warner to helm national cantorial association
Bill Motchan, Special For The Jewish Light
Published June 14, 2022
This month, Congregation Shaare Emeth Cantor Seth Warner will be installed as president of the American Conference of Cantors (ACC) for a three-year term. The Jewish Light recently checked in with Warner, 48, to learn more about the ACC, his work and how he decompresses.
What has the ACC meant to your professional development?
It has provided me with a community of colleagues who I can trust across the planet, friends and colleagues and mentors and people who get the work that we do in a very deep way, and I can learn so much from them just by their friendship. The ACC challenges me to be a better version of myself and to challenge myself to look ahead.
Is the ACC working to encourage interest among students to consider a career as a cantor?
The American Conference of Canters works very closely with especially the director of the Debbie Friedman School of Sacred Music at Hebrew Union College to help send potential students to the school. The hardest thing right now is finding people who are willing to give five years of their graduate school to learn the music of today, the music of yesterday and history, and be willing to move to Israel for a year and then study in New York for four more years.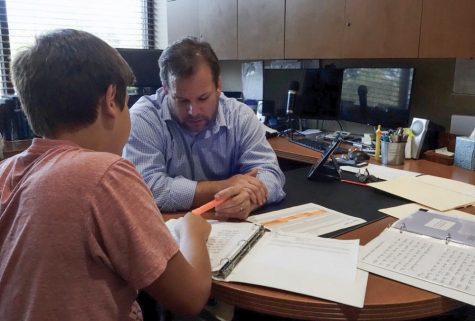 When did you realize you wanted to do this for a living?
The cantor I worked with in my conservative synagogue growing up in Southern California made the synagogue a safe place. Middle school is not the easiest place to be. And I was the short, overweight kid with glasses and a stutter and didn't have a lot of friends in school. The temple became a place where I could be not just safe but listened to and appreciated. Music for me was something that I could express myself with in a way that I was unencumbered. So I was inspired then, and that inspiration has never left.
When you were teenage, what kind of music did you enjoy listening to?
My mom converted before my parents were married. She was born and raised in a small country town in Oklahoma to a sharecropper and a corner store owner. She moved to Los Angeles, met and married my father. And her first love — solid old country music. Every morning driving to school, we'd listen to country music, and it was the emotionality of music, the really open, beautiful harmonies, the lap steel and the easy electric guitar, that just was really attractive to me.
What do you do to relax away from work?
I just love to sit and read and to spend time with my kids, especially my younger son. Isaac will be 14 (this month). Watching him experience the world now that we're sort of post-COVID is really, really beautiful to me. I love his curiosity. I love to go to Cardinals games with him. My wife Shayna and I love to just find a night to go out to eat and talk.
You're a chaplain for first responders in the Monarch Fire District, the Creve Coeur and Olivette Police Departments and the Greater St. Louis Crisis Interventions Stress Management Team. What is that experience like?
The critical incident stress management team is probably the most rewarding endeavor. It's a group of first responder peers. When something bad happens, like a house fire and someone dies in the house fire, the agency will do a debriefing, and they call a peer review. Trauma is cumulative. They have to deal with these trauma situations every day. And it takes a toll on them and their psyche and causes stress that they may bottle up. We go through the incident so that they can let steam off so it has less of a chance of building up.