Volunteer tech programs bridge 'digital divide,' one senior at a time
Bill Motchan, Special to the Jewish Light
Published November 8, 2021
Jackie, 72 has a Samsung Android smartphone she uses to text with her daughter and grandsons. Until recently, she didn't know how to do much else with the device. Now, she can view and send photos with her phone, she uses Google maps and a host of other smartphone apps. Her newfound knowledge came courtesy of the Mirowitz Center's Tech Tutors program.
Barbara, 72, was a technology and internet novice until she took classes with the NORC-sponsored Get Tech program. She also got a tablet through Get Tech, and she now regularly uses it for her gmail account and to view YouTube music videos—her favorites are Willie Nelson, Billie Holiday and Queen. She also discovered "Downton Abby" using the PBS Passport app.
Tech Tutors and Get Tech, which are two separate programs, mobilized a team of local volunteers who worked behind the scenes to bridge that gap and educate seniors about technology and the many communication and entertainment tools available in the digital world.
Older adults who don't know the difference between a pdf and a jpeg are often shut out of the benefits of technology, known as the "digital divide." Studies show adults aged 60 and up are more likely to face barriers in their knowledge of tablets, computers and smartphones. Feeling isolated by a lack of tech knowledge was even more pronounced for the past year and a half, as COVID limited in-person gatherings of family and friends.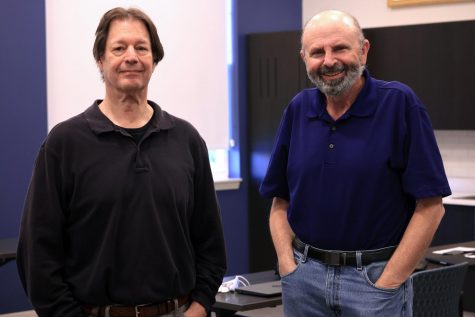 Tech Tutors
In 2014, the Covenant Place team recognized the technical challenges older adults faced so it launched the Tech Tutors program. It's still going strong with students signing up for weekly sessions.
"We quickly understood when the pandemic started that we needed to get as many seniors comfortable with tech as possible, so they could stay engaged and connected with others while they needed to isolate for safety," said Susan Kemppainen, activity/volunteer coordinator at the Mirowitz Center.
"We reimagined the program as a one-on-one training that could be done safely over the phone, pairing tutors and learners who had the same type of device," she said. "By the summer of 2019, we piloted the version of the program, and we were delighted that it worked so well."
Tech Tutors now offer in-person sessions at the Mirowitz Center, where students get customized hands-on assistance with their tech devices from volunteers Larry Edison and Jim Salih.
"I get the satisfaction out of helping people with their computers," said Salih, 74. "They have all kinds of names for people who don't understand tech—sometimes they're called the 'lost generation.' Computers were not really ready for them in their final working years. A lot of them are looking to do simple things, like send a photograph of their grandchildren to a friend."
That's exactly what Klara learned during her Mirowitz one-on-one with Salih.
"It was a great day, said Klara, 81. "Now I know how to use gmail and organize email and organize photos."
Added Salih: "Now she can view her photos in a bigger format. She was absolutely thrilled to accomplish that. This is the one way I have of helping people and I get to use my passion for technology."
In an adjoining room, Larry Edison tutored Bob, who was thrilled to learn basic techniques on his smartphone and laptop.
"When I was working, I didn't have to know this," said Bob, 71. "Then, more and more stuff went on the computer and the people who were knowledgeable about computers were the ones being hired."
In one hour, Edison helped Bob add wallpaper to his laptop screen, learn the basics of incognito web-searches and use of the track pad.
"Bob came in with a list of questions, which is great," said Edison, 72. "These sessions give the students the ability to connect with the outside world. One lady hadn't been in contact with her daughter for quite a while and now she can by email. One of the students I helped is a retired pharmacist who quit when they digitized his pharmacy."
Bob called Edison and Salih "altruistic people who are giving their time. This opened up my eyes about how to do some of these things. You can accomplish a lot one-on-one in a half hour. The value is priceless, definitely."
Tech Tutors is funded by the Women's Auxiliary Foundation for Jewish Aged, a supporting foundation of the Jewish Federation of St. Louis. The Mirowitz Center collaborates with local congregations to identify older adults who could benefit from the tutoring. So far, more than 100 students have received assistance from the program's 50 volunteers. The initiative is ongoing, with demand continuing as more seniors make the leap to technology.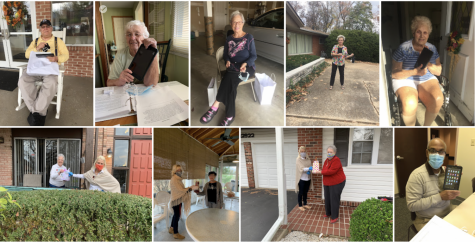 Get Tech
Get Tech is another volunteer program with similar goals. It began in mid-2020 and ended earlier this year. Get Tech provided qualifying St. Louis County seniors with an Android tablet and tutoring from volunteers. It was created and run by NORC (Naturally Occurring Retirement Communities) and JFS (Jewish Family Services), with funding from a St. Louis County COVID-19 Humanitarian Response Fund and the Jewish Federation of St. Louis' AgeWell collaborative.
The pandemic, when St. Louisans began sheltering in place, was the impetus for creating a program for seniors who didn't have tech knowledge, or even a device, said Sarah Levinson, St. Louis NORC Manager.
"What about people who are interested, but they don't have a device?" Levinson said. "They don't know where to start to get the device. They don't have internet service. They may not believe that they can do it. How do we reduce barriers so that they can try it?
"What a wonderful time to try something and get connected and more than ever, things are online. They need it for their doctors. They need it for socialization. They can order their groceries. So it seemed like a really unique opportunity to try it. And the goal was to increase people's access."
Get Tech accomplished that by distributing 100 tablets to participants ranging in age from 65 to 96. Many of them are renters who live alone. NORC and JFS developed a training program and offered personalized instruction from Abbie Wolner (now JFS ElderLink resource specialist). The program also mobilized a group of volunteers to work with the tablet recipients. They offered everything from basic steps to troubleshooting to moral support.
"The amount of detail was really hard to even speculate," said Levinson. "Our volunteers deserve a lot of credit, and they didn't really want recognition. The amount of patience and compassion and openness they exhibited showed that they were really special people."
---
Get Tech & Tech Tutors
Location: St. Louis County
Fun Fact: One Tech Tutors student was a 98-year-old who used email and Zoom for the first time. She calls her tutors her "technology gurus."
Tech Tutors volunteers include:
Max Bosse, Diane Brown, Jamessa Caffey, Rena Cohen-Kurzrock, Larry Edison, Ashley Favata, Vicki Fieman, Richard Gavatin, Yosef Granillo, Jessica Hawkins, Michelle Huber, Madelyn Huber, Michelle Jarboe, Arnold Kaplan, Ryan Kemppainen, Nikki Lyons, Stuart Meyer, Jessica Mirowitz, Jina Park, Nick Rentschler, Gavin Rich, Warren Rich, Jim Salih, Manali Shah, Jake Sher, Katie Silver, Ryan Silver, Alex Slen, Emma Socha, Jonathan Stern, Rachel Tomlinson, Verma Sukriti and Santha Vishnumolakala.
Get Tech volunteers include:
Evyatar Shachar, David Sussman, Vicki Mitchell, Marcia Lisker, Robert Olshan, Joyce Olshan, Lillie Levin, Eric Telmer, Anna Gebhardt, John Wilson, Terry Lassar, Alan Haber, Sue Moran, Cathy Dobkin, Kay Sherman, Sidney Goldstein, Diane Wise, Andrea Lubershane, James Struckel, Jim Salih, Larry Edison, Susan Meltz, Lory Mueller and Mary Chapman