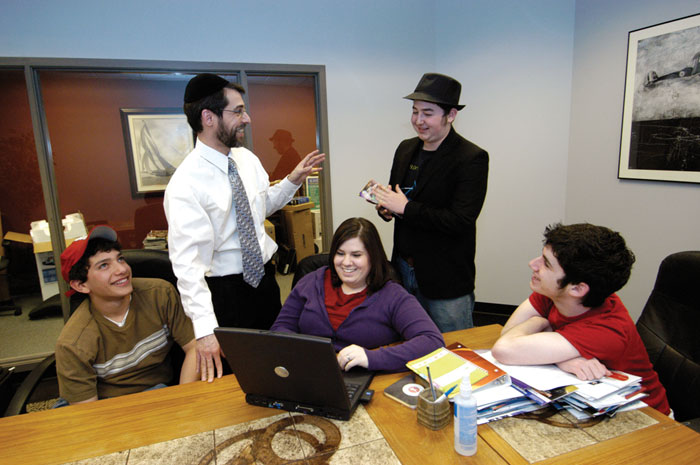 The Jewish Student Union's major fundraising event for 2010 will be "A Light to Remember," featuring dinner and improv at the Jewish Community Center's Arts & Education Building in Creve Coeur on Saturday, Dec. 18.  The evening will honor Harvey and Dorit Daphna Iken, with a special tribute to Alice Fasman, and will include entertainment by Paper Slip Theatre Improv Group. Cocktails will begin at 7:30 p.m., followed by dinner at 8:30. The cost is $90 per person.
Paper Slip Theatre Improv Group is led by St. Louis' Ed Reggi and provides a high-energy comedy performance. Visit www.papersliptheatre.com for more information about the group.
The Jewish Student Union is a network of hundreds of clubs for Jewish high school students in non-Jewish high schools across North America from diverse backgrounds.
St. Louis JSU began in 2003 with a pilot club at Ladue Horton Watkins High School. Today, JSU sponsors nine school clubs and a weekly Jewish Book Club serving more than 700 teens. Local schools include John Burroughs, MICDS, Crossroads, Clayton, Ladue, Parkway Central, Parkway North, Parkway West and Lafayette. All funds raised remain in St. Louis. 
Rabbi Mike Rovinsky is the executive director of JSU St. Louis and JSU welcomes Gershie Meisel this year as the new Club Coordinator.
In addition to being avid supporters of JSU-where their three children have been active participants-Harvey and Dorit Daphna Iken have also been heavily involved in other efforts related to the community's youth.
Harvey Iken was instrumental in starting JSU and fostering its acceptance on a community-wide basis. He was on the Saul Brodsky Jewish Community Library board for five years; has been involved in promoting the Torah Mitzion Kollel's Sherut Leumi; was Vice President of Fundraising at the Solomon Schechter Day School; and he served as the head of the NCSY Youth Commission since 2005. 
Dorit Dafna Iken is on the advisory committee for Tichon – a community-based supplemental Hebrew high school, as well as the board of the Torah Mitzion Kollel. She has been involved in planning retreats for Nishmah, and is involved with Partnership 2000 with St. Louis' sister communities of Yokneam/Megiddo.
Alice Fasman played a key role and was a motivating force in the establishment of the Clayton High School JSU club in 2003 and has served as its faculty advisor since its inception. She has been Director of Choral Music at Clayton High School since 2001, where she teaches choir, piano, and Advanced Placement Music Theory.  She is married to Rabbi Mark Fasman of Shaare Zedek Synagogue. 
The event is chaired by Daniel and Jessie Lefton, and Adam and Rachel Lubchansky.
For more information or sponsorship opportunities visit jsustl.org or contact Rabbi Michael Rovinsky at 314-498-6279.