Two-state solution bill sponsor: Don't cancel Cori Bush over apartheid claim
Eric Berger, Associate Editor
Published October 26, 2021
U.S. Rep Andy Levin of Michigan has a "really warm relationship" with fellow Democrat Rep. Cori Bush of St. Louis, Levin said Monday morning at a J Street breakfast fundraiser in Clayton.
That close connection includes his son Saul and former legislative assistant Abbas Alawieh, both of whom now work for Bush as a legislative assistant and as her chief of staff, respectively.
It does not include a shared belief that Israel is "an apartheid state," which is how Bush has described the country.
Still, Levin, who is Jewish and recently introduced legislation aimed at achieving a two-state solution, does not condemn Bush over her comments on Israel. He said he wants her to be part of the discussion among lawmakers concerning the conflict and efforts to achieve peace.
"We Jewish people need to realize that we need to work to end the occupation and help Israel be a democratic homeland for our people, living in peace with the Palestinians, who have their own political and human rights, and we can't get all freaked out — and frankly, tribal — when [people] want to stand up for the Palestinians," said Levin, whose father and uncle were both Democratic members of Congress and supporters of Israel.
Levin and J Street, a liberal Israel lobbying group, hope they can advance efforts to achieve a two-state solution with legislation containing provisions to prevent Israel from using U.S. defense assistance to annex or exercise permanent control over Palestinian territories and to reverse the Trump administration's policy that Israeli settlements in the West Bank are not a violation of international law.
But the chances of Levin and his two dozen cosponsors passing the legislation appear slim with little to no support from Republicans or moderate Democrats. The centrist group Democratic Majority for Israel opposed the bill and claimed that it "wrongly blames Israel alone for the failure to achieve a two-state solution. The reality is that Israel has offered Palestinians — and Palestinian leaders have refused — a state of their own on several occasions," according to the Times of Israel.
(The sponsors also did not include any members of "the Squad," the group of young progressive Democrats that includes Bush.)
Meanwhile in Israel, Prime Minister Naftali Bennett supports annexing the West Bank to Israel; opposes the creation of a Palestinian state; and want to expand Israeli settlements in the West Bank.
And Bennett's counterpart, Palestinian Authority President Mahmoud Abbas, has a tenuous grip on power. Earlier this year, he canceled elections that were to be held for the first time in 15 years. And Hamas, an Islamist terrorist organization, continues to control Gaza.
Despite the long odds against peace, Levin's view is: "There's always excuses."
"You have to start building for change in the fallow times," said Levin, who was joined at the breakfast at the St. Louis Club by J Street President Jeremy Ben-Ami and leaders of the local J Street chapter. "I really do feel like what we are trying to do is create a new center of gravity in Congress, in the Democratic party, but the Republican party, at some point has to change. I mean right now it's not even working in the realm of democracy," referring to the lawmakers who voted to object to the 2020 presidential election results.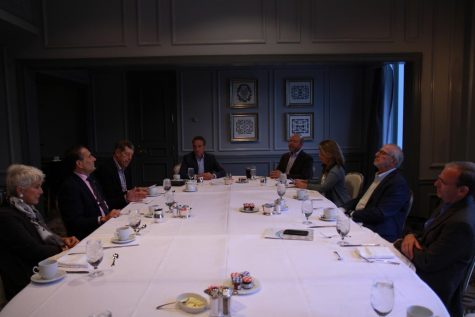 Levin said there is also reason for optimism because his cosponsors include legislators who hold leadership positions on committees and Jews such as Reps. Jamie Raskin, D-Md., and Jan Schakowsky, D-Ill.
As to the charge that supporters of his legislation are threatening Israel's security, Levin pointed to the fact that he and other co-sponsors of the bill, on the same day it was introduced, voted in favor of a measure to provide $1 billion in new funding for Israel's Iron Dome missile defense system.
"I really do think we can get major traction on this," said Levin.
While 420 lawmakers voted in favor of the Iron Dome funding measure, 10 Democrats and one Republican voted against it or "present."
That included Bush and Levin's fellow Michigan Representative, Rashida Tlaib, who Levin describes as a friend. Tlaib, who is of Palestinian descent, has said she supports a one-state solution that would combine Israel and Palestinian territories into one democratic country, which could then have a Palestinian majority and no longer be a Jewish State.
Levin said that he "unabashedly feels like my people should get a homeland, and we need one."
After Tlaib voted against the Iron Dome funding and described Israel as an apartheid state, Rep. Ted Deutch, D-Fla., accused her of antisemitism.
Levin said he disagreed with that accusation against Tlaib and pointed to a recent report from Human Rights Watch stating that Israel's treatment of Palestinians in Gaza and the West Bank met the legal definition of apartheid.
"I think you have to take that seriously," Levin said of the report. "I hear so many people say, 'That's antisemitic to say that.' I don't think criticism of Israel — even criticism I disagree with, even criticism that is very strong — to say that it's antisemitic is not only wrong, but it's dangerous for those of us in the trenches fighting against antisemitism because antisemitism is hatred of Jews. If people want to say, 'We should push Israel into the sea or the Jews have no right to a homeland,' then I think that bleeds over into antisemitism."
Ben-Ami echoed Levin's opinion that the right way forward is to engage with people like Tlaib and Bush, rather than attack them.
The question over how to approach such critics is "a central challenge for institutional Jewish leadership right now because not only are progressive movements launching these critiques but their kids and grandkids within the Jewish community," said Ben-Ami, who was also in St. Louis because of a J Street benefit Monday night at Congregation Shaare Emeth featuring former U.S. Ambassador to Israel Martin Indyk. Such young Jews "are not antisemitic and they are not opposed to the Jewish community; they are looking actually to fulfill the values on which they were raised, to pursue justice and to stand for the rights of the oppressed."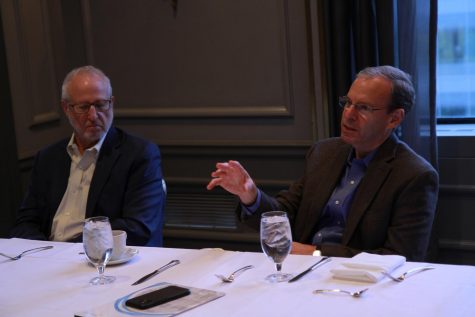 Joe Pereles, a co-founder and political advocacy chair of the local J Street chapter, organized the breakfast and said he hopes Levin's legislation puts the United States on a path to building a two-state solution, "which I think is in the long-term best interest of Israel."
As to Bush, who has yet to meet with leaders of local Jewish organizations, Pereles said J Street has extended an open invitation. (Abbas Alawieh, Bush's chief of staff and Levin's former legislative assistant, and another Bush staff member met with a group of St. Louis Jewish leaders in August.)
"I'm always up for talking," said Pereles, a past president of Shaare Emeth who will be honored at the event Monday. He would like to lay out J Street's positions to Bush and is "optimistic that we will be able to make some progress there."