Three St. Louis Maccabi athletes awarded special Midot Medals
Published August 25, 2022
This summer marked the 40th year of the JCC Maccabi Games. This year's games took place in San Diego, Calif., from July 31 to Aug. 5.
The St. Louis team sent 38 young athletes to join 57 other delegations and more than 1,600 Jewish teen athletes from the United States, Canada, Mexico, Israel and Bulgaria.
The week-long, multi-sport and cultural event utilizes high-quality venues and features competition in sports such as baseball, basketball, soccer, ice hockey, volleyball, table tennis, swimming, tennis, golf and competition dance. The week of competition is accompanied by a wide array of cultural and social activities.
Medal Winners
The St. Louis team came home with several medals from a variety of sports. The 14U Soccer team placed third, taking home the bronze medal. Swimmers Ari and Samuel Hoberman and Alyssa Weisenberg brought home a collection of medals in varying events. Max Peck and Asher Kahn brought home the gold in Spike Ball, which is described as "if volleyball and foursquare had a baby."
Midot Medal Winners
At the JCC Maccabi Games, Midot Medals are awarded to individuals who embody a value and go above and beyond what is required. Three St. Louis athletes earned this special honor.
Max Jachthuber, a member of the 14U soccer team was awarded the Midot Medal by Coach Neal Alsop, of New Orleans, in response to sticking up for a teammate while breaking up a fight. Max was not able to play in the semi-final game despite several other coaches vouching for him, yet he showed incredible leadership skills and eventually led the team to a third-place finish.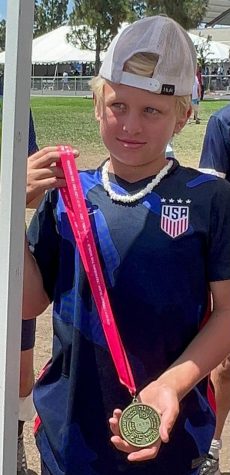 Gabie Klaven, a member of the girls' soccer team, earned her Midot Medal for always being kind and considerate and for being an amazing teammate. Her Midot Medal was given to her by her coach from Montreal, Chi Yen Lim.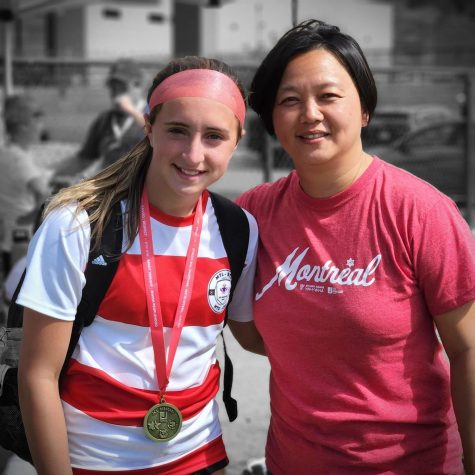 "Gabie was awarded the Midot Medal for Ga'ava. Pride is the feeling of being confident in the world. Gabie joined the Maccabi games as a midfielder in the girl's mixed soccer team. When no other player volunteered to play as a goalie, Gabie stepped in having played in net only a handful of times when she was 9 years old. Little did we know, Gabie quickly instilled confidence in her team from the little experience she's had in her life. Congratulations Gabie," said Yen Lim.
Eli Reppy, a member of the U14 Boys Baseball team, earned his Midot Medal after being nominated by Coach Cole Cretcher from Palo Alto, Calif. In a letter to the St. Louis team, Cretcher wrote:
"I wanted to share a compliment for one of your U14 baseball athletes, Eli Reppy.  I met Eli because he became fast friends with my U14 baseball and tennis athletes. He was always such a pleasure to have around and when my tennis athlete lost during a medal competition, Eli was on hand to console the athlete and offer some words of encouragement. I haven't ever observed a 14-year-old have the wisdom/wherewithal to step in for support as he did. My athlete was very upset but after speaking with Eli, he bounced back and was able to enjoy the rest of his time in San Diego."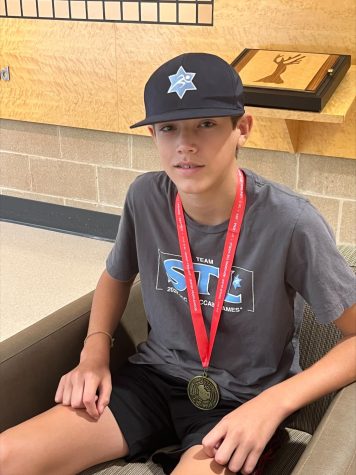 The St. Louis Delegation
Hockey
Hobey Alton
Mason Jachthuber
William Small
DJ Levenson
Jack Zimmerman
14U Basketball
Samuel Manlin
Adam Klein
Jacob Genin
Miles Settler
Cooper Buxner
Bodie Buxner
Maddox Wolf
Noah Murov
Adam Ornberg
14U Soccer
Jared Snyder
Jonah Starenchak
Maxwell Jachthuber
Roa Eidelman
14U Baseball
Jacob Winograd
Eli Reppy
Asher Kahn
16U Basketball
Micah Perryman
Kenneth Gould
Luke Nissenholtz
Luke Brockman
Will Heligman
Max Peck
Chase Giancola
16U Baseball
Leo Brown
Sam Ross
Noah Kravetz
Nathan Arst
Swimming
Ari Hoberman
Samuel Hoberman
Alyssa Weisenberg
Girls Soccer
Gabriella Klaven
Lia Lev
Spike Ball
Max Peck
Asher Kahn
Coaches
Steve Guller
Brett Kalmes
Roger Siwak
Joey Mufson
Ron Gibbs
Delegation Head
Emilie Brockman