The Story Behind The Name: The Julia Goldstein Early Childhood Learning Center
Bill Motchan , Special to the Jewish Light
Published June 20, 2023
Just north of the University City Loop on Kingsland Avenue sits a modern brick building that has been a welcoming, innovative center of learning for preschool age children for 27 years. The Julia Goldstein Early Childhood Learning Center has 12 classrooms, a kitchen and a developmentally appropriate 27,000-square-foot playground.
The two-story center specializes in a free program known as Parents As Teachers that empowers parents as their children's first teacher. The program provides home visits and learning activities for families with children up to 5 years old. 
The program was the specialty of a noted Jewish St. Louisan for whom the building is named. On June 13, 1996, the University City Board of Education officially approved naming the building in honor of Julia Goldstein.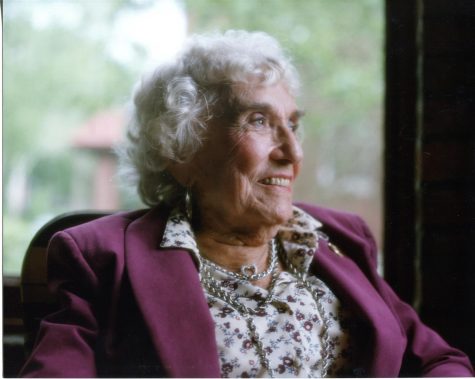 An education power couple
Julia Benjamin was born in 1900 in New York City. She graduated from Teacher's College in New York and moved to St. Louis in 1923. In 1930, she founded the McKnight Nursery School, one of the first preschools in the area, and operated it for nearly 50 years. 
In 1924, Julia married Albert Goldstein, who taught chemistry at Washington University and went on to become dean of the upper division of the College of Liberal Arts. The Goldstein family attended Congregation Shaare Emeth.
While Albert Goldstein spent his career in collegiate education, Julia focused on preschool. She was convinced that early childhood learning could make a huge difference in how a child  progressed from kindergarten on. After retiring from McKnight Nursery School at age 85, she persuaded the University City school district to let her begin a tutoring program at Flynn Park Elementary School.
The program began with 10 pupils who met once a week with an adult volunteer who served as a tutor/counselor. That program was effective in its objective and now, nearly 40 years after its inception, the Parents As Teachers concept is considered highly effective at promoting early childhood development.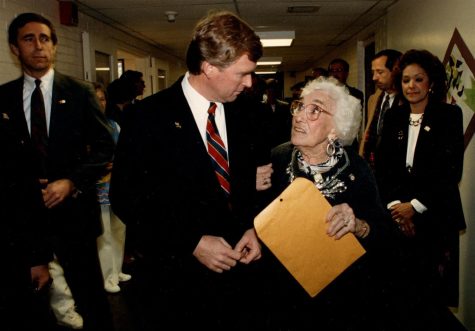 Goldstein's work was praised by then-Missouri Gov. John Ashcroft and Vice President Dan Quayle, who visited U. City in 1989 to meet her. At age 90, she was recognized in President George H.W. Bush's "thousand points of light" program. She met and befriended actor Tony Danza, who featured her on a TV show he produced. She was also profiled on "CBS Sunday Morning" by Charles Kuralt.
Who was Julia Goldstein?
Through her work running a preschool, Julia Goldstein was always a proponent for early learning. Her idea for implementing a public school tutoring program likely came after she visited her great-grandson Evan's kindergarten class to observe it. Evan's mother (and Julia's granddaughter) Nancy Margulies said Julia noticed something amiss.
"She observed a couple of kids who weren't paying attention to the teacher," said Margulies, 75. "She sat with one of them and tried to help her with one-and-one-equals-two. And the little girl didn't seem to understand it. So Julie — she insisted I call her Julie, not 'grandma' — she  went to the principal and said, 'You've got some kindergarten kids who are not really ready to learn in school. What do you do when that happens?' "
The principal told her the kids would likely have to repeat kindergarten. Goldstein had a better idea.
"She said, 'Would you give me an hour with each child that the teacher believes will not graduate?' " Margulies said. "Julie sat in the hall at a little table and chair with a few of the kids that she worked with, and she brought some books for them to learn to read. And then when they were able to read the book, she gave it to them to take home to show their parents. She also required that the parents come in to meet with the teacher and learn more about how their child was doing."
Goldstein also made it clear that if the parents had to take time from work to meet with the teacher, they should not get their pay docked. And if their employer didn't agree to those terms, Goldstein would visit their workplace and strongly suggest they do so.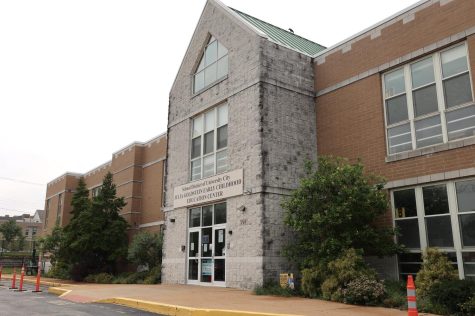 She was equally direct and unequivocal when it came to recruiting volunteer tutors. Retirees were prime targets.
"She would literally stand in line at the post office and turn to the people around her and say, 'Are you retired? Do you have some free time? Do you like children? Do you have an hour a week to spend helping a child?' " Margulies said. "And she would get volunteers. She would go into a doctor's office waiting room even when she didn't have an appointment, just so she could see if she could get some volunteers from people sitting there."
Eventually, Goldstein was named director of the University City School's Partners Education Excellency Program. It matched 50 retiree tutors to meet with first- and second-grade pupils who needed additional instruction and encouragement. Goldstein also served as fundraiser to secure resources, including books and other education materials. The program benefitted both the children and the adults.
"These relationships were very important to the older adults, many of whom were living alone and not feeling productive," Margulies said. "It was great for the kids. They formed really good bonds. And the kids that Julie and the other volunteers worked with did not have to repeat kindergarten. They really got much better at paying attention and appreciating learning."
Julia Goldstein died Aug. 12, 1994, after suffering a stroke. In her 90s, she didn't slow down in her efforts to improve the lives of others and, mentally, she showed no signs of deterioration. 
She participated in a research program at Washington University on brain research because she fit the profile of having a healthy brain. The doctor conducting the study said: "Mrs. Goldstein, we're ready for you. Do you have to go to the bathroom first?" She replied: "No. Do you?" Then she turned to the other people in the waiting room and said of the doctor, "I toilet trained him."
Margulies now lives in northern California, but she grew up in U. City and lived there for many years. She formed a closeness with Julia Goldstein and said of the early childhood learning center, "I think it's wonderful that her name lives on through that building, but it also lives on through a lot of people."
| RELATED: The Story Behind The Name: The Wool family's philanthropy