The audience is part of the show in the latest from New Jewish Theatre
BY GERRY KOWARSKY , SPECIAL TO THE JEWISH LIGHT
Published March 20, 2023
Actor Will Bonfiglio and director Ellie Schwetye are together again at the New Jewish Theatre. They have scored another triumph in "Every Brilliant Thing," a one-act, one-actor show.
In 2019, Schwetye directed Bonfiglio in "Fully Committed." For playing dozens of parts, he received the St. Louis Theater Circle Award for outstanding actor in a comedy.
Bonfiglio has only one role in "Every Brilliant Thing." His character tells the story. Bonfiglio as the storyteller is not, however, the only performer. Several members of the audience are asked to take important roles in the play. Many people are given a numbered card when they enter the theater. They are told to read the words on the card whenever their number is called.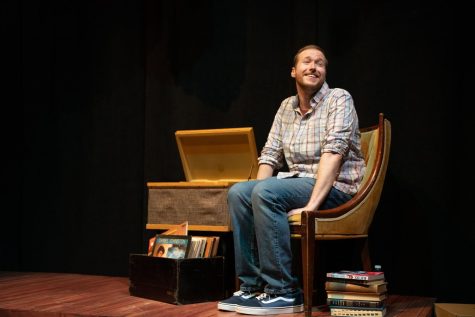 The cards are part of a list the storyteller began making when he was 7 years old after his mother's first suicide attempt. To give her reasons to live, he tried to list every brilliant thing in the world. The list keeps growing because the storyteller has a recurring need to cope with depression: first his mother's, then his own.
"Every Brilliant Thing" was written by Douglas Macmillan with Jonny Donahoe. The play is based on "Sleeve Notes," a short story by Macmillan. In an author's note in the printed script, Macmillan explains that Donahoe "essentially co-authored the play while performing it." He drew "on his experience as a stand-up comedian to find ways to tell the story and use the audience."
The audience contributions are critical to the play's success. On opening night, Bonfiglio forged an immediate bond with the audience and turned its members into eager collaborators.
Overcoming their natural shyness was an impressive achievement for both Bonfiglio and Schwetye, whose direction helped the actor prepare for relating to an audience before one was present.
Bonfiglio's warmth and energy were contagious. Audience recruits appeared happy to be called on and worked hard to do their parts as well as possible, returning the enthusiasm of Bonfiglio's responses to what he heard.
The storyteller's demeanor was generally more upbeat than one might expect in a play about chronic depression. At times, he reflected on the darkness of his past, but his present was a reminder that recovery is possible.
I have seen less extrovert portrayals of the storyteller in intimate settings. That approach would have been difficult to carry off in the spacious Wool Studio Theatre. Bess Moynihan's scenic design creates a large, central acting area covered by a rug and surrounded on three sides by the audience.
On the fourth side is a small platform for a chair and a phonograph. Listening to it comforts the storyteller. Suspended from the ceiling is a thicket of cards that are part of the storyteller's list of brilliant things. The props are by Katie Orr.
Bonfiglio roams and sometimes runs all over the theater. Moynihan's lighting supports this use of the space. Important moments receive special treatment in the lighting and in Schwetye's sound design. Costume designer Michele Friedman Siler makes the storyteller approachable by putting him in casual jeans, plaid shirt and sneakers.
I have used masculine pronouns for the storyteller because they are correct for this production. The script does not, however, identify the storyteller's gender or ethnicity. A company could choose anybody for the part. Nor does the script dictate the gender or ethnicity of Sam, a person with whom the storyteller falls in love and who is played by an audience member. Sam was male on opening night but does not have to be male every night.
Performances of "Every Brilliant Thing" are bound to differ widely. The one sure bet is that each performance at NJT will be a splendid afternoon or evening of theater. Bonfiglio's brilliance on opening night was based on superb relationship-building strategies and skills he will use at every show.
'Every Brilliant Thing'

WHEN: Through April 2
WHERE: Jewish Community Center's Wool Studio Theatre, 2 Millstone Campus Dr.
HOW MUCH: Tickets are $49–$54, available by phone at (314) 442-3283 or online at newjewishtheatre.org
| RELATED: New Jewish Theatre receives 10 St. Louis Theater Circle nominations