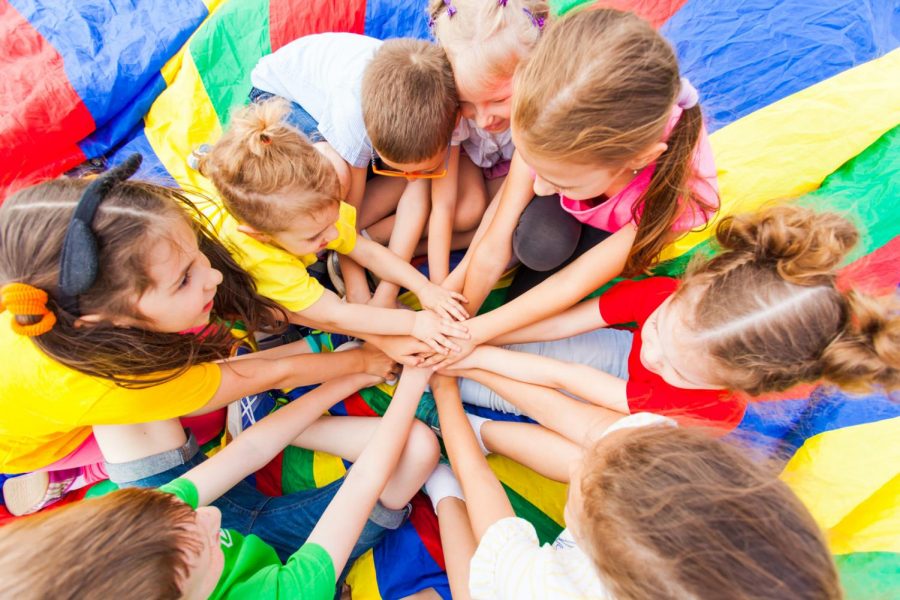 Spring is here and summer is fast approaching; with that, a longing and readiness to return to some degree of "regular" life. For many parents, that means making plans for summer camp and fortunately, St. Louis offers a multitude of options for just about anything your child is interested in doing.
Last summer, only a handful of camps opened while operating under strict COVID-19 guidelines, and many families chose to keep their children home. While I enjoyed the 12 weeks of  "Mommy Camp" I ran at home last summer, I know I'm not the only one excited for a return to camp.
Almost all St. Louis area day camps are ready to reopen this summer, guided by the most current COVID-19 protocols. One of the biggest changes consistent across camps this summer are smaller cohorts and reduced enrollment. This means that many camps are already full and starting wait lists. So if you are still looking for camp options for your kids, read on to see if one of these camps would be a good fit for your family. Prices vary depending on the camp.
Camps at B'nai Amoona
Ramot Amoona (rising kindergartners through 6th grade) will be returning this summer after having a successful modified program last summer. It is also introducing a new program for older campers, Tikkun Olam (rising 7th and 8th graders). Ramot Amoona campers will have the opportunity to participate in activities such as chess, photography, creative engineering and American Sign Language along with special camp program days and a return this summer to swimming instruction (off site).
The Tikkun Olam program for 7th and 8th graders will be a combination of Tikkun Olam (the Jewish value of repairing the world), social justice, leadership and a counselor-in-training program – a great option for middle schoolers who would like to be a camp counselor for Ramot Amoona when they are in high school. B'nai Amoona also runs an early childhood camp, B'nai Ami (infants through pre-kindergarten).
Session dates (each session is a week (Monday-Friday) but must sign up for a minimum of two weeks)
Session 1: June 21-July 9
Session 2: July 12-July 30
Bonus week: Aug. 2-6
Hours: Carpool drop off staggered between 8:45-9:15 a.m.; carpool pick up at 3:15 p.m.
Pre/Post care: Tentatively scheduled but if offered, pre-care from 7:30 a.m., post-care until 6 p.m.
Additional information available on the camp website. While all sessions are currently full, you can be added to the wait list here
Camps at Shaare Emeth
Camp Emeth (rising kindergarteners through 5th grade) can be sure to have a fun and active summer at Shaare Emeth's day camp, run by experienced specialists and dedicated counselors (most of whom are former campers). Camp Emeth is excited to bring back swimming this year (off site), has field trips planned and will be providing pre/post care, all within the safety of the current COVID guidelines. Shaare Emeth also runs an early childhood camp, Camp Micah. (infants through pre-K) and hopes to bring back its program for middle schoolers in 2022.
Session dates: Monday, June 7 through Friday, July 30 (can sign up for individual weeks or the whole summer)
Hours: 9 a.m.-3:30 p.m.
Pre/Post Care – Pre-care from 7:30-9 a.m.; post-care from 3:30-6 p.m.
Additional information and registration information available on the camp website.
Camps at the Jewish Community Center  
The J at both the Staenberg and Fox campuses are excited to offer fun, flexible and safe camps for children in preschool through 6th grade, after learning how to deliver a great camp experience under COVID guidelines last summer. Campers entering kindergarten through 2nd grade will experience traditional day camp activities ranging from sports to arts and crafts, science, team-building and more.  Campers entering 3rd through 6th grade will be able to choose a focus activity each week based on their own personal interests, including sports, gymnastics, arts and crafts, cooking and team-building (options will depend on location). Younger preschool campers (ages 3-5) are introduced to the day camp experience through a wide-range of camp activities geared toward early childhood. All camps include daily swimming (instruction and free swim) in their on-site pools. The J also has an inclusion supervisor on staff and is able to provide support services to campers who qualify.
Session dates for school age campers:
June 7: Blast off week (choose from half or full day options including arts, sports, STEAM and theater, depending on location)
June 14 – Aug. 20: Sign up for as many weeks as you'd like.
Session dates for preschool campers:
June 14-Aug. 13: Sign up for as many weeks as you'd like.
Hours: 9 a.m.-3 p.m. (except for Blast Off Week, which is 8 a.m.-5 p.m.; preschool camp offers half and full day options)
Pre/Post Care: Pre-care runs from 7-9 a.m., post-care from 3-6 p.m. (no pre/post care for preschool campers)
Visit the J camp website for more information and to register.
Kids' Camp Ladue
This camp is open to all  and strives to be one of the more affordable day camp options in the area. Kids' Camp Ladue is for children entering 1st through 6th grade and programming is organized around different class options. Campers can select those that best fit their interests. Classes vary by session but include STEAM, general sports, tennis, outdoor games, recycled art, chess, wood shop, Legos and more.
Session dates:
June 7 – 18
June 21 – July 2
July 6 – 16
Hours: 9 a.m.-3 p.m.
Pre/Post Care: Pre-care offered from 7:30-9 a.m., post-care from 3-6 p.m.
More information and registration forms available on the camp website.
Parkway Camp FunTastic
Operating for over 40 years at Green Trails Elementary School, this camp is open to anyone (regardless of residency) entering kindergarten through 7th grade. Campers can choose from a traditional day camp (K-6th grade) or sports skills camp (3rd-7th grade). While Camp FunTastic will not be offering swimming this summer due to COVID, there will be different speakers and experiences brought into camp. Every Friday, campers come together for a campfire, skits and fun. In the Sports Skills Camp, sports lovers can hone their skills in everything from soccer and field hockey to volleyball, frisbee and track and field.  Camp will follow the current Parkway School District COVID guidelines and will be staffed (as always) by elementary school teachers with support from high school and college age counselors.
Sessions dates: Monday, June 7 – Friday, July 30
Hours: 9 a.m.-3 p.m.; half day options from 9 a.m.-noon or noon-3 p.m. (children attending summer school at River Bend can take a shuttle to Green Trails for afternoon camp).
Pre/Post Care: Pre-care offered from 7-9 a.m., post-care from 3-5:30 p.m.
More information is available in the camp brochure.
Camp O
Offered through the Olivette Parks and Recreation, Camp O promises eight weeks of themed summer fun for children ages 5 through 12.  The camp program is headquartered at the town's Community Center and activities include music, art, drama, sports, cooking, science and free play. Some of the themed weeks planned for this summer include Around the World, Great Camp O Bake Off, Color Wars and Aqua Olympics. Campers are grouped by age and the camp maintains a small camper to counselor ratio. Olivette Parks and Recreation will also be offering sports, science, art and circus camps at different weeks throughout the summer.
Session Dates: Monday, June 7 through Friday, July 30 (pick and choose any combination of weeks)
Hours: 9 a.m.-3:30 p.m.
Pre/Post Care: To be determined
More information is available on the camp website.
COCA Camps
Located in the University City Loop, COCA offers week-long arts camps for children ages 3 through 18. After offering mostly virtual options last summer, COCA has expanded its outdoor classroom space and will be offering indoor, outdoor and virtual camps this summer. All camps will be operating under their current COVID guidelines, and campers attending for the full day can request to eat lunch outside. Campers are grouped by age, starting with an early childhood program that offers introductions to all areas of the arts and an introduction to different cultures around the world. Children in elementary, middle and high school can choose from dozens of camps that fit their individual interests and include everything from studio art to animation, cooking, dance, fashion design and stage combat.
Session dates: June 1 through Aug. 20 (morning, afternoon and full day options)
Hours: 9-11:45 a.m. (morning camps), 12:15-3 p.m. (afternoon camps), 9 a.m.-3 p.m. (full day camps)
Pre/Post Care: Pre-care offered from 7:30-9 a.m., post-care offered from 3-6 p.m. (pre/post care for ages 5 and up only)
More information and registration is available on the COCA website.