St. Louisan Gene Litvin mounts relief effort for his native Ukrainian brothers and sisters
Bill Motchan, Special For The Jewish Light
Published March 31, 2022
Gene Litvin is a proud Ukrainian. He's lived in the United States for 30 years, but his country of birth is still close to his heart. After watching the devastation of his homeland for weeks, Litvin was compelled to help. It had to be a meaningful act to bring some relief to refugees and the Polish people who are providing them with safe harbor.
So Litvin traveled to Lublin, Poland, on March 13 with money to spend and four suitcases filled with toiletries. A week later, he returned home to Olivette knowing he accomplished his mission:
• He gave supplies to families who had to relocate suddenly.
• He provided translation assistance (Litvin speaks Ukrainian, Russian, English and some Polish).
• He helped open a store in a Warsaw mall that provides clothes and other goods to refugees.
• He helped a refugee family get across the border from Ukraine into Poland through his network of friends and contacts.
"My Polish friends said that what I did started an avalanche of goodwill, which was amazing," said Litvin, 46.
Gene Litvin:

Planning the trip
It began when Litvin and his wife, Marina, decided to take action to support Ukrainian refugees. They got a report from the World Health Organization that the Polish government was managing the influx of refugees without any problems. Their friends in Poland told a different story.
"I was talking to them, and they said, 'It's unbearable here, we can't get any medication and nobody is helping,' " Litvin said.
The Litvin family, who are members of Congregation Temple Israel, made a decision. Gene Litvin would travel to Poland. Having enough frequent flyer credit to get to Warsaw, he arranged to crash at a friend's home, so he didn't need to book a hotel. He discreetly began collecting donations from some close friends.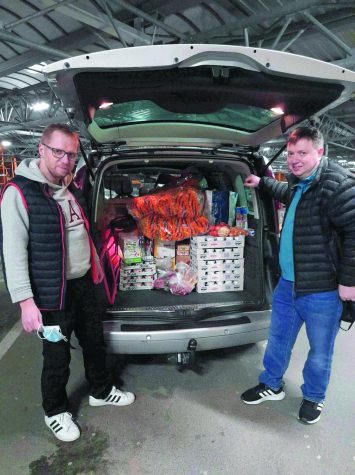 Marina Litvin, a physician and associate professor of medicine at Washington University, requested the same from associates on a "physician mommy" Facebook group.
Gene Litvin, an information technology manager, filled four big suitcases with toiletries and personal care goods he obtained from his employer, Edgewell Personal Care, whose brands include Schick, Hawaiian Tropic and Playtex. Edgewell CEO Rod Little learned of Litvin's initiative and pledged to donate corporate matching gifts on donations. Little also flew to Warsaw to make sure the company's employees in Poland had the necessary resources to support Ukrainian refugees.
"In just two days, I got donations of over $5,000," Litvin said. "By the time I got to Poland, I had $20,000 from friends, family and the physician mommy group."
Gene Litvin:

Protection in the suitcase
Litvin's long travel day included lengthy delays, missed flights and a suspicious border guard.
"I got questioned quite a bit," Litvin said. "All they see is an Eastern European-looking guy traveling by himself into a war region with a lot of suitcases. But I had a record of everything that was in the suitcases, things like pads and diapers. And I said, 'The only protection I'm carrying are tampons.' So the guy smiled at me.
"Obviously, they were very sympathetic once they figured out what I was doing. But they were challenging me because my passport says my country of origin is Russia. When we left there in 1992, everybody was Russian. It didn't matter that we were Russian Jews."
Litvin remembered tiny Fiat cars from his childhood and  wondered how he'd get four huge suitcases transported from the Warsaw airport. Luckily, a polish volunteer named Greg who offered to drive him to Lublin had a large SUV. After the 106-mile trip, Greg and Litvin became fast friends.
"It was about a two-hour drive from Warsaw to Lublin," Litvin said. "By the time we got to Lublin, it was like he could have been my brother. In times of war, people get closer a lot quicker."
Greg's friendship — and his large vehicle — were the first signs of hope for Litvin in a week of serendipitous events.
Gene Litvin:

Stars in alignment
Litvin and his driver made several trips to a warehouse-style store in Lublin similar to Costco, where he stocked up on medicine and food to deliver to refugee areas. COVID-related supply chain issues made it difficult to get some of the personal care items Litvin wanted to take to Poland. Again, Edgewell's Little stepped in, making sure products such as tampons were available for Litvin's care packages.
"My company did great things," Litvin said. "They supported me every step of the way. The stars literally aligned. While I was there, opportunities to help kept popping up."
Those opportunities included helping a family desperate to get out of Ukraine. Litvin used his connections in Poland to help track them down. A friend went over the border and brought the family food, then helped them get to Poland with a place to stay. He also met two Ukrainian refugees, young women each named Anna, who are lawyers.
"They were so scared, terrified," Litvin said. "I helped them take their kids to school. They didn't speak English or Polish, so I translated for them and helped place their kids in kindergarten."
Litvin then took the two Annas to the mall and bought them new clothes.
"The transformation was amazing," he said. "Now we're also sponsoring a store. We rented a space in a mall. It looks like a store. Your credit is your Ukrainian passport. You walk in there and you shop. Then an idea hit me. I said, 'Can we have these two Ukrainian girls work here?' And they said, 'Sure, but we can't pay them.' I said, 'I'm giving you the money.' So they're getting paid and they feel dignified."
Big hearts in Poland
Litvin said he wants Americans and the St. Louis Jewish community to know about the warmth and sacrifices made by the Polish people, including those who have opened their homes to Ukrainian refugees.
"The Polish people in their hearts are bigger than anybody imagined," he said. "This is a huge redemption from World War II for what happened to the Jewish people. It's making amends. I'm rethinking the history that we were taught growing up in the Soviet Union. It's hard to believe that the people that I met would be capable of killing Jews."
Litvin wears a lapel pin bearing the image of the flags of Poland and Ukraine to symbolize the collaboration exhibited by the two countries. Before Litvin left Poland, he met some members of the Polish military who learned of his journey.
"They were hugging me and said, 'Thank you for helping,' " he said. "One of them took off his lanyard and gave it to me. That was very special and touching. That's why I wanted to do this. I didn't want the Polish people to feel like they were on their own."