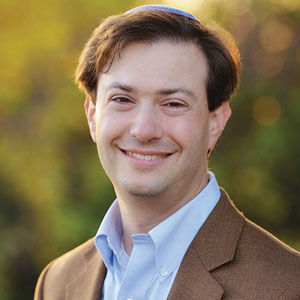 Six years ago in Ferguson, a police officer killed Michael Brown, an unarmed black man. During the protests that followed, Rabbi Noah Arnow says, he felt that some members of his synagogue – and American Jews in general – believed that the nascent Black Lives Matter movement was "a little too much and a little too angry."
Now, Arnow says, after the recent high-profile killings of George Floyd, Ahmaud Arbery and Breonna Taylor, who were all black, "It obviously was not too much and not too angry."
In recent weeks, local rabbis and members of the Jewish community who weren't in Ferguson in 2014 have been attending protests despite concern about becoming infected with the coronavirus, and despite rhetoric that links racism to Zionism and describes all police as bad. 
"It's been a galvanizing moment for a movement," said Arnow, of Kol Rinah, a Conservative synagogue. 
Some people in the Jewish community have been reluctant to support the Black Lives Matter movement because of a Movement for Black Lives platform released in 2016 that not only describes systemic racism in the United States and what needs to be done about it, but also condemns U.S. military aid to Israel and says this country is "complicit in the genocide taking place against the Palestinian people." (The Movement for Black Lives is a collective of organizations representing black Americans, including the Black Lives Matter Network.)
"Whatever our feelings are about what the platform says about Israel don't matter right now because this is a moment when we need to actually say the words 'Black Lives Matter,' because that is what matters, not all of these other tangential things," said Arnow, who attended a June 3 vigil in the parking lot of the Salvation Army in Midtown in honor of black people who died in encounters with police.
Fellow Conservative Rabbi Carnie Rose of Congregation B'nai Amoona recently attended Black Lives Matter protests for the first time in Clayton and Brentwood and expressed a willingness to be uncomfortable with some of the statements he saw and heard, such as police being referred to as "pigs" and signs stating "Zionism equals racism." 
"Our family are very much supportive of law enforcement and first responders and all of these people who protect us … and we are hearing an awful lot of uncomfortable statements about the police," Rose said. "We would never want to make sweeping generalizations about an entire group of people based on some bad apples. On the other hand, we also understand that there has to be some element of a systemic reshuffling in order to correct an inequity, and we have great empathy for the black community in all of this."  
Rose said his goal is to find "common ground, when can we be bedfellows and when can we not."
Local rabbis also had to weigh the risk of contracting the coronavirus against their feelings of obligation to support the Black Lives Matter movement. 
Rabbi Andrea Goldstein of Congregation Shaare Emeth was among local clergy who in March, as concern about the virus grew, recorded videos urging Missouri Gov. Mike Parson to issue a stay-at-home order. 
After Floyd was killed May 25 and people started to protest around the country, Goldstein, her husband and their three children discussed attending one of the large gatherings. The rabbi and her oldest son, Macey, decided to attend a protest June 1 at the City Justice Center downtown but promised "the rest of our family that we would go and assess the situation, and if we ever felt that we were not safe" because of the virus "then we would not continue," she said.
The overwhelming majority of people at the protest were wearing masks, and Goldstein and her son remained on the outskirts during the march, she said. She was particularly moved when protesters knelt in silence for eight minutes and 46 seconds – the length of time that then-Minneapolis police Officer Derek Chauvin had his knee on Floyd's neck before he died. 
"It was very, very powerful," she said. 
Goldstein said she decided to attend the protest despite her concern about the virus because "we are moved by the fact that structural racism in this nation is also harming our neighbors, people of color, black- and brown-skinned people. It is as deadly for them as the COVID virus, and we feel, based on our Jewish values, that we have an obligation to cause some disruption in daily life and join with the organizers of the protests."
Still, Goldstein emphasized that there are other ways to support people of color at this charged moment – donating money to relevant organizations, calling lawmakers – and said she "feels very, very nonjudgmental about people who choose to go and be present physically during these events and people who choose not to, because I understand that it's a very difficult choice right now."
Susan Talve, founding rabbi of Central Reform Congregation, gained national attention during protests in Ferguson after Brown was killed. Now, however, Talve is 67 and has a "94-year-old father that I need to be available for."
"My husband is over 70, and I have two little grandchildren, so it's not just about me," she said.
So Talve has not been attending recent protests but has been volunteering with Village Safe Spaces to provide food assistance to the city's most vulnerable households. She planned to attend a candlelight vigil for black America on at 6 p.m. Thursday at Art Hill in Forest Park. 
And CRC is organizing small protests in which four people stand at four corners of an intersection in St. Louis. CRC Rabbi Daniel Bogard sees that as a way to continue to show "what proactive public health practices look like and to keep ourselves and St. Louis safe" while also demonstrating "that CRC is a place that believes in the core of its kishkes that Black Lives Matter." 
Still, Talve said, she is frustrated that she is unable to attend more demonstrations. 
"It makes me sad because one of the most important things we can do as white people is put our bodies on the line the way black people do every day," she said. "I am grateful to all the people, and all the people who didn't do this before, to show up."
That idea of "showing up" is important to Tony Westbrook, assistant director of the Hillel at Washington University, who is black. As he converted to Judaism, he interacted with about every synagogue and rabbi in town. In 2014, he attended a protest in Ferguson and was tear-gassed and is now "very traumatized by the thought of being in a large group and protesting," he said.
"My experience with racism both in the Jewish community and the world at large is a daily occurrence, whether it's through microaggressions, people not thinking I'm Jewish, both from the Jewish side and non-Jewish, or getting pulled over by police and asked all sorts of random questions," he said.  
"I always want more from whatever community I am in. I want them to be better. I want them to support the different communities they interact with – and this is the time to show up. If you can donate money, donate money to local organizations that are doing this hard, challenging work. If you feel comfortable protesting, go out and protest. This is not the time to be a passive ally while everything is in vogue. This is really the time for the Jewish community to be in partnership with communities of color."