St. Louis philanthropist helps bring long-delayed Jerusalem museum to completion
Eric Berger, Associate Editor
Published October 12, 2021
About six years ago, a friend approached Michael Staenberg, a St. Louis Jewish philanthropist, and told him about a project he was working on: the Museum of Tolerance Jerusalem.
The project had been in the works since 2000 and experienced numerous delays. Staenberg, a real estate developer, wanted to help.
"I'm always up for a good opportunity," said Staenberg, who has also donated millions of dollars to local Jewish organizations, including the Jewish Light.
With Staenberg's assistance, the project is finally nearing completion and held two big events this week. It's expected to open to the public next year.
"How many people get a chance to participate on something of this magnitude?" said Staenberg, who to help with the museum, has visited Israel 30 times and donated more than $5 million to the $270 million project.
The project "was really special to me," Staenberg added.
The museum was repeatedly delayed because of financial issues and controversy surrounding its location atop a medieval Muslim cemetery. (After a petition from an Islamic group halted constructed, a court ruled in 2008 that it could resume, "noting that nobody had complained during the nearly 50 years that the site had functioned as a public parking lot," the Times of Israel reported.)
Staenberg became involved because of his friendship with Larry Mizel, a Colorado businessman and chairman of the Simon Wiesenthal Center, the group behind the new museum and the existing Museum of Tolerance in Los Angeles.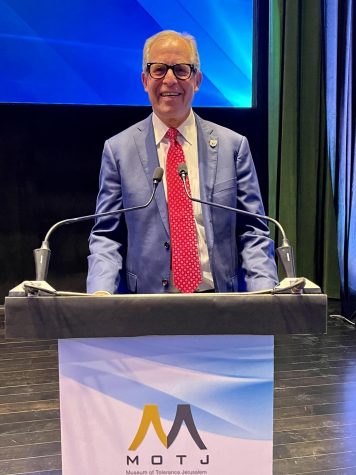 "It was honor to be asked to participate," said Staenberg, who also does business in Colorado.
The Jerusalem museum's 185,000 square-foot campus will feature an "immersive multimedia experience that explores the centrality of Judaism's core values against the epic events of the last 2,000 years" and a Social Lab featuring "interactive exhibits highlighting issues of the day such as anti-Semitic hate, racism and bigotry."
It will also feature an exhibit on Israel's relationship with the arts and a children's museum, among other items.
Staenberg not only donated money but also helped oversee construction, and design and develop the museum's amphitheater and theaters.
On Monday, Staenberg visited the museum for the gala opening of The Friedman Center for Peace through Strength, a nonprofit that aims to advance peace in the Middle East, started by David Friedman, who served as U.S. ambassador to Israel during the Trump administration.
"We are on the cusp of ending the Israeli-Arab conflict and changing the Middle East," Friedman said at the event, which also included former Secretary of State Mike Pompeo and former Treasury Secretary Steve Mnuchin along with former Israeli Prime Minister Benjamin Netanyahu, the Times of Israel reported.
On Tuesday, Staenberg attended the Jerusalem Post's annual conference.
Mizel told attendees that the museum was a "significant step to eradicating the evils of racism and anti-Semitism from the world," the Post reported.
Staenberg said he was "humbled" by the opening events.
"What I want is something good for the Jewish people," Staenberg said. "Who would have thought that a Jewish boy from Omaha, Nebraska would be in Israel dedicating an international center for tolerance and having people come together and realize the goal that we are all Jewish? That's really what it meant to me."