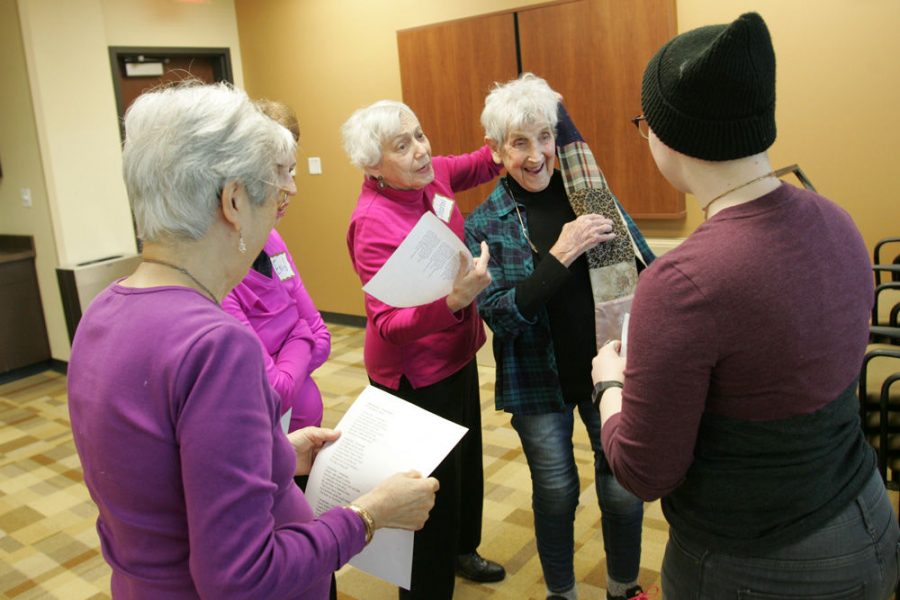 It is 10:30 on a recent Friday morning at the Jewish Community Center, and eight senior adults sit in a small circle—though the conversations are so lively that it feels like a much larger crowd. 
"Hello, time travelers," Miles Bledsoe of St. Louis's Stray Dog Theater greets them. Bledsoe is animated and energetic, exuding a contagious enthusiasm while leading the group through warm-up exercises, both physical and vocal. 
Nancy Baum, 88, turns to me with a radiant smile and tries to get me to join in. 
As the group transitions from a "roses and thorns" check-in, to tongue twisters, to stretching and dancing, and finally to the main act of drama games, the goofiness and smiles grow and grow until they seem to fill the room.
The St. Louis NORC (Naturally Occurring Retirement Community) is nearing the end of the first sessions of a new drama class for which it has high hopes. The St. Louis NORC, a program coordinated by Jewish Federation of St. Louis, aims to support "the healthy aging of adults 60+ in their own homes," according to its website, with a variety of arts, cultural and learning programs, social opportunities and access to support services. NORC received a grant from the JCA Charitable Foundation to launch the drama class in the fall, a project they have been working on for almost a year now.
NORC Activities Coordinator Laura Press-Millner and Manager Sarah Levinson, who spearheaded the project, had heard of similar programs that were successful in other cities and thought it would be a good fit for the local NORC community. "It's a new concept for us here in the St. Louis area, something we had never offered before," Press-Millner said.
Having secured funding for classes, which goes almost entirely to hiring the professional drama instructors, the first series of weekly classes has concluded, with more slated for this winter (see infobox for more details). 
"The curriculum is research-based," Levinson said, and has several goals. Broadly speaking, she said NORC strives to "reduce social isolation" in the communities they serve, and the drama class is merely the latest addition to an already impressive list of activities and social opportunities offered by the organization. "The research shows that this is getting people out of their comfort zone," Levinson said, since most participants have no previous drama or theater experience, "and that requires people's brains to work differently, so you get different neurons firing, and that's creating those new pathways and lighting them up, [which] is really great for brain health." 
Press-Millner stressed that the classes are designed for complete beginners and no previous drama experience is required. 
"To tell you the truth, I didn't have any idea what we were going to do, so I was a little anxious," said one participant, Loreta Mendoza. Now, however, she is an enthusiastic participant and has had wonderful experiences regarding both the theater and social aspects of the class. Letting her creativity go, she explained, has been "so exciting, and you meet such creative people… this place is an outlet, [and] people are very supportive." 
Indeed, a number of the classmates who were previously strangers have now forged friendships. Some carpool together to class, others have arranged group theater outings, and a few have even introduced their peers to other NORC classes and activities. 
This word-of-mouth publicity for NORC's offerings is crucial, according to Press-Millner and Levinson, and the drama class' expanding network is a perfect example of it in action. 
Press-Millner encourages NORC members or others in the community to give the program a chance, even if they have hesitations. 
"Try at least two times," she said. "There's no judgment…everyone's doing the same activities, everyone's having fun."
At this class session, all of the participants seemed to be comfortable, engaged and enjoying Bledsoe's instruction and the camaraderie with other participants. 
"One life touches another here," Baum noted, "and I'm very grateful." 
Marlene Harris, another participant, said, "It's fun, everyone's so friendly, and I've met some new people, and I'm learning about the process of theater…the group gets along very well with each other and is very supportive, and we really know each other well now, so we are not as embarrassed."