St. Louis Jewish moms, daughters discuss Judy Blume classic, "Are you there God, It's Me, Margaret"
By Amy Burger , Special to the Jewish Light
Published May 15, 2023
I was just a year old when Judy Blume's classic young adult novel "Are You There, God? It's Me, Margaret" was published in 1970, long before YA Fiction was even considered a genre. By the time I hit puberty myself, around 1982, that seminal book, as well as Blume's subsequent novels for teens, were still hugely popular. While I haven't read them since that time, I still remember how I felt when I first discovered her books at that impressionable age – like she was speaking directly to me in a way that other adults did not, in a voice that sounded like my own. 
Blume took on issues of puberty and teen sexuality in an honest and unflinching way. In "Margaret," she balanced these themes with the protagonist's developing complex relationship with God and religion – things I also experienced as a Reform Jewish girl growing up in a small town where I was in the minority.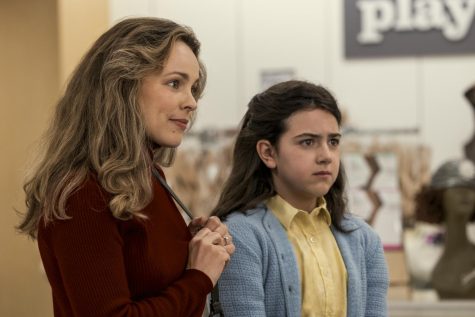 With the recent release of the film adaptation of "Margaret," many women of my generation are remembering just how important Blume, now 85, was at that critical time in our lives. When I see the film, I will view it through different eyes – now as a mother raising teenage girls in a modern world that barely resembles the setting of the book. 
It's a nostalgia trip, no doubt, but the question is, how will it resonate with Gen Z? Do girls coming-of-age in a world dominated by Instagram influencers, TikTok stars and intruder drills still identify with the emotions and themes the book and film present? 
Rabbi Amy Feder of Temple Israel had similar thoughts and questions.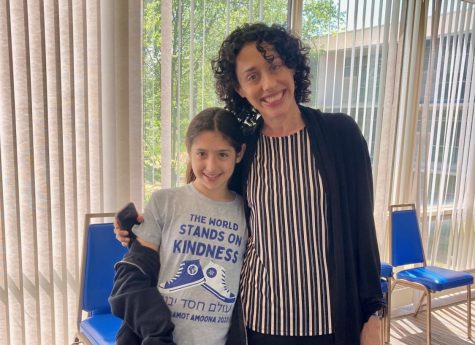 "I loved 'Are You There God? It's Me, Margaret' when I was a child, and I was so excited and curious to see that they're making a movie out of it," she says. "Some of my colleagues across the country in the Women's Rabbinic Network were sharing similar thoughts, and someone suggested that it would be fun to have a class based on it. I asked my 11-year-old daughter her thoughts, and while she wasn't interested in a class, she did think that reading the book and discussing it and then seeing the movie would be fun."
Feder posted a message on the local Facebook group St. Louis Jewish Mamas to see if anyone would be interested, and she was pleasantly surprised by the response. So on Saturday, April 29, a group of about a dozen mothers and daughters gathered at Temple Israel to have a casual discussion about the book. They graciously allowed me to join the conversation.
"The part that made it worth discussing specifically in a Jewish setting is the idea that Margaret is so torn between Judaism and Christianity (the religions that her parents were born into but don't currently practice), and the fact that her parents allow her to choose does not provide her with what she needs, though she builds a connection with God on her own," explains Feder. "It's a really fascinating window into the mind of a child growing up with interfaith parents, and this is a discussion that I have with families all the time."
This struggle with religious identity and Margaret's developing relationship with God were two of the book's themes that really resonated with the group. 
"Sometimes when I'm going through something really tough, I sit down and not really pray to God, but talk to him – saying, 'Please help me get through this,'" said 11-year-old Ilana Moons, who became very attached to the novel while reading it. "Even if you're mad at God and you do something bad, God will always love you."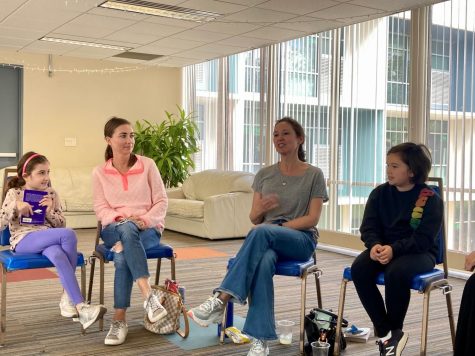 Other participants including Mary Cotton, who converted to Judaism through Temple Israel, and Ilana Austin, who grew up with interfaith parents and is in an interfaith marriage herself, directly related to the challenges of navigating those family relationships. 
"I remember reading this book and my parents were in an interfaith marriage with similar family dynamics and I remember thinking, this girl is in my head," Austin said. "To read it as an adult, I feel that mom's pain now." 
With neither of Margaret's parents having strong feelings for their faith, the character is left to seek her own religious path at a young age, adding to her confusion at an already confusing time – something Feder advises against.
"It was very stressful for Margaret. She knows who she is as a spiritual person, but you can tell that she does feel really torn and left out by not being one or the other," she says.
Among the discussion participants were Feder's own 11-year-old daughter, Molly Alper, as well as Feder's mother, Robin Feder, representing three generations of women reading the same book. In addition to the religious themes, the dynamics of navigating puberty and themes of body-consciousness and body shaming struck a chord with the different generations in different ways. 
Exhibiting Gen Z's much more heightened awareness of the damage of body shaming, a scene in the book where one girl shames another for taking too many Oreo cookies and makes a comment about her weight seemed shocking, prompting 10-year-old Ayla Protzel to declare, "Not her body, not her business." 
Several of the tween girls in attendance expressed surprise and discomfort with a party scene in the book where kids are left unsupervised and play the kissing games of Spin the Bottle and Two Minutes in the Closet – a common rite of passage among Gen X kids. Unlike today' helicopter parent environment, Feder pointed out that kids that age were often left unsupervised in the 1970s and 1980s and thus might have experimented more freely at earlier ages.
Though Feder capped the event at an hour, this lively discussion could have gone well into the afternoon, and is sure to continue after the group takes a planned trip to see the film. The one thing that became clear is that Blume's voice – a voice that was perhaps ahead of its time – still rings true after more than 50 years. Her landmark novel, and its adapted film not only evoke fond memories for Gen X women, but also offer an opportunity to revisit its themes as parents and share them with a new generation.
"All of her books are very empowering and very real life," said lifelong fan Amy Lampert. "You feel attached to her characters."