St. Louis Jewish Light Annual Campaign
Published October 26, 2022
Since 1947, the St. Louis Jewish Light has been a cornerstone of our community, telling our stories and connecting us by offering a local Jewish perspective on moments that matter.
We recently moved from paid subscriptions to completely free subscriptions. Our award-winning print newspaper is mailed to over 10,000 households and our digital newsletter, The Morning Light, is delivered to over 6,100 inboxes each weekday morning. Several thousand in our community also receive our topical digital newsletters, in addition to staying connected through our strong social media presence.
As a completely independent, not-for-profit organization, we depend on donor support to continue serving our community. Only through your generosity can the Light continue its mission to inform, inspire, educate, and connect our St. Louis Jewish community and shine brightly for generations to come.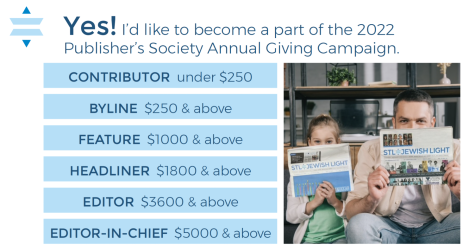 We thank you for your generous support.
---
What does the Jewish Light mean to you?