St. Louis baking legend Ron Pratzel passes away
Ronald B. Pratzel, the former owner of the iconic St. Louis bakery, Pratzel's, passed away on March 3, 2021.
Ronnie, as he was known, was the beloved husband of the late Elaine Pratzel. Dear father of David Pratzel. Dear son of the late Nathan Pratzel and the late Bertha Pratzel. Dear brother and brother-in-law of Alan (Mae) Pratzel, Robert (Christy) Pratzel. Dear brother-in-law of Richard (Marcia) Levy, Nancy Golden, Jay (Rene) Seltzer.  Memorial contributions preferred to the Harvey Kornblum Jewish Food Pantry.
Ronnie Pratzel was the third-generation owner of Pratzel's Bakery, which dates back to around 1913. His grandfather,  Max turned the business to his Nate in the 1940s.  Nate ran the bakery with his brother Alvin, his sister Yetta Lugger and his brother-in-law Aaron Lugger. Nate Pratzel had three sons, Ronald, Robert and Alan.
On his website, Lost Tables, Harley Hammerman interviewed Ronnie and chronicles the story of Pratzel's.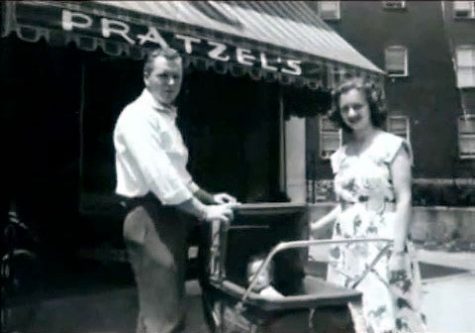 "When I was born, my family lived above the bakery," Ron Pratzel recalled. "We worked on top of each other, and we made a whole lot of bread."
Long before sourdough was a word associated with San Francisco, Jewish bakers were creating ryes and pumpernickel breads using sourdough starters they brought with them from Europe. When Max Pratzel came to St. Louis, he went to another Jewish baker and asked him for a small portion of his sour culture. Pratzel's continued to grow that culture for almost 100 years and used it to make their rye bread.
Bakers used cornmeal to glide loaves in and out of the baking ovens. Nate Pratzel liked the taste of the cornmeal coated rye bread bottoms so much that he would cut them off and take them home. Eventually, it occurred to him that it might be a good idea to cover the entire loaf with cornmeal, which is how one of Pratzel's bestseller, tzizel rye bread, was born.
And, of course, Pratzel's baked challahs (egg breads) for the Jewish holidays and bagels of all varieties.
Recognizing the need to serve the Jewish population which had migrated to West County, the Pratzels opened a second bakery in 1973 at 11730 Olive, just east of Ballas Road, next door to the Creve Coeur firehouse. To service their two locations more efficiently, the family moved their baking plant to an 8,000-square-foot building in Olivette, at 9263 Dielman Industrial Drive.
In 1978, Pratzel's opened another retail location in University City, at 928 North McKnight, and for a short time, they had three retail stores. However, the following year they closed their 611 Eastgate store, which Max Pratzel had opened in 1931.
"
What I wouldn't give to try their strudel again. I've never had any apple strudel as good since they closed"
— Larry Fry On Facebook
In the 1980s, the third generation of the Pratzel family took over the reins of the bakery. Nate's son Ron had completed his third year as an English major at Washington University when he married his high school sweetheart. He decided he wanted to quit school and work in the bakery.
"My father said, 'You're stupid,'" he recalled. "But I always enjoyed working at the bakery."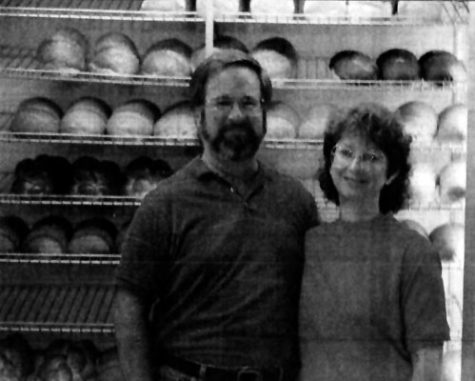 In 1978, Ron Pratzel and his wife Elaine started working at the bakery full time, and in 1983, they purchased the business. Nate Pratzel continued to be involved in the business, and could regularly be seen overseeing work at the Dielman plant.
In 1984, the Pratzels moved their Creve Coeur store around the corner, from Olive Blvd. to 727 North New Ballas.
Ron and Elaine Pratzel made the bakery business their life, often spending 12-15 hours a day at work. Ron managed the production end of the business while Elaine handled the bookkeeping.
Through the years, the Pratzel family saw the focus of their business change. In the early days, the bulk of their business was retail and they sold mostly bread products. In later years, the majority of retail sales consisted of pastry items, including stollens and their famous "upside-down" cupcakes.
"
I loved their macaroons and probably haven't eaten any since. Don't like the canned ones"
— Nancy Bernstein On Facebook
Ron Pratzel estimated that his bakers made 15,000 hamantaschen every year for Purim. Hamantaschen are filled triangular pastries, representing the hat worn by Haman, the villainous biblical courtier from the Book of Esther. Pratzel's made its own cherry filling, and bought its other hamantaschen fillings – prune, poppy, apricot and strawberry – in bulk.
In 2004, the Pratzels closed their Creve Coeur bakery on North New Ballas, consolidating their retail operation at their University City location on Olive, in Jeffrey Plaza.
In 2007, the Pratzels moved their retail operation back to Creve Coeur. They closed their University City store and found a new home inside Simon Kohn's Kosher Market at 10405 Old Olive Street Road.
"
Wish someone would make hamentachen per their recipe. Nothing else is quite right."
— Scott Keller On Facebook
"There were a number of factors for the move," said Ron Pratzel. "First and foremost was the opportunity to be with Kohn's in what we think is a mutual clientele of kosher customers. Our lease was up so we decided to go and act. We have always observed the same kosher rules, like being closed for the Jewish holidays that came about, so it seemed like a good match.
"The location avails itself a little more to the population that lives in the Creve Coeur and Chesterfield areas, without having gone completely away from U City. We are obviously not going to make everyone happy but we've tried to accommodate as best we could."
Kohn's was the Pratzel family's last home. Early in 2011, they announced they would be closing the bakery.
"We've had a good long run," said Ron Pratzel, "but we just can't do it anymore."