St. Louis' 'Bagel Renaissance" continues with opening of Bagel Union
Jordan Palmer, Chief Digital Content Officer
Published January 25, 2023
"Bagel Week" may be over but St. Louis' "Bagel Renaissance" continues unabated.  Our town's newest bagel shop, Bagel Union, is set to open on Wednesday, February 8th. The team from Union Loafers Cafe and Bread Bakery is bringing its baking skills and experience to creating traditional New York-style bagels at its new shop located at 8705 Big Bend Boulevard, in Webster Groves.
"We have kicked around the idea of opening a bagel shop for years," said Sean Netzer, co-owner of both Bagel Union and Union Loafer Cafe. "It is one of those wonderful foods that everyone loves and it's hard to see it done really well, but when you have that experience of eating a really good bagel, it's magic. Simple food done very well is something that has always driven us."
If the crowd lined up last weekend during last Sunday's "soft-0pening" is any indication, Netzer's bagels should provide that experience. Hundreds waited more than an hour in line to try out Bagel Union's chewy and airy wares.
|RELATED: The Ultimate Guide to St. Louis Homemade Bagels
Time to make the bagels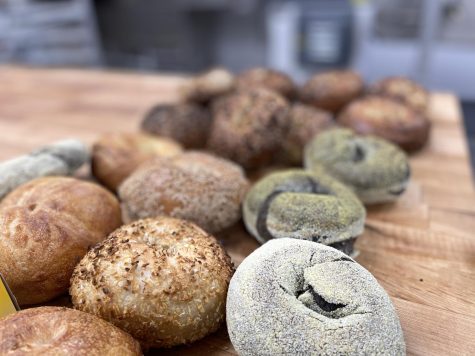 "We are going for a traditional bagel New York Style Bagel. We have gotten used to dense bagels but we want an open and airy crumb, we want chewy on the inside and crisp on the outside, which is a sign of good fermentation," said Netzer. "It also allows for our bagels to stand up well to cream cheese."
That fermentation is part of Bagel Union's three-day bagel-making process, which is all done on premises and by hand.
"We experimented with using a bagel shaping machine but found that doing it by hand was best for us right now," said Netzer.
On the first day of making bagels, bakers create a "poolish" which is a preferment where they mix flour and water with a small amount of yeast. This begins the fermenting process which continues into the next day. On Day 2, the dough is mixed and shaped. It then sits in the refrigerator and allowed to develop. Day 3 is for boiling and baking. After the bagels are pulled from the boil, they are set on a table to drain, and then seasoned on a bagel board.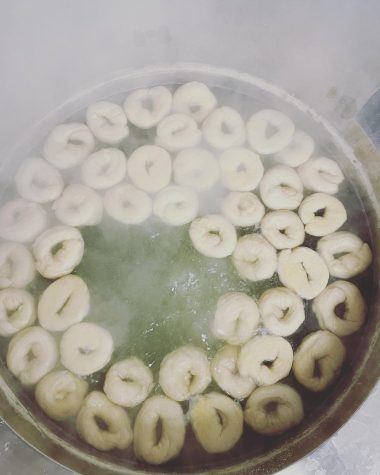 "We have had some nice compliments about our seasoning. We actually season te bagel boards, which allows for the bagels to be seasoned on both sides," said Netzer.
To start, Bagel Union will offer seven bagel flavors, Plain, Salt, Onion, Sesame, Poppy, Everything and Tzitzel. They will also offer a Cherry Crunch "round" which looks like a bagel but technically is made slightly differently.
Cream Cheese
As previously mentioned, Netzer believes his bagels are perfectly made to stand up to a good "cream cheesing."
"Because our bagels are less dense and airier, you can really get that cream cheese deep and good into the bagel. And that is why we are going to be offering some special cream cheeses to our customers," said Netzer.
Bagel Union is partnering with the Sierra Nevada Cheese Company to bring their special Gina Marie Cream Cheese to St. Louis.
Gina Marie is made with 3 simple ingredients-cultured milk, cream, and salt in an old-fashioned, 3 day process of draining the cream cheese in muslin bags.
"We will debut the Gina Marie this weekend (Jan. 28-29) during two more soft openings," said Netzer. "To begin, we'll offer plain and chive cream cheese with more flavors to be added soon."
Opening Information
Bagel Union will host customers over the next two weekends during soft openings. Doors will open both days at 8 a.m. and service will continue till they sell out. Last Sunday that lasted 2 and a half hours. If all goes as planned, Bagel Union will officially open its doors for regular hours on Wednesday, February 8th. Make sure to follow them on social media for any updates.