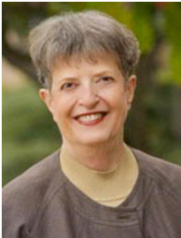 The troubled history and challenges inherent to bridging the gap between two different but related faiths was the theme of the inaugural event for the newly created Michael and Barbara Newmark Institute for Human Relations Sunday.
"Dialogue does not mean eliminating difference," said Professor Mary Boys. "What dialogue involves is understanding difference."
Boys was one of two speakers for the presentation and dialogue session, entitled "Jews and Christians: Talking Across our Differences," which took place at the Aquinas Institute of Theology in St. Louis. Boys and co-presenter Sara Lee have worked together on communication issues between the two religions for more than a quarter century.
Boys, a professor of practical theology at Union Theological Seminary and an adjunct faculty member of the Jewish Theological Seminary of America, said that it was vital for her religion to better comprehend its parent faith.
"Christians cannot understand their own tradition unless we understand something about Judaism," she said. "My take on this is a lot of what we thought we understood about Judaism has been a caricature of the real thing."
She noted that it was important to look at the key differences between Christianity and Judaism, particularly the fact that Jews are typically born into the faith, whereas Christians define their theology more through baptism and belief.
"Jews are a people and Christians are a church," she said. "We need to complicate the terms Judaism and Christianity to realize that it was not always as it is now and see how complex and layered those terms are."
She also said that history still has a big impact on the manner in which Christians view both Jews and themselves. Some scholars now believe that Judaism and Christianity may not have fully separated as distinct traditions until as late as the 5th or 6th century.
Moreover, early Christians often saw their own faith in oppositional terms distinguishing their belief in Jesus' divinity by contrasting it with Jewish ideas, allowing Judaism to become a "foil in shaping Christian identity" and leading to anti-Semitism.
"What struck me in preparing this lecture is that the argument of the early church wasn't with what Jews believed but with what they didn't believe," she said. "At the center of this was this accusation that they not only didn't believe in Christ but that they had crucified Christ. I see that as a kind of North Star of a whole constellation of charges."
Co-presenter Lee, an adjunct professor emeritus of Jewish education at Hebrew Union College-Jewish Institute of Religion, spoke from the Judaic side of the equation. She related an old joke popular in Jewish circles.
"It says that the short version of the story told at many Jewish holidays is 'They tried to kills us. We survived. Let's eat,'" she said. "That tells us a great deal, in darkly humorous terms about what Jews see as the recurrent theme in their history."
Lee, a winner of the Samuel Rothberg Prize in Jewish Education and the Israeli President's Award for Distinguished Jewish Education in the Diaspora, said that traumatic experiences have led Jews to be defined largely by history rather than dogma. She noted the fact that outside of the High Holidays, Jewish observances are dominated by remembrances and celebrations of past events.
"The calendar is very important to Judaism and what we see again and again is that we are reminded of our history and that's what shapes our self understanding," she said. "Only in Israel and nowhere else is the injunction to remember felt as a religious imperative for an entire people. It's been with us since antiquity."
Lee said that often she sees dialogue groups in which Jews discuss history while Catholic students talk theology.
"There were two different conversations going on, two different perspectives with essentially two different languages," she said.
The presentation was followed by a question and answer session for the hundred or so audience members in attendance.
Organizers said they felt the talk went well.
"It was a great event for building bridges between the groups and tearing down walls," said Father Richard Peddicord, president of the Aquinas Institute, host and co-sponsor of the event. "I was very pleased with the large turnout as well."
"You have two very bright people who were able to speak in very straightforward, easy-to-understand ways," said Dr. David Greenhaw, president of co-sponsor Eden Theological Seminary. "I am always heartened on a hot summer night that this many people would come out to engage this important topic."
"We began planning this about a year ago," said Batya Abramson-Goldstein, executive director of the Jewish Community Relations Council, under whose auspices the Newmark Institute operates. "How we envisioned it was just exactly how it happened this evening, Christians and Jews coming together to think deeply about the differences, the challenges, the commonalities."
St. Charles resident and audience member Kathleen Buchheit said the talk capped a week of activities for her.
"I was here the whole week for a class on Jewish-Christian relationships and the Holocaust. I spent yesterday at the synagogue with Rabbi [Susan] Talve [of Central Reform Congregation] and the day before that I was at the Holocaust Museum so it's been very enlightening for me," said Buchheit, a Franciscan sister.
Jeffrey Stiffman, rabbi emeritus of Congregation Shaare Emeth, said the speakers pulled no punches.
"The two presenters were very honest, bringing out all of the weaknesses and the strengths of dialogue," Stiffman said. "They talked about the difficult history that we have but also saying that both sides have to work harder to improve dialogue."
Maria Rebecchi, a St. Louisan who attended the presentation, said she thought it was "a fantastic explanation or attempt to explain where people are coming from and how conversations can happen." Rebecchi, who noted that she doesn't subscribe to any particular faith, added: "Trying to understand where we came from and how we've gotten to where we are at is a very good starting point for communication."