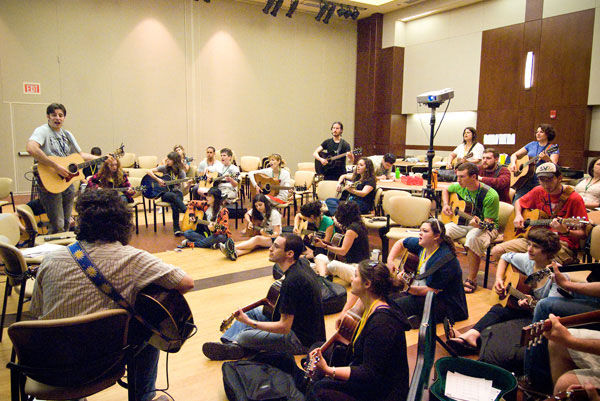 The seventh annual Songleader Boot Camp (SLBC) National Conference will bring some of the top nationally renowned leaders in Jewish life to the Jewish Community Center Staenberg Family Complex in Creve Coeur from Sunday, Feb. 14 to Tuesday, Feb. 16.
The conference, which draws more than 200 North American rabbis, cantors, Jewish educators, songleaders, Jewish camping staff, teen leaders and family engagement specialists, teaches ways to create powerful, interactive connections, expand leadership abilities, and learn specific skills and techniques to inspire change in one's community.
"SLBC has a proven track record of being a dynamic, innovative and impactful program that inspires participants to lead—not merely with song but in all aspects of life," said Jewish Federation of St. Louis President and CEO Andrew Rehfeld, who has served as a songleader for the last 30 years. "I say this as the father of a two-time graduate of the program—I have seen its impressive results first hand.  SLBC stands among the very best programs of this kind in the nation."
This year's keynote faculty at the conference includes more than 18 top Jewish leaders, educators and musical specialists from across the United States.  This year, featured keynote speakers include two of the most prominent leaders in contemporary Judaism, Rabbi Ed Feinstein and Rabbi David Ingber.  SLBC faculty members include Rick Recht, Ellen Allard, Orlee Krass, Naomi Ackerman, David Ackerman, Rabbi Susan Talve, Billy Jonas, Cantor Joanna Dulkin, Josh Warshawsky, Rabbi Brad Horwitz, Saul Kaye and Mikey Pauker.  
SLBC has partnered with many of the top national Jewish organizations, including PJ Library, JCC Camps, Ramah Camping Movement and the Cantor's Assembly. SLBC will feature the second annual PJ Library Track for more than 36 family engagement professionals from across the United States who were selected through a highly competitive application process. SLBC also features specialty tracks for clergy, educators, songleaders and alumni.
Jewish Federation of St. Louis, the Gladys K. Crown Foundation and local private donors have united to support the conference, including scholarships allowing more than 50 local Jewish educators and leaders to attend.
In addition to the full, three-day conference, the conference welcomes the St. Louis community to learn from SLBC keynote faculty through the SLBC Premier Speaker Series, which takes place at 7:30 p.m. Monday, Feb. 15 at the JCC's Arts & Education Building, 2 Millstone Campus Drive in Creve Coeur.  Feinstein and Ingber will discuss Jewish leadership for today's Jewish world during "From Motivation to Inspiration: Leadership Through The Lens of Torah." Space is limited, so participants are asked to RSVP to Rabbi Brad Horwitz at [email protected]
Feinstein is senior rabbi of Valley Beth Shalom in Encino, Calif.  He has served on the faculty of the Ziegler Rabbinical School of Rabbinic Studies at American Jewish University since 1990 and is an instructor for the Wexner Heritage Program.  In 1982, Feinstein became founding director of the Solomon Schechter Academy of Dallas. In 1990, he assumed the position of executive director of Camp Ramah in California.
Ingber, named by Newsweek as one of 2013's top 50 most influential rabbis in the nation as well as by The Forward as one of the 50 most newsworthy and notable Jews in America, promotes a renewed Jewish mysticism that integrates meditative mindfulness and physical awareness into mainstream, post-modern Judaism. Ingber is founder of Romemu congregation in New York City. Prior to founding Romemu, Ingber was rabbi-in-residence at Elat Chayyim Retreat Center in Connecticut.
Registration for the SLBC National Conference is available online at songleaderbootcamp.com/register. The cost for the three days of programming, including materials and meals during conference hours, is $395.  Scholarships and discounted group rates are available. 
For more information about Songleader Boot Camp, visit songleaderbotcamp.com, email [email protected] or call 314-991-0909.