Local soccer star Danny Fischer playing with the pros at 18 and we're kvelling!
Jordan Palmer, Chief Digital Content Officer
Published February 20, 2023
For St. Louis soccer fans, there is more than one reason to kvell this week. While Saturday marks the kick-off of St. Louis CITY Soccer Club's inaugural season in Major League Soccer (MLS), we also learned that one of our area's top players, Danny Fischer, made some news as well playing for a South Carolina team.
Fischer, who is a senior at Ladue Horton Watkins High School and a member of Congregation Shaare Emeth, is currently in Charleston, S.C. playing for the Charleston Battery which is in the United Soccer League (USL), a professional league, one level below the MLS.
"He needs two classes to graduate, which he'll complete online," said Kevin Fischer, Danny's father. "He is on what is called an Academy contract, so he can keep his amateur status for college next year."
Fischer, 18, is committed to play at Southern Illinois University Edwardsville (SIUE) in the fall.
How Danny Fischer found soccer
Like so many St. Louis boys and girls, Danny Fischer's first time on a soccer field was as a part of a team in the Olivette Parks and Recreation Department.
"I remember playing for an Olivette team with my friends. I was not a goalie at that time. I just remember that it was fun and that I loved it," said Danny.
By the second grade, Danny was playing youth soccer with the highly regarded development club – think high-level select soccer —  St. Louis Scott Gallagher SC (SLSG). Growing up, his parents and coaches recognized that Danny was a naturally gifted athlete. He began playing multiple sports including lacrosse and wrestling, but soccer was always the focus.
"I played mostly as a striker or winger when I was younger. But one of my early club coaches, Christie Cigno, asked if anyone wanted to try goalie and it sounded fun to me so I tried it. I really liked it and Christie thought I was good at it so she kept putting me in goal," said Danny.
As a soccer dad, Kevin Fischer remembers the move to goalie as being very stressful for him, but not Danny.
"I remember we hated it. It was so much pressure, and he was a good field player. We just could not understand why the coaches kept putting him in goal. It turned out that they were right and we were wrong," said Fischer.
"It's actually the pressure and the responsibility of the position that I love," said Danny. "I also love being a leader on my teams. As a goalie, you can influence the game in so many ways and not just with saves. You are really like a coach on the field. That includes things like communicating constantly with the team, helping to organize the defenders, making smart decisions with and without the ball and distributing the ball well to the field players."
Getting serious about soccer
As a freshman at Ladue, Danny played varsity soccer, lacrosse and wrestled.
"After my freshman year of high school soccer season, I started thinking about what I might be able to accomplish if I really focused on soccer full time," Danny recalled. "I knew that if I wanted to potentially play soccer in college or beyond, I would need to start playing on the highest-level teams at SLSG, which was something I could not do if I was going to play multiple sports."
Nowadays, waiting until you are in high school to specialize in soccer is considered starting late. After his sophomore season at Ladue, he was fortunate to make one of  highest-level teams in the area. He never played high school soccer after that.
Danny played the past two years with the Under-19 SLSG squad. He led the team in shutouts in the 2022 fall season with four.
In November of 2022, Danny committed to SIUE a Division I soccer program.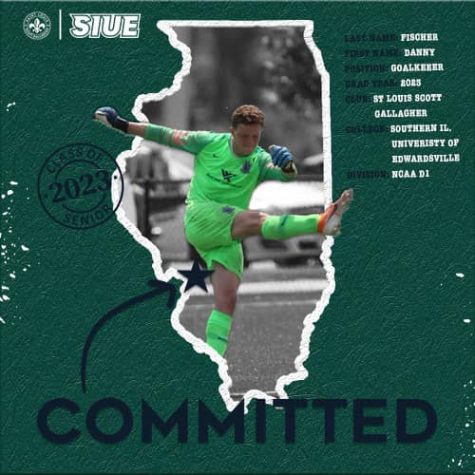 An Opportunity to Play with the Pros
On Feb. 7th, it was announced that Danny was signing an Academy contract with the Charleston Battery at age 18
"I'm really excited about the opportunity to play for the Battery," said Danny. "Being a professional soccer player has been my dream and it's almost hard to believe that I'm here right now, but I'm ready for a great season."
Danny was the first player signed by Charleston Battery Head Coach Ben Pirmann in 2023.
"It is great for Danny to be our first academy signing for the 2023 season, he's a bright young goalkeeper, and a selfless and tireless worker who fits right into our team," said Pirmann. "He reads the game well for a young player and has a great amount of courage. Danny has done a very good job of adapting to the speed of professional play."
A bright looking future for Danny Fischer
As an Academy player with the Battery, Danny is fully aware of the opportunities and responsibilities he has in front of him. He is training full-time with professional coaches and players, which is providing experience he would not have access to.
"I'm also learning a tremendous amount about nutrition, film study and other aspects of being a professional soccer player that are really valuable. I know that my experience in Charleston is going to help me a lot when I get to SIUE and I'm excited about the contributions I can make when I get there," said Danny.
As for soccer dad Kevin Fischer?
"We are incredibly proud of him. It's not the accomplishments in and of themselves that we are most proud of though – it's more that he has set high goals for himself and he is working hard to achieve them. He has also had to overcome a lot of adversity along the way and we've seen him mature and grow through that process. That's an amazing thing to see as a parent. We're excited to see where this journey takes him."
And who knows, maybe that journey will take him home and to a roster spot on St. Louis CITY SC.
Stay tuned.
|Related: A new kind of gap year: Israel allows a team of young Argentine Jews to play in its pro soccer league