Skip Erwin, veteran sports journalist, columnist for Light, dies at 96
Skip Erwin, a longtime sports columnist for the St. Louis Jewish Light and a member of the Jewish Sports Hall of Fame, died Sunday, Nov. 28.  He was 96 and had been in frail health in recent weeks.
Mr. Erwin's health issues did not slow him down in his tireless writing about any and all sports.  He interviewed hundreds of sports figures from rookies to all-time greats like Stan Musial, Brett Hull and Kurt Warner.  His voice, inflected with his New York/New Jersey accent, could be heard for years over numerous radio and TV stations.  To say Skip was "Old School" would be an understatement.  He wrote his columns in longhand and had a near-photographic memory. Just two weeks ago, I referred him to a friend who was seeking information about an athlete who played decades ago. Skip nailed it!
Skip Erwin
Erwin was born July 3, 1925, in Brooklyn, NY, the son of George Cohen and Marcella Rappaport Cohen. He grew up playing sports in Passaic, N.J., listening to broadcasting greats like Bill Stern and Mel Allen.
Mr. Erwin served in the United States Army as a medic during World War II.
"Dad could have been excused from military service because of a severe injury to his right hand," his son George said to the Jewish Light.  "But he wanted to serve his country during the Second World War."
He was married for 62 years to the former Jeannette Saady.
Proud Mizzou Grad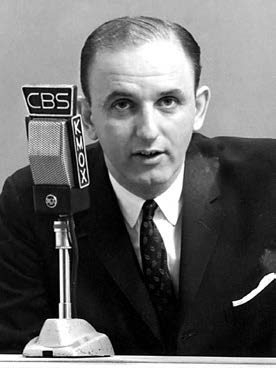 Mr. Erwin graduated from the University of Missouri School of Journalism. During his career, Erwin would serve as a sports correspondent for CBS, NBC and ABC network affiliates. While working at an East St. Louis station in the 1950s, Mr. Erwin got a big break when he became the voice of the St. Louis Hawks basketball team after meeting team owner Ben Kerner.
Mr. Erwin would go on to write and broadcast shows for KMOX for 25 years, broadcasting pre-game shows for the St. Louis Cardinals, the football Cardinals, the St. Louis Blues and college sports. He also worked for local universities, broadcasting play-by-play basketball on radio for St. Louis University, University of Missouri-St. Louis and Washington University.
Broadcasting and The Jewish Light
Other broadcasting posts during his career included doing NBA television broadcasts for the Kansas City Kings and broadcasting St. Louis Blues games on cable.  He was the sports director at KSD-NBC radio and he hosted a sports talk show for 17 years on WGNU.
Mr. Erwin became sportswriter for the Jewish Light in 2005 after the retirement of the late Jack Herman.  In recognition of his athletic prowess and journalism career, Mr. Erwin was inducted into the Jewish Community Center's St. Louis Jewish Sports Hall of Fame on Dec. 3, 2005.
His Hall of Fame plaque notes that in addition to his professional career in sports broadcasting, he was a member of the J since 1953 and was the J Masters Racquetball Champion in 1973.  Until a few years ago, Mr. Erwin was known for being a regular at the J, exercising and talking sports or sharing stories of the colorful sports personalities he knew over the years.
He was also a member of the University of Missouri – St. Louis Sports Hall of Fame for his 16 years announcing at the university.
Survivors include his wife Jeannette, twin sons George and Lee, daughter Allegra Firestone, three grandchildren and two great-grandchildren, all of St. Louis.
Mr. Erwin remained passionate about sports and was a lifelong Mizzou fan.
"Shortly before he passed away Dad was pleased to learn that his beloved Mizzou had won the right to take part in a bowl game," his son George told the Jewish Light.  
Graveside services are scheduled for 1:30 p.m., Wednesday, Dec. 1, at Beth Hamedrosh Hagodol Cemetery, 9125 Ladue Road, Cantor Sharon Nathanson of B'nai Amoona officiating.
Contributions preferred to the donors' choice.