Renowned Jewish fashion designer Diane von Furstenberg coming to St. Louis
Hey fashionistas, here's something to get excited about: Diane von Furstenberg's visit to St. Louis. The renowned Jewish fashion designer, businesswoman, author and philanthropist, among numerous other distinctions, is coming to town for a talk and trunk show hosted by the Saint Louis Fashion Fund in partnership with Caleres on Oct. 11-12.
The "Conversation with Diane von Furstenberg" talk is scheduled for 5:30 to 6:30 p.m., Wednesday, Oct. 12, in the Steinberg Auditorium at the Sam Fox School of Design & Visual Arts at Washington University. The trunk show takes place Oct. 11, from noon – 6 p.m., and Oct. 12, 10 a.m. – 4 p.m., at the Contemporary Art Museum, 3750 Washington Blvd. Both the talk and trunk show are free and open to the public.
During her visit, von Furstenberg will also receive the Saint Louis Fashion Fund Award, which is presented to individuals making major contributions in fashion. Past recipients include the late Andre Leon Talley, Iris Apfel and Karlie Kloss.
"Thanks to our generous partners at Caleres and their signature sponsorship, Diane's St. Louis visit promises to deliver a once-in-a-lifetime experience for the region's fashion and design community," said Susan Sherman, co-founder and interim CEO of Saint Louis Fashion Fund and a Temple Emanuel congregant. "In addition, Diane's visit will include special guest appearances by native St. Louisans: Former Head of Fashion and Beauty at YouTube and New York Times best-selling author Derek Blasberg, and supermodel and entrepreneur Karlie Kloss."
At 75 years old, von Furstenberg can reflect on a life that is nothing short of amazing. She was born Diane Simone Michelle Halfin in 1946 to Jewish parents – her mother was a Holocaust survivor — and she grew up in Belgium.
While studying in Switzerland, she met her first husband, German Prince Egon zu Fürstenberg, and became a princess (talk about fashion royalty) when they married in 1969. They had two children — Prince Alexandre and Princess Tatiana — before separating in 1973 and divorcing in 1983.
Von Furstenberg began designing clothes in 1970 and created her now-iconic jersey wrap dress in 1972, which became a symbol of the feminist movement during the '70s. It's even included in the collection of the Costume Institute of the Metropolitan Museum of Art.
As fashion achievements go, her wrap dress is pure genius, enduring 50 years and counting. The design flatters nearly all figures with its ability to camouflage body flaws, highlight the waist and bust, and create curves in all the right places.
Her jet-setting, party lifestyle back in the '70s only added to the glitz and glamour — Carrie Bradshaw and her gal pals have nothing on von Furstenburg. This princess held court at New York's legendary Studio 54, along with Andy Warhol and Bianca Jagger, and was reported to have had romantic liaisons with Richard Gere, Warren Beatty and Ryan O'Neal (not a bad trifecta).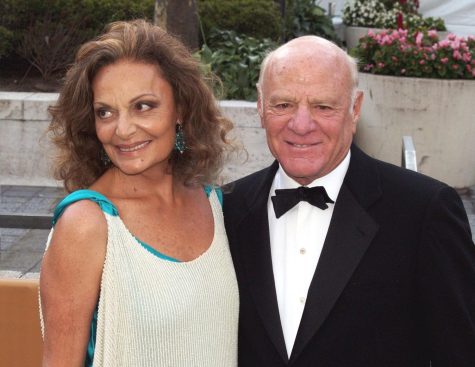 She married media mogul Barry Diller in 2001; together they started the Dillervon Furstenberg Family Foundation, which has provided millions of dollars in support to nonprofits in the areas of community building, education, human rights, arts, health and the environment.
If you can't already tell, I'm looking forward to learning much more about von Furstenberg during her visit here. If you're interested too, sign up at www.saintlouisfashionfund.org.