Rabbi's road to St. Louis began at age 16, ran through COVID
Eric Berger, Associate Editor
Published November 1, 2021
On Friday, Nov. 12, Congregation Shaare Emeth will host an official installation service for Rabbi Rachel Bearman. The service will begin at 6 p.m.
The Jewish Light caught up with the rabbi recently to talk to her about her decision to become a rabbi, some of the challenging aspects of helping to lead a congregation during the COVID-19 pandemic and more.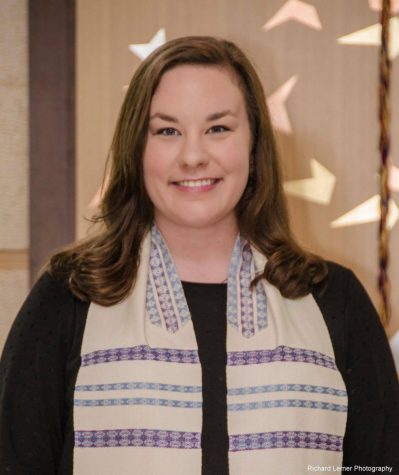 What made you want to become a rabbi?
I decided to become a rabbi when I was 16 years old. At that point, I wanted to be a teacher and a temple president but, during one of my confirmation classes, I realized that there was a job that would allow me to combine both of those goals. I consider myself to be very lucky because everything that I experienced and learned after I decided to pursue the rabbinate only reinforced that this was the right path for me.
What was it like to move to St. Louis and start at a new congregation during the COVID-19 pandemic?
The only reason that I decided to load myself and my dog into the car and drive 19 hours from Connecticut to St. Louis in the middle of the early months of the pandemic is that I was (and continue to be) so excited to be a part of the Shaare Emeth team. I am profoundly grateful that everyone in the community has gone above and beyond to make me feel welcome and to connect with me in safe and creative ways. My first year as a Shaare Emeth rabbi was not what I imagined it would be, but it has been really, really wonderful.
Do you think the Jewish communities in St. Louis and Connecticut are different? If so, how?
Demographically, the two Jewish communities are very different. The size of the Jewish community in the part of Connecticut where I lived (outside of any major cities) is significantly smaller than the St. Louis Jewish community. However, underneath those distinctions, there are a lot of similarities.
In both communities, people are looking for ways to connect with something bigger than themselves. They're searching for inspiration and for partners in the work of repairing the world. They're trying to find strength in Judaism as we all live through these unprecedented times. So, while the demographics and scale of the communities are different, the community members have a lot in common.
What is most challenging about being a rabbi?
I believe that the most challenging part of being a rabbi in 2021 is actually the most exciting as well. The way people relate to their synagogues, to the Jewish tradition and to their Jewish identities is changing … and that means that clergy are changing, too. We're thinking in new ways, we're exploring new ideas and we're dreaming new dreams. All of that is challenging, but in the best possible way. Judaism and rabbis have the opportunity to continue evolving, and that is both a challenge and a gift.
What are the most rewarding parts?
The most rewarding part of being a rabbi is that I have the unbelievable privilege of walking with people on their journeys. Being with my people — both in the big moments that happen on bimahs and under chuppahs and in the quieter moments that happen in hallways and living (and Zoom!) rooms — that is my favorite part of the rabbinate. It is such an honor to be invited into people's lives as a guide, teacher, supporter and friend.