Phil from "Somebody Feed Phil" coming to eat in St. Louis
BY PATRICIA CORRIGAN , SPECIAL TO THE JEWISH LIGHT
Published October 26, 2022
What was so special about Helen Rosenthal's matzoh ball soup? 
"Nothing," her son Phil says. 
In the second season of "Somebody Feed Phil," Rosenthal's Netflix show, he featured the dish in the New York City episode. In an interview from his home in Los Angeles, Rosenthal explained, "It wasn't particularly special as a food in the world, but it's the best thing my mom made."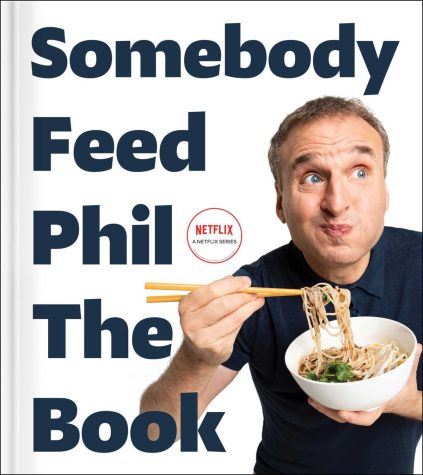 That high praise landed the recipe for Helen's 4-Star Matzoh Ball Soup in the pages of "Somebody Feed Phil the Book: Untold Stories, Behind-the-Scenes Photos and Favorite Recipes — A Cookbook," by Rosenthal and food writer Jenn Garbee. The book features 60 recipes from the chefs whom viewers met during the first four seasons of the show, gorgeous food photos,  and behind-the-scenes pictures and stories. 
Rosenthal, 62, will be happy to tell you more about the book at 7:30 p.m. Nov. 5 at a St. Louis Jewish Book Festival "bookend event" in the Jewish Community Center's Edison Gymnasium at the Staenberg Family Complex. Ian Froeb, restaurant critic at the St. Louis Post-Dispatch, will interview Rosenthal. 
Rabbi Brad Horwitz, chief Jewish engagement officer at the J, said the idea to bring in Rosenthal came from the festival's committee members. 
"He's open, and he's relatable," Horwitz said. "And he comes from a Jewish heritage, so there is that cultural connection." 
If you haven't seen "Somebody Feed Phil," maybe you know Rosenthal as the creator of the award-winning TV comedy "Everybody Loves Raymond," which aired for nine seasons. Fans will enjoy Rosenthal's first book, "You're Lucky You're Funny," about his early life and the creation and growth of the show.
Or perhaps you watched the PBS documentary series "I'll Have What Phil's Having," the previous incarnation of "Somebody Feed Phil."
On his unscripted culinary-themed travel show, the personable Rosenthal travels far and wide to shop in city markets, meet people and learn about local cuisines. 
"My purpose is not just to eat and make a face," he said. "I'm using food and my stupid sense of humor to show how great the world would be if we all could experience other people's experiences. You go somewhere new and be nice, and what you get in return is a new perspective. Travel literally enhances your life." 
Each of the book's 22 chapters showcases the places Rosenthal has traveled, including Bangkok, New Orleans, Venice, the Mississippi Delta, Copenhagen, San Francisco, Marrakesh, Hawaii, Montreal and Dublin. In the first season, he visited Tel Aviv and environs.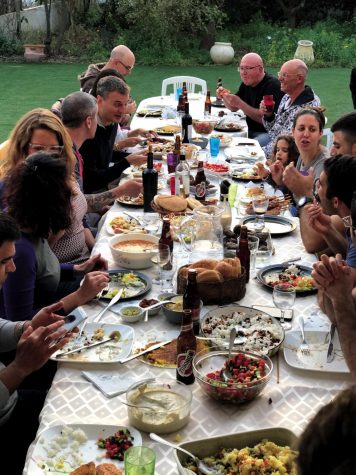 "I was thrilled with the food there," he said. "It's some of best on earth." 
In that episode, he gleefully downs a fried eggplant sandwich, oxtail soup and a herring sandwich served with a shot of vodka. He visits a synagogue-theme eatery to sample the hummus. And he travels north to Akko (also known as Acre), where he spends time with Uri Jeremias, the chef who owns Uri Buri, a seafood restaurant. 
"He is such an inspirational figure," Rosenthal said. "It's like meeting Tevye."
Asked whether traveling in Israel affected how Rosenthal views his heritage, he said: "I am culturally and traditionally Jewish, but not religious. I am proud of Jews for their many contributions, their culture, their philosophy and their values. I love the people, and I love that humor is a value."
Humor plays a big part in every episode of "Somebody Feed Phil," and the book includes some of the hilarious back-and-forth between Rosenthal and his parents on video calls he placed as he traveled. His dad, Max, died in June 2021; his mother, Helen, passed away in October 2019. 
"I have such a sense of joy that my parents lived long enough to see my brother Richard — he's my producer — and me succeed with the show, working together in our lives and our careers," Rosenthal said. "That gave them such naches." 
Thinking again about his mother's matzoh ball soup, Rosenthal recalled:
 "It was truly delicious, though a lot of her food wasn't. She was a remarkable human being, one who came from one of the worst childhoods you can imagine, including time in a concentration camp. She was so cultured, kind and generous in other ways, but delicious food was not a priority for her. But this recipe is special to me because it comes from her."