Starting this month, the Jewish Light and the St. Louis Kaplan Feldman Holocaust Museum are partnering to share stories about artifacts inside the museum, that may not necessarily be on display.
This month's artifact feature is a U.S. Army good conduct medal, awarded to Gunther N. Kohn ca. 1945. Gunther was born 1926 in Berlin and escaped alone to the US at age 13. When he turned 18, he joined the Army and was sent back to Germany with OSS to locate and capture SS officers and Nazi prison guards. He was also an early supporter of founding the Holocaust Museum and Learning Center, the precursor to the St. Louis Kaplan Feldman Holocaust Museum.
Kohn, passed away in 2015 at the age of 88. Editor-in-Chief Emeritus Bob Cohn wrote the following story about Kohn.
Gunther Nathan Kohn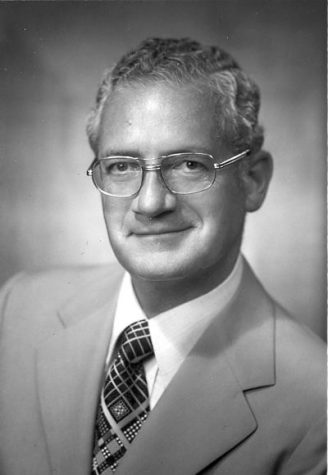 Kohn was born in Berlin on Sept. 5, 1926, the son of Ernest Kohn and Ellie Hiller Kohn. His father was a commodities trader and his mother's family-owned business sold high-end clothing. His mother died when he was 10. On his 13th birthday, just as World War II was starting in Europe, Mr. Kohn escaped from Nazi Germany on the last ship to the United States.
Gunther Kohn's father had learned that the Nazis were about to kill him. He fled to New York and sent his two daughters to South America. Gunther, who had been in boarding school, was able to get aboard the ocean liner Bremen alone as it left for New York. The ship was filled with passengers fleeing Germany. Fortunately, in contrast to the fate of the SS St. Louis which was not allowed to land in Florida with its Jewish passengers, the Bremen passengers were able to disembark in New York.
Once in America together, Gunther and his father were classified as refugees. The National Council of Jewish Women-St. Louis Section, helped them settle in St. Joseph, Missouri, where the elder Kohn worked at a salvage company.
After Gunther Kohn graduated from high school, and while he was still awaiting his American citizenship to be finalized, he joined the Army, after having been rejected twice, once for flat feet and once for poor eyesight.
At age 18, the U.S. Army sent Mr. Kohn to Germany to train with the famous Office of Strategic Services, the wartime intelligence agency, which was the predecessor for the Central Intelligence Agency. As was the case with other German Jews who had enlisted in the U.S. armed services, Mr. Kohn spoke fluent German, which enabled him to work undercover to locate former SS officers, prison guards and other Nazis believed responsible for murdering Jews and other ethnic minorities during the Holocaust.
On one occasion, Mr. Kohn came close to being killed by a former high-ranking colonel he had tracked to a meeting in a beer hall. The former Nazi officer had been tipped off that he was being followed and pointed his pistol at Mr. Kohn, but a U.S. soldier who had accompanied Mr. Kohn saw what was about to happen and shot the colonel in the head.
After completing his military duties, Mr. Kohn studied accounting at Washington University under the GI Bill. He took a job selling business forms and then started what became the Jerome Group, a commercial and direct mail company. Under his leadership, the firm grew to more than 300 employees. He sold the business in 2006.
Mr. Kohn was an early supporter of the St. Louis Holocaust Museum and Learning Center. Jean Cavender, director of the museum, told the Jewish Light, "Gunther was part of a core group of people who helped pay for the learning stations at the museum when it opened 20 years ago. Gunther's and (his wife) Doris' names are linked to the part of the museum that speaks about life after the Holocaust as a Displaced Person. The most important thing on any Holocaust survivor's mind was to try and find his or her family. People lived in camps until they could get their life situated to a point where they could then emigrate to another country. In those lives, people began to flourish again—people married and had children. Gunther and his wife have been very generous to the museum and have supported us financially over the years. "