Olivia Adams shines a light for women in dark times
Bill Motchan, Special To The Jewish Light
Published January 8, 2023
It's easy to pick Olivia Adams out of a crowd. She's perpetually smiling. Adams is an upbeat, optimistic person who shares her positivity with everyone she meets. That includes many women and their families who have fallen on hard times. Adams is there for them with a kind word, an encouraging "You can do this!" message and, most important, financial assistance.
Adams is the economic stability and workforce development manager for the Women's Economic Stability Partnership of the YWCA Metro St. Louis. She helps women and families achieve financial independence with low-interest microloans. The loans of up to $500 are provided by the Healing Hearts Bank, established in 2011 by the National Council of Jewish Women St. Louis.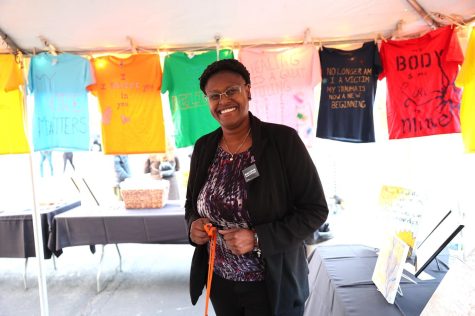 Women who apply for Healing Hearts Bank microloans often face hardships and life situations that worsen their financial dilemmas. Some are victims and survivors of domestic violence, sexual assault and sex trafficking. 
Adams understands that some clients may be hesitant to ask for help. Her attitude and smile make her instantly approachable.
"Sometimes they're a little nervous about coming to me for assistance," she said. "But this is a safe place for women so they can be honest. We do the paperwork and the application together. I put women in the best economic foundation possible. And through these microloans, it keeps them away from the predatory lenders that destroy their credit. The partnership with the NCJW is valuable to the community, and it's valuable to the women we serve at the YWCA."
Adams has an empathetic approach with clients. She also knows firsthand that some people face additional challenges because of their living situation.
"I come from poverty," Adams said. "I come from really tough neighborhoods. I use that tool to inspire women who probably are coming from where I came from. But I worked hard and I went to school and I educated myself and I had to teach myself how to save money. I try to teach budgeting and saving to clients.
"I build a rapport with my clients, and I feel like family to them. I want them to be comfortable with me. A lot of these women have money saved, they just don't enough savings. They just need the support and the assistance of this loan to help them get over the hump to fix their emergency situation. So it's a blessing to a lot of these women. You'd be surprised at how many hug me. But I'm not giving them the money. I'm just giving them the opportunity."
Adams grew up in north St. Louis. She played varsity basketball in high school at Cleveland NJROTC Academy, which was not her first choice.
"I did not want to go to a military high school," she said. "I wanted to go to Vashon. That's where all the basketball players were. My mother was really strict with me and my education, and she made me go to a military high school. She knew what was best for me. Education was the way. And she taught us how to take care of ourselves and that there are no handouts in the world."
That upbringing has been extremely useful for Adams when she counsels women who face financial hardship.
"I want my clients to know they can do anything," she said "When you save money, you can actually buy the things you want and pay the bills. You have to take care of yourself. And when you have children, they don't have a choice. It is your responsibility to take care of them."
Adams has a special passion that works in perfect harmony with her experience and knowledge, said Samantha Wyatt, YWCA engagement manager.
"Olivia goes above and beyond working with individuals in that if they have a stumbling block or hit a barrier, she is not going to stop there," Wyatt said. "They may come for economic support for a car loan, but Olivia will recognize that they may need help with something else. Olivia is going to make sure that they have a connection to all services and to really provide that holistic support for this person. 
"She's well connected in the community, too. Anytime she and I have gone out, everybody knows her. They shout, 'Olivia!' because of her reputation, of the quality of the work that she does. Her compassion and warmth are genuine."
Adams earned a degree in urban education from Harris Stowe State University. Her career began teaching kids basketball for the St. Louis Department of Recreation. She went on to Mers Goodwill, teaching job skills, then to the St. Louis Agency on Training and Employment. In May 2020, she joined the YWCA team. Since assuming her position, Adams has helped nearly 250 women take an important step toward financial independence. She takes a personal interest in each of them because she truly wants them to succeed and lift themselves up.
"Olivia meets one-on-one with each potential borrower to fill out the application and ensures the borrower understands the terms and expectations," said Marilyn Ratkin, who nominated Adams as an Unsung Hero. "Olivia views these sessions as an important teaching opportunity for her clients."
To qualify for a microloan, a client must have a minimum three-month relationship with the YWCA. They're also eligible for other programs at that point, including legal advocacy, crisis support and emergency housing for those fleeing from violence.
More than $100,000 in microloans have been provided to Healing Hearts Bank clients since the program's inception. Since taking on the economic stability program role, Adams has provided the critical link between the YWCA and clients, some of whom are in desperate situations. A $500 loan can make a huge difference in the lives of low-income families, she said.
"One of my clients was in a really horrible situation," Adams said. "We were able to get her housing, and she needed the $500 for her security deposit. The transition from domestic violence was hard enough for her, but was also trying to go to work, and being battered was difficult. So I was able to make sure she wouldn't lose her job."
The client was raising three children, living on the streets and needed a safe space for her family. She had $1,500 saved, but the first month's rent and security deposit added up to $2,000. She had three days to get the funds or the rental unit would be released. That's when Adams stepped in and got the microloan approved in two days.
"If I tell the National Council of Jewish Women that it's urgent, they make sure it's a priority," Adams said, adding that her client's story has a happy ending.
"She's amazing," Adams said. "Her job is in Creve Coeur. She comes to visit me, just to chitchat and say she's doing great, and to have someone to celebrate with her."