Newest Millstone, Levy Fellows honored by Jewish Federation of St. Louis
Published December 19, 2022
Jewish Federation of St. Louis recently honored participants completing two leadership programs, the 8th cohort of Millstone Fellows and the inaugural cohort of Levy Fellows.
Millstone Fellows honors the legacy of Isadore Millstone z"l and is Jewish Federation's signature leadership program that serves to strengthen the St. Louis Jewish community and region. Millstone Fellows creates the space to share perspectives and ideas, integrate Jewish values into decision-making, enhance leadership skills and explore relevant topics from the local, national, and global scene.
The Levy Fellows was established in 2022 through the vision of Mont Levy to support and advance the work of board leaders at Jewish organizations.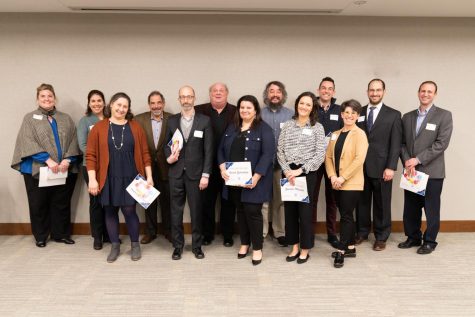 The series was facilitated by Leslie Peters, MBA, Elements Partnership and topics included personal leadership, board engagement, and big-picture decision-making.
For information on leadership development opportunities, contact Marci Mayer Eisen, MSW, ACC at the Jewish Federation of St. Louis, [email protected] or 314-442-3810.