New sights and sounds studio at the J helping people with sensory disorders
Bill Motchan, Special For The Jewish Light
Published August 24, 2022
A compact new facility at the Jewish Community Center Staenberg Family Complex in Creve Coeur has a calming effect when you enter it. The multisensory environment, or sensory studio, is designed to help people with developmental disabilities or sensory processing challenges.
The space is filled with high-tech gadgetry that serves an important purpose. It can help people develop self-regulating skills and learn coping skills that will improve their overall quality of life. Sensory rooms have proved especially useful among individuals with autism spectrum disorder, sensory processing disorder, chronic pain, dementia and ADHD.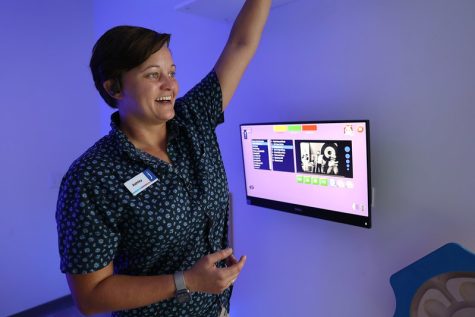 During a recent visit, Ashley Stockman, director of life enrichment and adult day services, provided a description of the sensory studio's prominent features. Near the back of the studio sits three long tubes filled with bubbling water. Stockman used a touchscreen to change the colors of the tubes, along with sounds and images on a projection screen.
"This is sensory magic," Stockman said. "The bubble tubes, the fiber optic rope, and then the music and this projector screen are all integrated into one another. I can pick 'fire' on the bubbles and the color changes. We saw this being a huge hit with especially our younger kids. During camp they could come over when they felt out of control."`
Some of the other components include a swing, a chair shaped like an egg that delivers calming music and sounds, a large reclining rocking chair, and adaptable lighting that can be changed to create a variety of environments and moods.
The sensory studio is highly adaptable, and the programs can be easily modified for any age group. During one 30-minute session, a small group of children can play the piano on a keyboard projected onto the floor. A quick touch of the screen and the keyboard morphs into a star-filled sky with spaceships cruising around. Another 30-minute session could follow with older adults dealing with memory loss.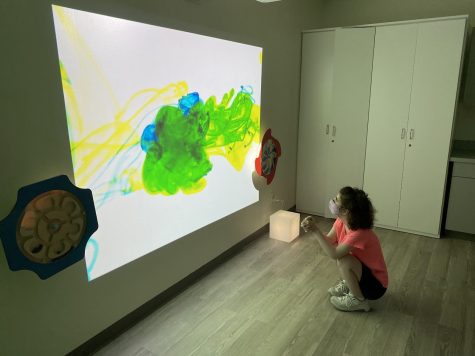 "The system has a reminiscence program," Stockman said. "This is what's really cool. We can throw photos of our older adults from when they were in their 20s and say, 'Hey, who is that?' And give clues. What really got them was the singalong part."
Stockman touched the screen again and up popped Buddy Holly singing. The idea is to bring back a pleasant memory and stimulate the individual through a variety of senses.
J staff who work with children through older adults have been trained to get the most out of the facility. The J worked with Flaghouse, a specialist in sensory space creation. Funding for the sensory studio came primarily through a grant from the Productive Living Board as well as support from the Tilles Foundation and the Miracle Makers Foundation.