Nailing it: St. Charles Chabad distributes free mezuzahs to Jewish residents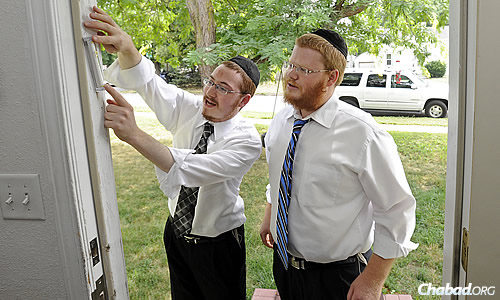 Roving rabbinical students are coming to St Charles and knocking on doors — and hopefully, doorposts.
Two rabbinical students with Chabad Jewish Center of St. Charles County will canvas the area from July 30 to Aug. 16 to ensure that every Jewish home has a mezuzah at its entrance.
The initiative continues a tradition within the Jewish outreach organization of rabbis and rabbinical students visiting more isolated Jewish communities to build connections, said Rabbi Chaim Landa, co-director of the St. Charles Chabad center.
In St. Charles, some Jews already have mezuzahs; some don't, Landa suggested. The items are cases nailed to doorposts containing parchment with the Shema Yisrael prayer to designate the home as Jewish and signal the residents' connection to G-d.
"It's one of the many ways that we hope to bring out this Jewish identity and celebration of their Jewish faith," said Landa.
Nosson Abrams, who is from Australia, and Berel Shmotkin, who is from Connecticut, will drive throughout the county and offer and install the free mezuzahs. Landa hopes to add 100 new mezuzahs.
Since Chabad launched the St. Charles branch in 2019, "we have been surprised in a good way in terms of people's interest, thirst and eagerness for a lot of the activities that we are doing," Landa said.
The center is preparing to host the St. Charles Jewish Festival featuring music, activities for kids and food on Aug. 15 from noon to 3:30 p.m.
For more information about Chabad's efforts, visit Jewishstcharles.org or email Landa at [email protected].