Missouri Tree Frogs strum dulcimers in a family band
BILL MOTCHAN, Special to the Jewish Light
Published June 21, 2021
King Nebuchadnezzar was a classic Old Testament villain. He ordered the destruction of the First Temple. He captured and imprisoned many Jews. And he hated the dulcimer.
The king didn't take issue with the twangy sound of the instrument. He just didn't like to see folks having fun dancing. Dulcimer music does have that effect on an audience. That's what attracted a St. Louis Jewish family to adopt it for their acoustic band, the Missouri Tree Frogs.
Russell Jaffe, 52, is the head frog. He plays a two-stringed dulcimer, and his daughter Rebecca, 21, strums a three-string version. Her younger brother William, 15, can play the dulcimer, banjo and nearly any other stringed instrument he picks up.
A speech pathologist by day, Russell Jaffe took up the dulcimer in part because it's lightweight. When he was growing up, Jaffe played the tuba in a brass band.
"I wanted to try something new," said Jaffe. "William was fascinated with learning music theory, and he was interested in Shakespeare and medieval music, so the two of us took up medieval music together."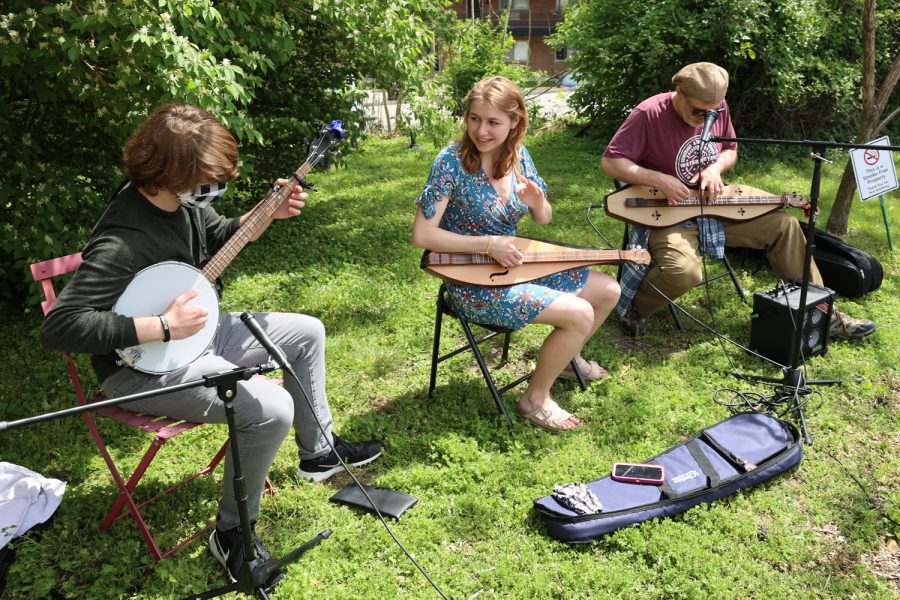 The Jaffes belong to Congregation Shaare Emeth, whose members heard the Missouri Tree Frogs during two livestream concerts last year and in a Hanukkah celebration in 2019. The Frogs got their start in 2019 and acquired their name that year before playing at the Webster Groves Art Fair.
"We had already played a couple of places, and at the art fair they had a big stage and the organizers told us it was a paying gig," Jaffe said. "They asked, 'What's your band's name?' And we didn't have one. But I was looking at my phone and, for some reason, I'd done a search for tree frogs. So I said 'We're the Missouri Tree Frogs.' "
The name may be fitting because it conjures up a woodsy feeling, fitting for the Appalachian dulcimer played by the Tree Frogs. Unlike the square hammer dulcimer of biblical times, the Appalachian dulcimer is an oblong stringed instrument that looks a bit like a stretched-out violin and rests on the lap.
"It goes well with medieval, Renaissance and Celtic music, but it's actually really a classic American genre," Jaffe said.
The Jaffes have lived in St. Louis for 15 years. They moved from New Orleans after Hurricane Katrina devastated the city. They arrived here with a minivan and three small children. In fact, William Jaffe was just days 8 days old and having his bris when Katrina was bearing down on the Crescent City. 
The family initially moved to Houston, as did many New Orleans residents. The storm's destruction was widespread, so a return home wouldn't be easy. The Jaffes found St. Louis to be a welcoming city with a strong Jewish community. As a bonus, St. Louis had a lively arts scene.
Music has always been important for the Jaffes. Russell's parents, Allan and Sandra, managed the Crescent City jazz mecca Preservation Hall for many years. Russell's great-grandfather was also a musician: a hazen in Philadelphia.

William Jaffe is the youngest Tree Frog and a freshman at Ladue Horton Watkins High School. He's already an accomplished musician who can play the banjo, dulcimer, ukulele and double bass. The latter is his primary instrument in the school orchestra.
"My first instrument was the recorder — it's sort of an introductory instrument," he said. "I think I started in third grade, but I kept going and learned medieval music.
"Recently, I've been really digging folk music, especially Woody Guthrie, Pete Seeger and Phil Ochs. My favorite thing about music is playing with the other people and meeting other musicians. When you bring musicians together, you can play with people you've never met before but you have something in common because you know the same songs."
He also enjoys playing alongside his father and sister, either at a concert for a live audience or just hanging out at home.
"Like after dinner, we'll all sit in the living room and just play together, and it's a lovely thing, a lovely activity," he said.
Rebecca Jaffe, the third Tree Frog, is a junior at Milliken University in Decatur, Ill., where she's majoring in musical theater. She shares her brother's feeling about her family's band.
"It's so much fun. I love it," she said. "Even when I'm not at school, it means I still have an outlet for my creativity. A lot of music students go home and their families don't get what they're doing. So it's really nice to come from an artistic family that not only understands it but gives me a creative outlet and gives me a space to be artistic."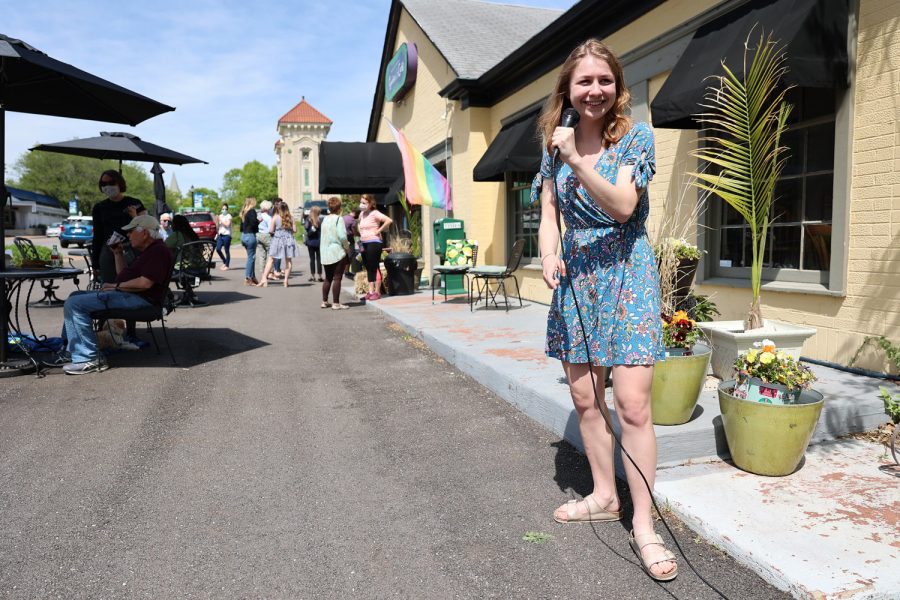 William, Rebecca and their older sister celebrated their b'nai mitzvot at Shaare Emeth. All have excellent singing voices, which came in handy for chanting prayers and reading from the Torah.
Future plans for the younger Tree Frogs will likely include music for William and theater for Rebecca.
"What seems really appealing to me is attending a music conservatory," William said. "I have my eyes on the Curtis Institute of Music, where a lot of my heroes went, especially double bass players like Paul Cowan and Edgar Meyer."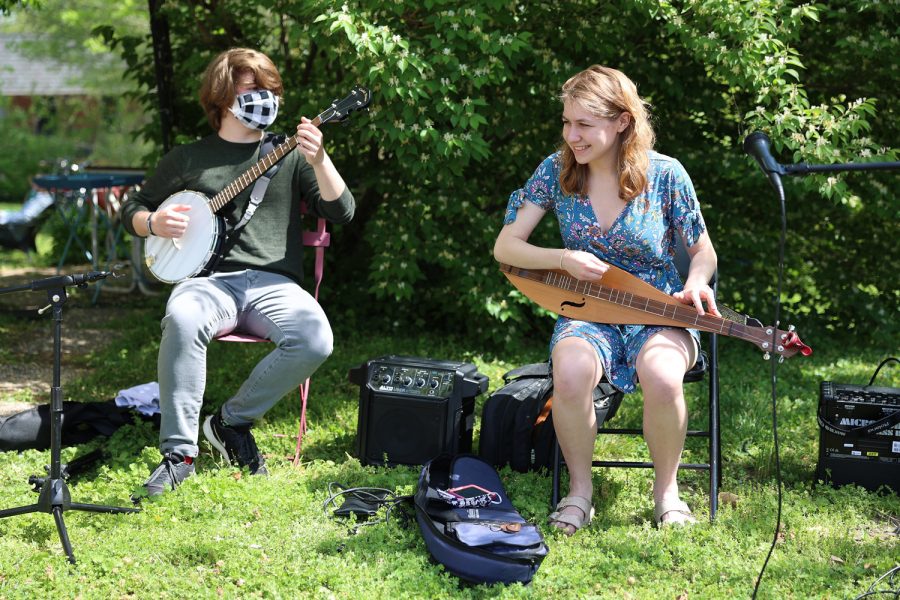 Russell Jaffe calls his son an incredible instrumentalist and his daughter a gifted singer with great pitch and a beautiful voice. Rebecca Jaffe said she would consider a directorial position after graduation.
"I always thought I would just be performing but over the pandemic I got really into leadership and writing and directing," she said. "So it could be anything from performing to writing a show to having a theater company. I just want to do something in the arts where I get to be creative for living."
She also can already check off one major life and career goal that eluded her as a preteen when she performed at a school play.
"I remember I really wanted to be featured in the Jewish Light," she said.
---
Upcoming concert: July 24
The Missouri Tree Frogs' next concert will be Thursday, July 24, in the Congregation Shaare Emeth courtyard. It will also be livestreamed via the Shaare Emeth website.