Missouri Republicans' proposed ban on critical race theory curriculum prompts worries about Holocaust education
Holocaust education advocates have raised concerns that Republican efforts to ban the teaching of critical race theory in Missouri public schools would also limit teachers' ability to inform students of the persecution and extermination Jews faced.
At a Joint Committee on Education hearing Aug. 23 in Jefferson City, Jewish leaders from St. Louis also expressed opposition to efforts to place such a limit on curriculum because it could prevent schools from promoting diversity and inclusion and educating students about the role racism has played in the country's history.
The hearing and legislative efforts in Missouri come as Republican lawmakers and conservative news organizations around the country claim schools are trying to indoctrinate students to feel guilty because they are white. They point to curriculum from sources such as the 1619 Project, an initiative from The New York Times to "reframe the country's history by placing the consequences of slavery and the contributions of black Americans at the very center of our national narrative."
"No one should be made to feel ashamed or guilty of the color of their skin or religion or whatever it might be, and that is happening in schools now," said State Rep. Chuck Basye, a Republican from Rocheport.
But proponents of education about the persecution African Americans and other groups have faced in the United States say conservative opponents misrepresent recent academic efforts concerning racism and diversity.
"I don't believe from one person to the next that people even know what critical race theory is or means, and I am concerned that we are not all even talking about the same thing," said State Sen. Jill Schupp, a Democrat from St. Louis County. "I think what's important is that we don't put into place legislation that creates a chilling effect on people learning about the history of our nation — both the good and the bad — and the history of the world."
The Associated Press describes critical race theory as "a way of thinking about America's history through the lens of racism. Scholars developed it during the 1970s and 1980s in response to what they viewed as a lack of racial progress following the civil rights legislation of the 1960s. It centers on the idea that racism is systemic in the nation's institutions and that they function to maintain the dominance of white people in society."
The news organization and others report that few K-12 public schools are teaching the theory but that some of the ideas central to it have been used.
In Missouri, Republican lawmakers introduced legislation to ban critical race theory last session and could again introduce a bill during the next session in January.
Missouri is one of 27 states where Republicans have introduced legislation or taken other steps to restrict the teaching of critical race theory or limit how teachers discuss racism and sexism, according to an Education Week analysis; 12 states have enacted such bans.
People in some of those states have also alleged that such legislation could limit Holocaust education.
In Wisconsin, proposed legislation would forbid teaching that promotes the concept "that one race or sex is inherently superior to another race or sex and that an individual, by virtue of the individual's race or sex, bears responsibility for acts committed in the past by other individuals of the same race or sex."
Rabbi Bonnie Margulis of Wisconsin Faith Voices for Justice told the Wisconsin Examiner that the bill was based on the false premise that "what we're teaching kids is that they should feel personally responsible and should feel guilty" for slavery and Native American genocide, among other atrocities.
"That isn't really what anybody is teaching," Margulis told the Examiner.
She also said she sees a contradiction between the proposed bill and a new law requiring schools to teach about the Holocaust.
"I don't know how you teach Holocaust education, without teaching about racism and sexism and hate," Margulis said. "All the things that these bills sort of outline that you're or you're not allowed to teach? Well, they're kind of inherent in teaching Holocaust education."
In Missouri, the state Department of Elementary and Secondary Education conducted a survey of local school districts and found that among the 425 who responded (out of 554 in the state), only Kansas City Public Schools said they were teaching critical race theory. And only three school districts — Kansas City, Hazelwood and University City — were using curriculum from the 1619 Project. In University City, it was just one teacher in one unit of study, the district reported.
"To the best of my knowledge, the vast majority of our K-12 public schools are not teaching critical race theory," Margie Vandeven, DESE commissioner, wrote in a statement issued to the Joint Committee.
Vandeven, who was appointed by a Democratic governor in 2014 and reappointed by Gov. Mike Parson, a Republican, in 2019, pointed out that the state in 2014 passed legislation to "honor Missouri's status as a local control state," meaning allowing local districts to shape curriculum.
"Having government censor what is or isn't taught is a slippery slope and one this body has traditionally worked to avoid," Vandeven stated. "Missouri has traditionally valued local control and professional educator input."
Basye countered that people emphasize the importance of local control "when it suits their narrative and what they are trying to get done, but there are many situations where they have ignored local control."
As to the notion that critical race theory is not being taught, Basye said schools are simply using other labels for the same ideas. The school board of Springfield Public Schools has faced criticism because of diversity training for teachers that asked participants to "locate their place on a matrix of oppression and privilege…based on gender, class, race and other factors," the Sprinfield News-Leader reported.
District officials said the training was not based on critical race theory and was developed by Springfield educators themselves.
Dee Dee Simon, a member of the state's Holocaust Education and Awareness Commission, said she is concerned about the effect of the proposed legislation on Holocaust education because it would prohibit curriculum that "identifies people or groups of people, entities, or institutions in the United States as inherently, immutably, or systemically sexist, racist, anti-LGBT, bigoted, biased, privileged, or oppressed."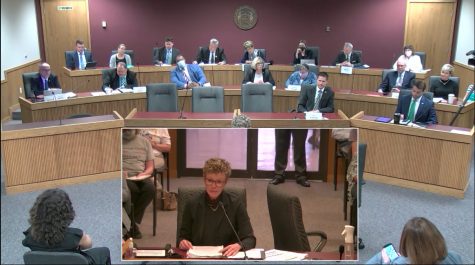 "Our concern as a commission is that it would cause teachers and school districts to give pause as to if and how they will teach [about] the Holocaust for fear of breaking the law," said Simon.
Rabbi Noah Arnow of Kol Rinah and Karen Aroesty, former regional director of the Anti-Defamation League, also expressed their concerns about the proposed legislation at the Joint Committee hearing.
"I believe in education that teaches students that they and their country are beautiful and strong and exemplary — and also not perfect, still having ways that we need to improve, still having mistakes for which we need to atone," Arnow said at the hearing. "I am concerned that the legislation that was proposed last term would make it difficult if not impossible and illegal to teach about wrongs that have been committed in history around the world and here in America."
Of the Republican lawmakers' concerns about making children feel guilty, Arnow told the Jewish Light that "no teacher should ever make a child feel guilty or ashamed of things generally — and certainly for things that are completely beyond their control."
"If that happens, it's bad teaching and bad education, not bad curriculum," Arnow said.
Basye said he appreciated the Jewish leaders' concerns about Holocaust education and that the legislature "will have to take all that information into account."
"We want to teach history. The Holocaust was a horrible, horrible thing to happen, and we absolutely need to let children know that that happened," Basye said.
But the legislation will still be "front and center," next session, he said. "I know it's going to be a battle, but I think [critical race theory curriculum] is inappropriate, and just because of the color of my skin, I don't feel I am a racist; I don't feel I'm an oppressor."