Rob Loewenstein "literally" has a Missouri license to shofar
Bill Motchan, Special to the Jewish Light
Published September 8, 2021
When Rob Loewenstein drives around town, he's accustomed to other drivers tapping on their horn to get his attention after they spot his license plate. It reads "TEKIAH," the short blast of the shofar that accompanies the Rosh Hashanah service.
"I look in the rear-view mirror and they put their thumb up to their mouth as if they're holding a shofar," said Loewenstein, 86.
Loewenstein has owned the TEKIAH license plate for more than 30 years but his connection—and his family's—to the shofar goes back much farther. He's been blowing shofar since 1945 when Harry S. Truman was president. It was also the year that marked the end of World War II when Germany's concentration camps were liberated.
"I was 10 years old. That's 76 years of continuously blowing the shofar," Loewenstein said. "My dad taught me the technique of blowing the shofar. His uncle started the tradition of blowing the shofar at B'nai El and he took over from his uncle in the 1930s. I had been assisting him. I blew the shofar for the kids while my dad was upstairs blowing for the senior congregation."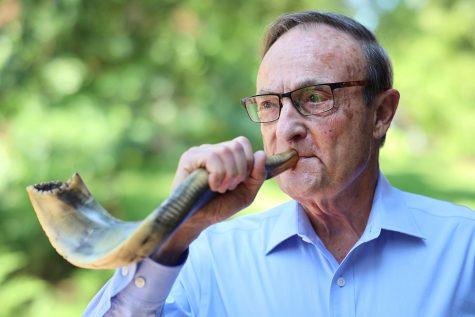 In 1954, Loewenstein's father died, and Rob carried on the family tradition of blowing shofar during Rosh Hashanah. His first major role came that same year when he was chosen to blow the shofar in Jefferson City to commemorate 300 years of Jews living in the United States.
When Loewenstein started his own family, he taught his five children the technique. Eventually, his granddaughter joined the fold, making seven members of the Loewenstein family to blow shofar. Loewenstein's mother wondered if the feat qualified them for a record, so she wrote to Guinness World Records to find out. Alas, there was no category of records for family members blowing shofar. (There is for a group—1,022 shofar blowers in Whippany, N.J. on Sept. 21, 2014.)
The lack of a world record didn't deter Loewenstein from collecting shofars (he has 14) and blowing the shofar at special events. He's blown shofar to open the Maccabi Games and he once blew shofar prior to a St. Louis Rams game. Originally, he blew shofar from the balcony of B'nai El, echoing the sound of his father who blew from the lower level of the synagogue.
This year, Loewenstein and his oldest and youngest sons (Michael and Drew) will blow shofar on Sunday, Sept. 12. It will be a virtual service conducted by Congregation Shaare Emeth Cantor Seth Warner at New Mount Sinai Mausoleum. The Loewensteins formed a shofar trio at Rob's Creve Coeur home and live-streamed to the service in 2020. This year, they'll continue the tradition. Loewenstein also plans to keep his TEKIAH license plates.
"I tell people if I had three more cars, I'd get plates that read 'TERUAH,' 'SHEVARIM' and 'GEDOLAH,' " he said.
That means there's good news for shofar aficionados in Missouri who are considering personalized license plates. TERUAH, SHEVARIM and GEDOLAH are available.