Missouri governor meets with Israeli consul general
Eric Berger, Associate Editor
Published October 29, 2021
Missouri Gov. Mike Parson met Thursday in Missouri with a consul general and deputy consul general of Israel.
"This morning I met with Consul General of Israel in Miami Maor Elbaz-Starinsky and Deputy Consul Mr. Mike Driquez and was honored to welcome them both to Missouri," Parson posted on Facebook.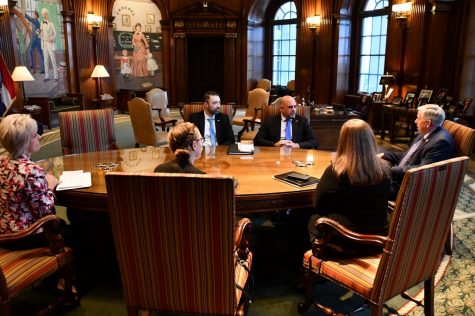 The Republican governor also announced that he planned to lead a delegation of Missouri companies to Israel later this year as part of a trade mission. Parson was scheduled to travel to Israel in March 2020 but canceled because of the COVID-19 pandemic.
The officials from the Miami consulate, which also serves Missouri, Kansas and Puerto Rico, presented Parson with a "special copy of the Torah," which he deeply appreciated, Parson wrote.
"There are deep trade and investment ties between Israel and Missouri and these are exemplified in the Israeli companies that have established a presence here along with a number of Missouri firms have extensive partnerships and presence in Israel," Parson wrote. "We are committed to furthering opportunities for mutual exchange between Missouri and Israel; whether they are agricultural, commercial, educational, or cultural in order to build upon the relationships we currently enjoy."