Lost memoir of St. Louis woman's escape from Nazis found in storage container
By Bill Motchan , Special to the Jewish Light
Published November 1, 2022
Lilo Fauman was a Holocaust survivor, a proud grandmother, a talented writer and an extrovert. Born in 1923 in Munich, Germany, Fauman and her family narrowly escaped the Nazis during Kristallnacht and arrived in the United States in February 1939.
Fauman died in 2004 in St. Louis at the age of 80. Her headstone bears the inscription "A WOMAN OF SPIRIT." She left her family many memories, including a vivid memoir that detailed her teenage years. The description was far different than what most people think of as happy teen years. Most 15-year-olds aren't fleeing a government regime bent on their elimination.
"The brown uniforms of the Nazis were everywhere. Even my non-Jewish friends wore them. Everybody yelled 'Heil Hitler' instead of 'Guten Tag' to each other, except me, of course."
The story Fauman told was chilling. She wrote it as an adult student at the Washington University Osher Lifelong Learning Institute (OLLI) sometime in the late 1990s. Fauman had moved to St. Louis from Detroit and found a group of friends, other writers who worked on their own family histories.
As part of the OLLI program, pods of students share their stories with each other, offering encouragement and advice to improve the narrative. Fauman didn't need much assistance. She was a natural storyteller.
"At 3 o'clock in the morning the telephone rang to inform my father that our large and gorgeous synagogue was on fire, one that was set by the Storm Troopers. They also told my father that he should leave his house at once."
The OLLI administrative staff was diligent about preserving at least one copy of each student's memoir. Fauman's memoir was among those packed away in a storage container when Janet Gillow, the program director, was doing some cleaning and organizing. She found Fauman's manuscript along with personal photos of family members circa 1940.
"In the class, the students encourage each other and read each other's work," Gillow said. "This was Lilo's copy. She must have tucked the photos in the book, maybe forget about them when the book got boxed up."
Gillow did some digging and learned that Fauman attended erstwhile Brith Shalom Kneseth Israel. Then, in a Google search, she discovered Fauman's granddaughter, Laura Horwitz. Gillow had worked on projects with her years earlier, when Horwitz was working with We Stories, a racial studies education program she co-founded.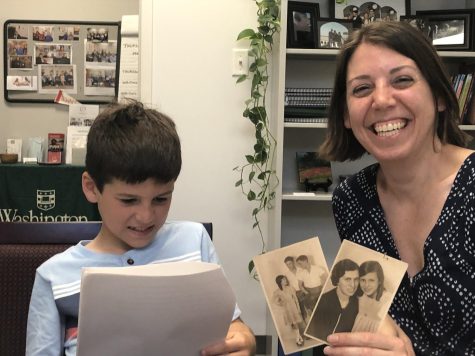 Gillow's instincts were correct, and she was eager to return the memoir and photos.  Horwitz, a member of Kol Rinah with her husband Guy Friedman and two children, remembers how she got the information.
"Janet sent me an email that specifically said, 'This is probably a pretty strange email to receive—are you Lilo Fauman's granddaughter?'"
"My father and I took off into the forest. We heard the barking of the police dogs all night. We were not caught."
Horwitz was already familiar with her grandmother's childhood and history. They had a close relationship and Fauman was open with her family about her harrowing flight from Germany as a teenager. But holding the memoir and seeing the photos reminded Horwitz of her grandmother's compelling description of those events.
"When Janet came across the material and read her memoir, she was so taken by it," Horwitz said. "I read what Janet had given me and I thought Lilo's writing was really good because she was a natural storyteller. She was a very magnetic personality. And this particular story, she had very clear memories of it."
"Luckily we already had put in the necessary papers to leave Germany for America and only waited for our passports to arrive. They came with the emblem of J for Jews on them. All females were called 'Sarah' and all males 'Israel.' We didn't care! We arrived in the land of freedom by ship, February seventh, nineteen-thirty-nine and I have had a great life ever since."