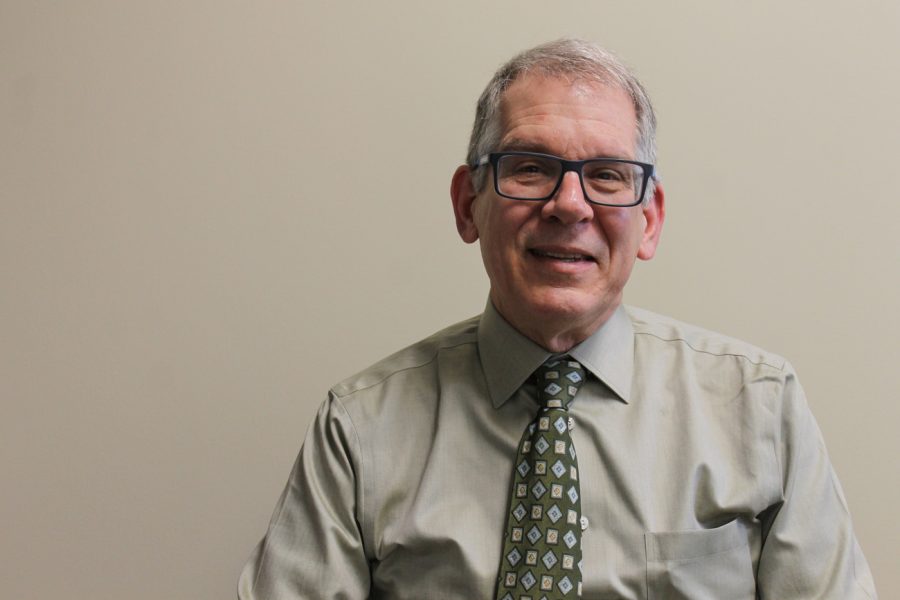 Before L. Louis Albert and Jewish Family & Children's Service opened a food pantry in 1991, he described it as a "pilot project to demonstrate the idea that it's easy to provide direct assistance to Jewish families. We hope to maintain and expand the food pantry and make it permanent."
Three decades later, it's safe to say the Harvey Kornblum Jewish Food Pantry has become a fixture in the Jewish community.  And so has Albert, the CEO of JF&CS, who had only been on the job a couple years when the pantry opened.
In 2017, the food pantry served more than 4,500 families inside and outside the local Jewish community. 
While the food pantry figures to be around for a while as problems with food insecurity in St. Louis remain, Albert will soon be leaving town. 
Miriam Seidenfeld started as CEO of the nonprofit earlier this month. Albert will serve as a consultant to JF&CS through the rest of the year as he transitions to retirement. 
As Albert, 67, prepares to leave the organization, he spoke with the Jewish Light about his almost 30-year tenure and what he thinks the future holds for himself and the organizations' clients. (His responses have been edited for space.)
What are some of the accomplishments you're most proud of?
Looking back, there are several what I would call "signature programs" that the agency has developed that I'm proud of, and one of them is the Harvey Kornblum Jewish Food Pantry. Prior to that there was no food pantry in the Jewish community, and now it's the largest food pantry in the region.
The part that I'm proudest about is that the food pantry has materially changed the way thing the Jewish community thinks about tzedakah, about helping other people. If people don't know anything else about JF&CS, they are more likely to know about the food pantry, and it's become part of the fabric of the Jewish community, both in terms of volunteering, in terms of donations, in terms of food drives and other kinds of projects in the community. 
Another one — which is also unique in the region — is our child abuse prevention program, which also started in the early 1990s. This was a program that we got going because there was an incident that happened in the Jewish community. One of the after-school Hebrew programs had a fourth-grade teacher who was accused of touching girls in his class inappropriately. As you might imagine, people were very upset about this, and it helped us to realize that we needed to have a program in place in the Jewish community that taught children about how to be safe and what to do if something happened. We work with teachers and parents on how to recognize and respond.
Looking back, are there things you would have done differently? Any regrets?
Not so much regrets, but maybe lost opportunities. One of the things we have not been very successful with is accessing large federal grants. Some people will say, 'Consider yourself lucky' because when you get involved with the federal government, it's not always good. Nevertheless, federal grants tend to be on a scale that is far greater than what you can generally do with local funding. 
What do you see being the biggest issues for JF&CS going forward?
It's ongoing, but the issue of hunger continues and even grows, so as much as we feed people — which is all good — we have not been able to address the core issue that people continue to exist in situations where they can't afford to feed themselves. It's an issue that requires a larger response —maybe beyond what one agency can do.
Certainly another huge driver of needs is the growing number of elderly in the community, and in the Jewish community, those numbers are growing quickly. That means, if our focus is on helping people remain in their homes, we will have to tremendously expand the amount of service that we offer and the scope. 
As far as hunger, do you have ideas as to what needs to happen in order to address that problem?
The problem of hunger is not an inadequate amount of food being available. There is plenty of food available, but it's just not getting to where it's needed. A lot of the big box stores — Walmart, Target, Sam's Club, Costco — they throw away an obscene amount of food on a daily basis — things they can't sell that are still good. Once you get to that sell-by date, into the trash it goes.  If there was a way to capture that food for purposes of feeding those who have hunger insecurity, we could eliminate hunger in the United States. 
One of the reasons these big box stores don't donate it is because of liability. They don't want to take a chance that they are going to be sued for what they donate. 
What do you plan to do in your retirement?
Well, I have often said that as a baby boomer, retirement looks different than it did in previous generations, so my parents, my grandparents, when they retired, it meant a cessation of work. For baby boomers, I don't think that is what's happening; we are not stopping, we are transitioning. We are going to move in 2020 to North Carolina. We have adult children and a new grandchild (living there), and we would like to be closer to them and live on the ocean, where my wife and I both grew up. And then I think we both want to look around and see what types of opportunities might be available.