Local eat of the week: Grassi's veal parmigiana
Alec Baris, Digital Engagement Associate
Published September 2, 2021
St. Louis is home to some fantastic spots that offer amazing entertainment and dining experiences. As an STL native whose two loves are Cardinal baseball and food, I'm experiencing a new one each week and sharing my thoughts. If you have suggestions for dishes I shouldn't miss, please feel free to email me at [email protected].
---
When you think of St. Louis Italian food, most people will think of the Hill neighborhood, and the tremendous restaurants that are featured there. (Don't worry, I'll make my way over there eventually.)
However, one of my favorite spots for Italian is in Frontenac, and serves the best veal parmigiana sandwich in town: Grassi's Ristorante & Deli.
In a relatively hidden location off Lindbergh Boulevard, Grassi's serves food in a fast-paced, "cafeteria-style" manner. Until a couple months ago, I had never heard of this quaint, but quality, eatery.
Thankfully, I have a roommate who knows more about St. Louis food than most, and he quickly turned me onto their delicious salad, which is served with a tremendous veal parmigiana sandwich. The total cost: $8.79; $6.49 for the sandwich itself.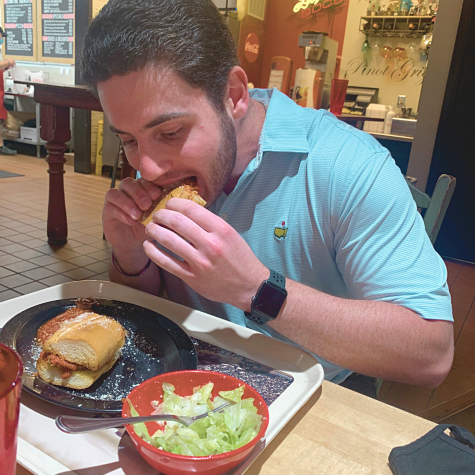 Let's start with the salad: While it may look like the traditional Italian house variety, there was something about the combination of crunchy croutons, chopped green olives and grated parmesan cheese, on a bed of mixed lettuce with just the right amount of tangy Italian dressing that kept me wanting more. It's the perfect preview for the main course.
Served on garlic cheese bread, the sandwich, also known as the Terry, features a perfectly breaded and fried cutlet of veal, topped with classic Provel cheese and a homemade meat sauce to bring it all together.
I am not shy when it comes to Grassi's: its veal parm has moved into my Mt. Rushmore of favorite local sandwiches, and the restaurant itself is now one of my favorites.
Kosher/Not: Not Kosher
Score: 7/10