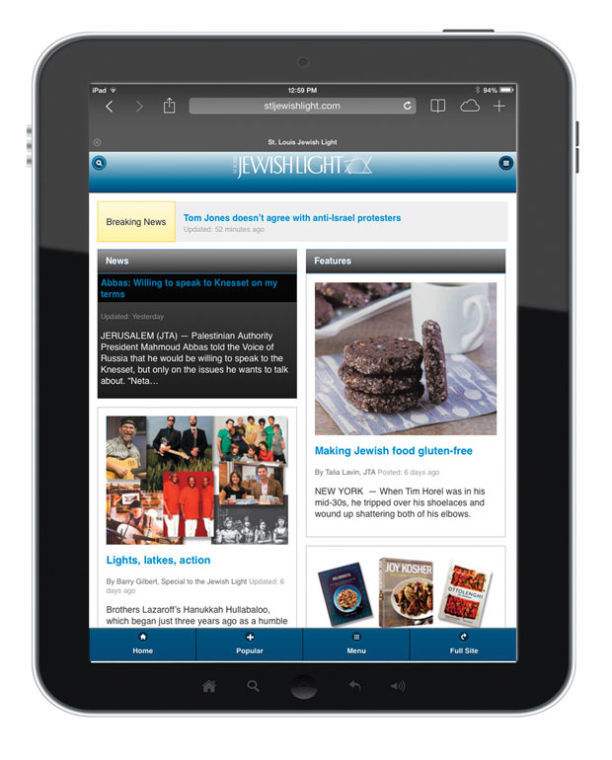 As announced earlier this fall, the Jewish Light is bringing a set of brand-new digital features to its subscribers, including a new mobile site to make the Light more accessible and easier to read for those on the go.
"We are very excited to reach our loyal customers in yet more ways," says Light Director of Operations Tom Wombacher.  "With our website, www.stljewishlight.com, receiving over 50,000 pageviews each month, we saw the need to provide more digital value for those who subscribe to the Light."
The new features for subscribers include:
• The Light's mobile platform, which is usable on both phone and tablet platforms.  (See sidebar at right for quick instructions on how to access the mobile site and other new digital features.) 
• Access to our new e-edition, which provides a digital facsimile of the print edition, for those who prefer to read the Light in newspaper form.
• Our quarterly OY! magazine in digital form.
• Coming in 2014, access to the Light's full digital archive of issues dating back to 1947, when the Light was started as a public relations effort of the Jewish Federation. The Light became an independent nonprofit in 1963 and this year celebrates the 50th anniversary of that step.
"We know that in this digital era, many of our followers do a large share of their reading either at the computer or on their phones and tablets," says Wombacher. "With this step, we're able to let our customers follow the Light wherever they choose to read."
The existing Light website will remain available and open to the public, and the Light will continue to offer a limited number of free copies of its paper edition in racks around the community. 
"Our nonprofit mission is to inform, inspire and connect the St. Louis Jewish community, and we have a duty to provide news to the community as a whole," says Publisher/CEO Larry Levin. "But these additions recognize the special investment that our subscribers make in the Light, and we think we're providing something of significant value in the context of today's media world."
"We'll also be able to get news out to the community on a more timely basis," says Managing Editor Mike Sherwin. "Often readers aren't by a computer and want the latest news about the Jewish community. The mobile site will be a quick and very readable way for subscribers to check in no matter where they are and how they're accessing the Light."
As with any technology rollout, Wombacher encourages subscribers to contact the Light with any questions or concerns. "Innovations always have their challenges, so anyone who needs help or has suggestions about how we can make the experience better or more efficient, should feel free to contact us."